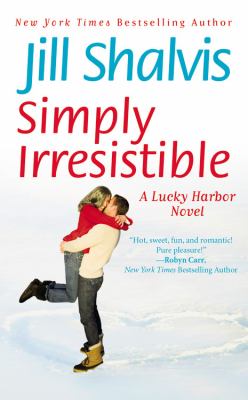 Simply Irresistible
by Jill Shalvis
Library Journal The day after Thanksgiving, with no job or boyfriend, Maddie Moore heads for tiny Lucky Harbor, WA, and the ocean-side resort that their free-spirited mother has willed to her and her two half-sisters. Reopening the inn would be perfect from Maddie's point of view, but her sisters are reluctant to tackle the major work required. Then the contractor she hires turns out to be the sexy motorcycle rider she practically ran off the road on her way into town-and the chemistry that sizzles between them wreaks havoc on her vow to give up men. Pithy, insightful quotes by the sisters' late mom beautifully set the tone for each chapter, making her a real part of the story; the sisterly dynamics among the three siblings in all their crazy glory are right on. Verdict Sassy, sexy, and full of lovable, sometimes quirky characters, this often hilarious novel has a few serious surprises, resulting in a delightfully satisfying story that lays groundwork for the next books in the series. Shalvis (The Heat Is On) lives near Lake Tahoe, NV. (c) Copyright 2010. Library Journals LLC, a wholly owned subsidiary of Media Source, Inc. No redistribution permitted.
(c) Copyright Library Journals LLC, a wholly owned subsidiary of Media Source, Inc. No redistribution permitted.
Publishers Weekly In this heartwarming and sexy contemporary romance from bestseller Shalvis (Instant Temptation), Maddie Moore meets the man of her dreams, but must fight her inner demons to make it work. Maddie, straight out of an abusive relationship and unemployed, is trying to change "from mouse to tough girl." When she arrives at Lucky Harbor, Wash., to reunite with her two half-sisters and inspect the dilapidated inn inherited from their mother, Maddie nearly runs a handsome stranger off the road. Jax Cullen is the town's mayor, a master carpenter, and a passionate lover. He's willing to give Maddie everything if she can overcome her fear of men and vulnerability. A somewhat forced second half and overabundant telepathic eye contact are mitigated by an abundance of chemistry, smoldering romance, and hilarious sisterly antics. (Oct.) (c) Copyright PWxyz, LLC. All rights reserved.
(c) Copyright PWxyz, LLC. All rights reserved