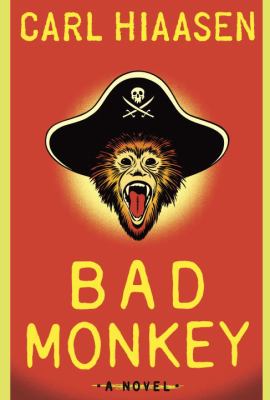 Bad Monkey
by Carl Hiaasen
Publishers Weekly Hiaasen (Star Island) combines familiar themes with an inspired cast in this exercise in Florida zaniness. Andrew Yancy, who became an ex-cop after publicly assaulting his girlfriend's husband with a vacuum cleaner attachment, is now on "roach patrol" as a restaurant inspector, but he soon gets a chance at redemption. Sonny Summers, the new Monroe County sheriff, tells Yancy to take a severed, shark-bitten arm snagged by a fisherman to Miami, where DNA identifies the limb as belonging to Nick Stripling, a retiree in his 40s whose boat was wrecked at sea. Stripling's grown daughter, Caitlin Cox, claims after the funeral that her hated stepmother murdered her father, and Yancy sees proving the stepmother's guilt as a way to return to the force. Add in some real estate shenanigans, a voodoo witch, and a deranged monkey, and you have another marvelously entertaining Hiaasen adventure. Author tour. Announced first printing of 250,000. Agent: Esther Newberg, ICM. (June) (c) Copyright PWxyz, LLC. All rights reserved.
(c) Copyright PWxyz, LLC. All rights reserved
Book list *Starred Review* Booklist reviews of recent Hiaasen novels (Nature Girl, 2006) have noted his step back from apocalyptic plots. That trend continues with a shambolic comic tale of garden-variety Florida crime: a wealthy Medicare fraudster appears to have died in a boating accident. The only evidence of death is his arm, which is reeled in by a hapless vacationer. Enter Andrew Yancy, once and future Monroe County detective. He thinks the fraudster was murdered by his wife, and if he can prove it, he can get his old job back and leave restaurant inspections behind. Think of Yancy as a Hiaasenian knight aberrant. He means well, but many of his problems are hilariously self-inflicted. His efforts take him from Key West to Miami to Andros Island, Bahamas, and back again. A huge cast of characters and a stunningly polyfurcated plot offer Hiaasen room to wow readers with information on grave robbery, restaurant-kitchen horrors, autoerotic asphyxiation, and even tips for beating Homeland Security's radar to fly into South Florida. And there is also a delightful interlude of canoodling on the tuna tower of a Key West charter boat as well as no-holds-barred portraits of the Dragon Queen a loopy, libidinous, old Bahamian woo-doo practitioner and the titular Bad Monkey. Plot convolutions twice cause him to insert multipage explanations of what's going on, but as always, Hiaasen is laugh-out-loud funny and thoroughly entertaining. HIGH-DEMAND BACKSTORY: Hiaasen's crime fiction crossed over to mainstream bestsellerdom early on in his career, and his fan base continues to grow.--Gaughan, Thomas Copyright 2010 Booklist
From Booklist, Copyright © American Library Association. Used with permission.