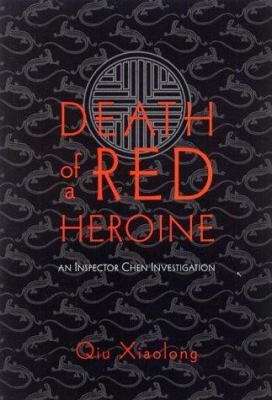 Death of a Red Heroine
by Qiu Ziaolong
Library Journal The murder of a young woman found in a canal some distance from Shanghai threatens to go unnoticed and unsolved until someone identifies her as a well-known national model worker. Chief Inspector Chen Cao, a rapidly rising detective with a penchant for Tang and Song dynasty poetry, heads the case, which has become a sudden political event. Chen!s investigation finally wheedles its way past the victim!s false faAade and unloving neighbors to the dangerous perpetrator. In his first novel, the author, who published poetry and criticism in China and who teaches Chinese literature at Washington University in St. Louis, depicts a modern, changeable China, using focused prose, realistic depictions, and a very human protagonist. Recommended. (c) Copyright 2010. Library Journals LLC, a wholly owned subsidiary of Media Source, Inc. No redistribution permitted.
(c) Copyright Library Journals LLC, a wholly owned subsidiary of Media Source, Inc. No redistribution permitted.
Book list The discovery of the body of a beautiful young woman in a canal 20 miles from Shanghai interrupts the housewarming party of Chief Inspector Chen Cao, one of the lucky few to obtain an apartment in the congested city. Cao is a food lover and a poetry lover (he has published a translation of T. S. Eliot, and he is reminded of bits of Chinese poetry even when investigating homicides). Cao is also the head of the Shanghai Police Bureau's Special Cases Squad, Homicide Division. Cao discovers that the victim was a National Model Worker, a role model used for propaganda purposes and recruitment by the Communist Party. The case is politically sensitive, and Cao is urged to do the impossible: solve the case without probing too deeply into the victim's personal life, the details of which may be embarrassing to the Party. The double bind facing the detective is the perfect backdrop for an extended exploration of the conflicts rooted in contemporary China. Xiaolong provides wonderful details of social polarization through his discussions of food, dress, housing. Cao himself is a complex, believable blend of someone devoted both to the flesh and to poetry, a sort of Chinese Maigret. Xiaolong, a Chinese poet and literary critic, is adept at threading social commentary of China in the 1990s with his detective's movements through social strata in search of the killer. Fascinating for what it reveals about China as well as what it reveals about a complex man in this setting. Xiaolong's first mystery may be the most impressive debut of the year. --Connie Fletcher
From Booklist, Copyright © American Library Association. Used with permission.
Publishers Weekly Set a decade ago in Shanghai, this political mystery offers a peek into the tightly sealed, often crooked world of post-Tiananmen Square China. Chen Cao, a poet and T.S. Eliot translator bureaucratically assigned to be chief inspector, has to investigate the murder of Guan Hongying, a young woman celebrated as a National Model Worker, but who kept her personal life strictly and mysteriously confidential. Chen and his comrade, Detective Yu, take turns interviewing Guan's neighbors and co-workers, but it seems most of them either know nothing or are afraid to talk openly about a deceased, highly regarded public figure. Maybe they shouldn't be so uneasy, some characters reason; after all, these are "modern times" and socialist China is taking great leaps toward free speech. Chen and Yu make headway when they stumble on Wu Xiaoming, senior editor of Red Star magazine, who apparently was involved with Guan before her death. Tiptoeing around touchy politics and using investigative tactics bordering on blackmail, Chen slowly pieces together the motives behind the crime. The author, himself a poet and critic, peppers the story with allusions to classical Chinese literature, juxtaposing poignant poetry with a gruesome murder so that the novel reads like the translation of an ancient text imposed over a modern tale of intrigue. This is an impressive and welcome respite from the typical crime novel. (June) (c) Copyright PWxyz, LLC. All rights reserved
(c) Copyright PWxyz, LLC. All rights reserved