Young Adult Reading Lists
Page and Screen
Page and Screen
---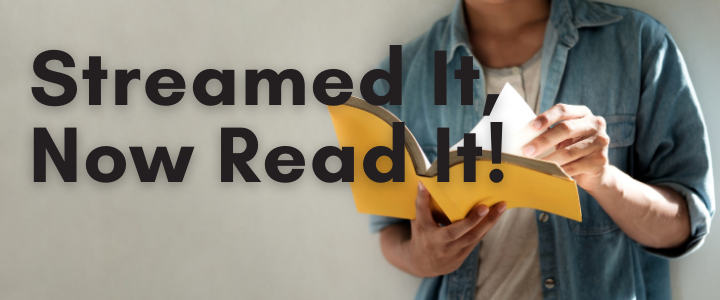 ---
Books that have been adapted into movies and TV shows.
Aarson, Zoe Light As a Feather.

Albertalli, Becky Simon Vs. the Homo Sapiens Agenda. (series)

Anderson, Laurie Halse Speak.

Asher, Jay Thirteen Reasons Why.

Chbosky, Steven The Perks of Being a Wallflower.

Clare, Cassandra City of Bones. (series)

Collins, Suzanne The Hunger Games. (series)

Dashner, James The Maze Runner. (series)

Dessen, Sarah Someone Like You.

Dessen, Sarah That Summer.

Downham, Jenny Before I Die.

Fitzgerald, F. Scott The Great Gatsby.

Forman, Gayle If I Stay.

Green, John The Fault in Our Stars.

Green, John Looking For Alaska.

Green, John Paper Towns.

Han, Jenny To All the Boys I've Loved Before. (series)

Hinton, S.E. The Outsiders.

Kate, Lauren Fallen. (series)

Keplinger, Kody The DUFF: Designated Ugly Fat Friend.

L'Engle, Madeline A Wrinkle in Time.

Lewis, C.S. The Chronicles of Narnia.

Lore, Pittacus I Am Number Four. (series)

Mead, Richelle Vampire Academy.

Meyer, Stephenie Twilight. (series)

Morgan, Kass The 100. (series)

Murphy, Julie Dumplin'

Ness, Patrick A Monster Calls.

Niven, Jennifer All the Bright Places.

Oliver, Lauren Before I Fall.

Paolini, Christopher Eragon. (series)

Patterson, James Maximum Ride: the Angel Experiment.

Riggs, Ransom Miss Peregrine's Home for Peculiar Children.

Riordan, Rick The Lightning Thief. (series)

Rosoff, Meg How I Live Now.

Roth, Veronica Divergent. (series)

Rowling, J.K. Fantastic Beasts & Where to Find Them.

Rowling, J.K. Harry Potter and the Sorcerer's Stone. (series)

Sepetys, Ruta Between Shades of Gray.

Tolkien, J.R.R. The Hobbit.

Tolkien, J.R.R. The Fellowship of the Ring. (series)

Van Draanen, Wendelin Flipped.

Vizzini, Ned It's Kind of a Funny Story.

Yancey, Rick The 5th Wave. (series)

Yoon, Nicola Everything, Everything.

Yoon, Nicola The Sun is Also a Star.

Zusak, Marcus The Book Thief.
List compiled by Teen Services, Fox Lake District Library, 2020
---
Young Adult • Young Adult Reading Lists • Digital Library of Illinois Teens • Online Resources for Teens