by Barbara Kingsolver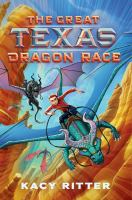 Kirkus
Copyright © Kirkus Reviews, used with permission.

Thirteen-year-old Cassidy Drake enters a dangerous race to save her family's dragon sanctuary. Cassidy lives on her family's dragon ranch in Texas with her Grandma Lynn and her Pa; her mother, the first woman to win the Great Texas Dragon Race, was killed by a Texas coral viper. When a representative from massive energy company FireCorp, who cruelly use dragons for oil production, offers to buy their ranch, Cassidy seizes her chance to save it—and their rescue dragons—by entering the race. With hospitalized Gran's signature on the application (but without Pa's permission), Cassidy and her dragon, Ranga, become the 51st team to enter, joining some corporate-sponsored riders. The sponsored riders are similar to the Careers in The Hunger Games. Cassidy and her allies, Laura, Colt, and sisters Rose and Viv, are as scrappy and motivated as Katniss Everdeen—and they face equally high stakes as they fight powerful forces that abuse dragons for profit. "Our choices reveal our character" reads the inscription on the compass, a family heirloom, that Gran gives Cassidy. And this proves true of Cassidy and the other riders—especially FireCorp-sponsored competitor Ash—as the tasks become ever more dangerous. Cassidy is a take-action hero with a strong moral compass, and Ranga, though small, is equally tough. Cassidy and Colt, who is gay, read White; Laura is Latina, and Rose and Viv are cued South Asian. A high-stakes, fast-paced, dragon-filled underdog story. (guide to dragons) (Fantasy. 9-13) Copyright © Kirkus Reviews, used with permission.