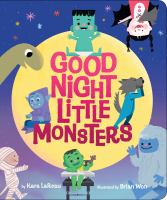 Kirkus
Copyright © Kirkus Reviews, used with permission.

A board book for older toddlers who like pretending to be just a little bit scared. Young children will recognize themselves and their bedtime routines in the four-line rhymes that appear on verso, describing spread by spread eight monsters that they may soon meet in more menacing contexts. On the facing page, graphically designed toddler versions of each monster exhibit their defining characteristics. A square-headed "Frankenbaby" with bolts in his neck wears training pants, while a green zombie baby in a high chair has taken a bite out of the head of a gingerbread boy. An equally green adult zombie proffers a sippy cup. Similarly, a vampire girl hanging upside down from a shower-curtain rod is offered a pink toothbrush for her fangs. A small mummy brings a pile of books on outstretched arms to mama mummy for a "bed-tomb story." "Loch Nessie," "wolfboy," "little Bigfoot," and a pair of purple "gleeful goblins" round out the cast. The final pages show all the monsters in silhouette under a full yellow moon as they march off to bed in a backyard tent. What better way to deal with baby monsters than to tuck them safely into bed? Little monsters will try to put off the inevitable bedtime with the demand, "read it again." (Board book. 2-4) Copyright Kirkus Reviews, used with permission.
---
Publishers Weekly
(c) Copyright PWxyz, LLC. All rights reserved

In this padded board book, friendly monster children wind down for the night with predictable bedtime routines. In Won's warm art, a vampire child with bat wings hangs upside down ("Good night, dear vampire./ Take one final sip./ Please brush your fangs well/ and try not to drip"). Elsewhere, a green zombie baby chomps on a gingerbread man and "gleeful goblins" jump on a bed. A cozy book for little monsters. Ages up to 3. (June) © Copyright PWxyz, LLC. All rights reserved.