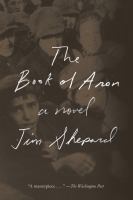 Library Journal
(c) Copyright Library Journals LLC, a wholly owned subsidiary of Media Source, Inc. No redistribution permitted.

Starred Review. The Warsaw Ghetto during the darkest days of World War II is the setting of this important, heartbreaking but also inspiring new novel from National Book Award nominee Shepard (Like You'd Understand, Anyway). Told from the perspective of Aron, a Jewish boy in the ghetto, it is the study of the sadistic and systematic deprivation and dehumanization of a people. Forced with his family from the countryside into the ghetto, where he joins a band of hardy young smugglers, Aron eventually loses his entire clan to typhus, malnutrition, and forced labor and ends up in an orphanage in the ghetto run by Janusz Korczak, an important historical figure from this period. Korczak was a well-known advocate for children's rights before the war and became famous for the orphanage he ran in the ghetto, and the author brings this heroic figure powerfully to life. Shepard also skillfully depicts the blighted human and moral landscape within the ghetto, where normal understandings of right and wrong have become impossibly compromised under the pressure of extermination. Surrounded by devastation, hopelessness, and cruelty, Korczak becomes an exemplar of all that is good and decent in the human spirit. Few will be able to read the last terrible, inspiring pages without tears in their eyes. VERDICT Indispensable reading. [See Prepub 11/3/14.]-Patrick Sullivan, Manchester Community Coll., CT (c) Copyright 2014. Library Journals LLC, a wholly owned subsidiary of Media Source, Inc. No redistribution permitted.
---
Book list
From Booklist, Copyright © American Library Association. Used with permission.

*Starred Review* Aron is a hopelessly inept Jewish village boy who despairs over his inability to learn the most basic things. Yet he discovers hidden strengths and talents when his family moves to Warsaw, and the Nazis erect the walls that formed the Jewish ghetto, hell on earth for hundreds of thousands of brutally confined, starving people. Newly enterprising and courageous Aron helps his family, whose hilarious argumentativeness keenly captures the resiliency of the Jewish spirit, by scrounging, stealing, lying, and smuggling as corruption and coercion become the order of the day. With other brave, crafty, and hungry children, he forms a band of intrepid looters, only to become entangled with a treacherously venal policeman. As life grows impossibly dangerous and terrifying, and families are taken away to be gassed, Aron finds refuge with the real-life Warsaw Ghetto hero, Janusz Korczak, a Jewish pediatrician and children's advocate who founded an orphanage and refused to abandon those in his care. Shepard (You Think That's Bad, 2011), a writer of extraordinary historical vision, psychological acuity, and searing irony, presents a profoundly moving portrait of Korczak; explores, with awe, our instinct to adapt and survive; and through the evolving consciousness of his phenomenally commanding young narrator, exposes the catastrophic impact of war and genocide on children. Shepard's magnificent tour de force will hold a prominent place in the literature of compassionate outrage.--Seaman, Donna Copyright 2015 Booklist
---
School Library Journal
(c) Copyright Library Journals LLC, a wholly owned subsidiary of Media Source, Inc. No redistribution permitted.

Shepard tells the story of the Nazi-era Warsaw ghetto through the life of a 13-year-old Jewish boy who fends for his family by joining other boys and girls smuggling needed food and other goods. At first, the adventure is entertaining, but Aron's family members are taken away or die until he is left alone homeless and starving on the street. The boy is rescued by Dr. Janusz Korczak-a real-life figure who was a well-known advocate for children's rights in Europe and worked tirelessly to save the denizens of his orphanage in the ghetto, although he could have departed. After being rescued by the doctor, Aron still suffers, but at least he is not alone. The teen faces a moral dilemma when he is tricked by a Jewish ghetto policeman into cooperating. His attempts to extricate himself should provide thoughtful questions for young and adult readers alike. What could the protagonist have done differently? The further reading list in the back matter includes works that will be especially helpful for teens wanting to know more about the historical details, such as Larry Stillman and Morris Goldner's A Match Made in Hell (Univ. of Wisconsin Pr., 2003) and Yehuda Nir's The Lost Childhood (Scholastic, 2002). VERDICT The writing is simple and effective. Because of the book's emotional impact, it should prove to be a valuable addition to those studying the Holocaust.-Karlan Sick, Library Consultant, New York City © Copyright 2015. Library Journals LLC, a wholly owned subsidiary of Media Source, Inc. No redistribution permitted.
---
Publishers Weekly
(c) Copyright PWxyz, LLC. All rights reserved

Shepard (You Think That's Bad) is known for his enormous range and for the research that informs his many novels and stories-a reputation that will be reconfirmed with this novel, the acknowledgments section of which runs six pages long. And yet it is a supple, unlabored voice that issues from Aron (Sh'maya to his family), a young Polish Jew who survives as a thief, urchin, and smuggler forcibly relocated to Warsaw's Jewish ghetto following the German invasion. Typhus, blackmail, and the Nazis' wanton violence are routine, but perhaps the greatest threat is the Jewish Order Service, in charge of requisitions and expulsions, for whom Aron agrees to become an informer. Meanwhile, his gang-lead by the charismatic and more politically committed youth Boris-fight for control of the Quarter's meager resources. But Aron's alliances begin to shift following the rise of disappearances and quarantines, especially after he meets Janusz Korczak, "The Old Doctor," a famous radio personality turned guardian who runs a shelter for children even as news of the concentration camps begins to trickle down. Aron's fate will come down to a question of conviction: will Aron commit himself to Boris's cause, or embrace the doctor's selfless idealism? Shepard is a master with a light touch-but against the backdrop of the Holocaust, maybe a bit too light. Although this novel paints an unflinching portrait of the ghetto, many characters seem to stand in for ideas, and the limp plot is propped up only by Shepard's eye for detail. 50,000-copy first printing. (May) © Copyright PWxyz, LLC. All rights reserved.