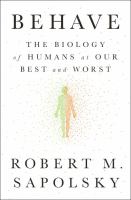 Library Journal
(c) Copyright Library Journals LLC, a wholly owned subsidiary of Media Source, Inc. No redistribution permitted.

Sapolsky (biology, neurology & neurological sciences, & neurosurgery, Stanford Univ.; A Primate's Memoir) takes a far-reaching look at the biological underpinnings of violence and related human behaviors and their antitheses such as altruism and compassion. Sapolsky examines individual acts of harm or help, starting on the level of neurobiology the moment the event occurs. He then takes a step back, focusing on the preceding minutes, days, and lifetime to explore the role of hormones, genes, memories, upbringing, environment, genes, culture, and evolution. When sociobiology and psychology are so intertwined and multifactorial, the effects are nuanced and context dependent. Each piece presents a partial explanation, with no bit of biology offering complete causality. The latter chapters then consider practical implications as applied in the realms of morality, criminal justice, politics, and war and peace. The author does an excellent job of bringing together the expansive literature of thousands of fascinating studies with clarity and humor, though some readers may choose to skim the extensive discussions of brain regions. Appendixes give primers on neuroscience, endocrinology, and proteins that provide background for some of the early chapters. VERDICT A tour-de-force survey of what is known about why we behave the way we do, for students of human interaction in any discipline. [Prepub Alert, 11/21/16.]-Wade M. Lee, Univ. of Toledo Lib. © Copyright 2017. Library Journals LLC, a wholly owned subsidiary of Media Source, Inc. No redistribution permitted.
---
Kirkus
Copyright © Kirkus Reviews, used with permission.

A wide-ranging, learned survey of all the making-us-tick things that, for better or worse, define us as human.Do bacteria have moral understanding? Do fleas have emotions? Such questions are meaningful, especially when, as MacArthur Fellow Sapolsky (Biology and Neurology/Stanford Univ.; Monkeyluv: and Other Essays on Our Lives as Animals, 2005, etc.) writes, it is possible to describe some of the actions of E. coli as altruistic. A distinguished primatologist, the author works broadly in the life and social sciences to examine human behavior, manifestations of which, he writes, belong to the nervous system and to sensory stimuliand all of which make for a "big sprawling mess of a subject." Thus, this fittingly long book, which opens with the problem of defining termsaggression, sympathy, even loveand proceeds by exploring every nook and cranny. Some of our behavior is purely mechanical, with payoffs in dopamine, that "invidious, rapidly habituating reward." Other aspects are located at the intersection of nature and nurture, as with the plummeting U.S. crime rate in the 1990s, attributable in part to accessible abortionfor, as Sapolsky notes, nothing is quite so sure to lead to a life of crime as "being born to a mother who, if she could, would have chosen that you not be." As the narrative progresses, it ascends into headier realms, examining problems both biologically and philosophically. Can there be a science of morality? If so, how is it best addressed? The answers are as thorny as the questions: "If harm to the person who is the means is unintentional or if the intentionality is really convoluted and indirect, I'm a utilitarian consequentialist, and if the intentionality is right in front of my nose, I'm a deontologist." Those answers may not satisfy strict sociobiologists on one hand or Heideggerians on the other, but they're unfailingly provocative, as is Sapolsky's closing observation that whenever we talk of human nature or natures, we're talking about averages in a world of endless variation. An exemplary work of popular science, challenging but accessible. Copyright Kirkus Reviews, used with permission.
---
Publishers Weekly
(c) Copyright PWxyz, LLC. All rights reserved

Sapolsky (Monkeyluv), professor of biology at Stanford, looks at human behavior from myriad interrelated perspectives, endeavoring to explain humans' strange and often contradictory behavior. He predominantly focuses on exploring "the biology of violence, aggression, and competition" through the lenses of neuroscience, anthropology, psychology, genetics, evolutionary biology, political science, and communication theory. Sapolsky takes complex ideas from the scientific literature, including his own research, and attempts to balance the pros and cons of every conclusion. He weaves science storytelling with humor to keep readers engaged while advancing his main point about the complexity and interconnectedness of all aspects of behavior. For Sapolsky, context is everything. For example, in discussing genetics he urges readers to "repeat the mantra: don't ask what a gene does; ask what it does in a particular context." Understanding such complexity can potentially lead toward a more just and peaceful society, Sapolsky says. He recognizes that this ambition may "seem hopeless" but argues that it is essential. Finally, he contends and demonstrates that "you don't have to choose between being scientific and being compassionate." Sapolsky's big ideas deserve a wide audience and will likely shape thinking for some time. Agent: Katinka Matson, Brockman Inc. (May) © Copyright PWxyz, LLC. All rights reserved.
---
Book list
From Booklist, Copyright © American Library Association. Used with permission.

*Starred Review* In the chasm between Hitler and Gandhi, Sapolsky finds not the high moral drama of the soul choosing good or evil but rather down-to-earth biology. When interrogated with scientific tools, that biology accounts for a surprising range of harmful and hurtful human acts. Sapolsky limns a long causative chain linking all sorts of behaviors to the neurology of the brain, the hormones in the blood, the DNA in the genes, and the evolutionary history of the species. But no reader should expect this scientific probing into human behavior to yield precise formulas. Again and again, the reader confronts vexing complications: even the formative influence of genes depends on the environment in surprisingly complex ways. The perplexing uncertainties in human behavior sometimes come into clearer focus when scientists reflect on animal studies (particularly those involving the primates that are Sapolsky's specialty). But the stunning uniqueness of the human species renders animal studies irrelevant for explaining the best and worst of human impulses. No genetic or animal study gives Sapolsky access to the mystery of religious faith, nor resolves for him the conundrum of free will. But tumbling short of omniscience hardly prevents Sapolsky from delivering a remarkably encyclopedic survey of the sciences illuminating human conduct.--Christensen, Bryce Copyright 2017 Booklist