Congressman Carl A. Elliott Sr., of Jasper, served the old Alabama Seventh District in the U.S. House of Representatives from 1949 to 1965. During his time in office, he served on the House Veteran's Committee, the Education and Labor Committee, the Rules Committee, and chaired the Select Committee for Government Research. Elliott authored and co-sponsored the Library Services Act, the first U.S. federally funded legislation for libraries. The act (now the Library Services and Technology Act) provided bookmobiles and furthered library service to rural Americans nationwide.
In 1958, he co-authored the National Defense Education Act (NDEA) which provided materials for the improvement of education nationwide and provided low-interest loans for needy college and graduate school students. During the course of his career, he championed civil rights, better educational opportunities, and federal assistance to the needy. In 1990, Congressman Elliott was the first recipient of the John F. Kennedy Profile in Courage Award which is given annually by the John F. Kennedy Library Foundation honoring individuals, usually public servants, who show unusual courage in defiance of the odds.
Ebooks and audiobooks are available for download to your eReader or mobile device through Camellia Net, a digital library for several Alabama libraries.
All you need to check out and download is an internet connection, a valid library card in good standing from any Carl Elliott Regional Library branch, and free software available to transfer your downloaded materials to your eReader or mobile device.
To log in to your account, use your library card number found on the back of your card and your PIN number. The default PIN is 1111 if you've never accessed your account on our website.
The Carl Elliott Regional Library and its member libraries provide the public with numerous online databases which host a wealth of information ranging from ebooks, homework tutoring, historical photographs, etc.The Carl Elliott Regional Library has recently acquired access to two new databases, Ancestry Library Edition and Chilton Library.


Chilton Library provides users access to the award winning Chilton Auto Repair Manuals. Chilton provides step by step instructions for making simple repairs like changing a gas cap to more complex operations like replacing a fuel injector. Also included in the Chilton database is a listing of every recall a manufacturer has made for a particular make or model, and almost all makes and models are included in the database.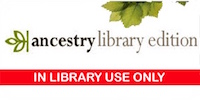 Ancestry is a database which provides users with access to hundred of thousands of historical documents to include: census records, birth certificates, marriage certificates, death certificates, military records, immigration records, newspaper clippings, school and church records, wills, deeds, tax records, and more. Patrons must access Ancestry within one our member libraries, Arley, Carbon Hill, Double Springs, Haleyville, Jasper, or Sumiton.