Recommended Reads

Streamed it? Now Read It!
Streamed it? Now Read It!
Streaming Service Originals Based on Books
---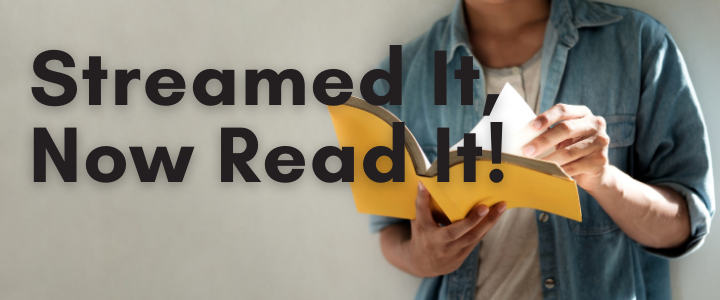 ---
Amazon Prime Video
Fiction
• Anne Z: A Novel of Zelda Fitzgerald by Fowler, Therese
• The Black Echo (Series) by Connelly, Michael
• The Boys by Ennis, Garth
• Critical Role: Vox Machina Origins by Colville, Matthew
• The Feed by Windo, Nick
• The Hunt for Red October (Series) by Clancy, Tom
• I Love Dick by Kraus, Chris
• Leviathan Wakes (Series) by Corey, James
• Makepeace Vanity Fair by Thackeray, William
• The Man in the High Castle by Dick, Philip
• The Pale Horse by Christie, Agatha
• Tales from the Loop by Stålenhag, Simon
Non-Fiction
• The Tragedy of King Lear by Shakespeare, William
---
Apple TV+
Fiction
• Are You Sleeping? by Barber, Kathleen
• Defending Jacob by Landay, William
---
Hulu
Fiction
• 11/22/63 by King, Stephen
• Catch 22 by Heller, Joseph
• The Handmaid's Tale by Atwood, Margaret
• Light as a Feather by Aarsen, Zoe
• Little Fires Everywhere by Ng, Celeste
• Looking For Alaska by Green, John
• Normal People by Rooney, Sally
Non-Fiction
• The Looming Tower: Al-Qaeda and the Road to 9/11 by Wright, Lawrence
• Shrill: Notes from a Loud Woman by West, Lindy
---
Netflix
Fiction
• Alias Grace by Atwood, Margaret
• All the Bright Places by Niven, Jennifer
• Altered Carbon (Series) by Morgan, Richard
• Bird Box by Malerman, Josh
• Dracula by Stoker, Bram
• Full Dark, No Stars by King, Stephen
• Gerald's Game by King, Stephen
• The Ghost Bride by Choo, Yangsze
• The Haunting of Hill House (Series) by Jackson, Shirley
• Hold the Dark by Giraldi, William
• I am Not Okay With This by Forsman, Charles
• The Last Kingdom (Series) by Cornwell, Bernard
• The Last Wish (Series) by Sapkowski, Andrej
• Locke & Key (Series) by Hill, Joe
• Mudbound by Jordan, Hillary
• Polar by Santos, Victor
• The Stranger by Coben, Harlan
• To All the Boys I've Loved Before by Han, Jenny
• The Umbrella Academy (Series) by Way, Gerard
• You by Kepnes, Caroline
Non-Fiction
• Brain on Fire: My Month of Madness by Cahahan, Susannah
• #girlboss by Amoruso, Sophia
• Hillbilly Elegy by Vance, J.D.
• Lost Girls: an Unsoved American Mystery by Kolker, Robert
• Orange is the New Black: My Year in a Women's Prison by Kerman, Piper
• Salt, Fat, Acid, Heat: Mastering the Elements of Good Cooking by Nosrat, Samin
List compiled by Adult Services, Fox Lake District Library, 2020
---
Adult Services • Adult Clubs • Ebooks & Media • Recommended Reads • Reference Websites