by Winfred Rembert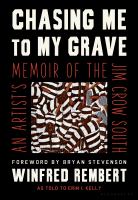 Book list
From Booklist, Copyright © American Library Association. Used with permission.

This is a book like no other, from Winfred Rembert's unique and uniquely powerful autobiographical paintings to his disturbing and courageous life story, frankly told to philosophy professor Kelly. As a Black man who was born in 1945 in Cuthbert, Georgia, his life was not going to be easy, but Rembert started out with a loss: his mother gave him away to her aunt when he was a baby, causing an abiding psychic wound. His great-aunt picked cotton in a "slavery-like situation," and the plantation owner terrorized Rembert and kept him out of school. Smart, talented, and irrepressible, Rembert found work and took pleasure in basketball and swing dancing at juke joints. But there is no escaping white hate and brutality. Rembert recounts diabolical abuse and violence with rare candor and precision, including his surviving a near-lynching, incarceration, and chain gangs after participating in a 1965 civil rights demonstration. By using carved, tooled, and dyed leather as the medium for vibrantly patterned scenes from his life, Rembert turned the scars on his body and soul into artworks of clarion witness and reckoning. Long and happily married and attaining fame as an artist in his sixties, he died in March 2021. With a foreword by Bryan Stevenson and superb color reproductions, Rembert's self-portrait in word and image belongs in every library.
---
Publishers Weekly
(c) Copyright PWxyz, LLC. All rights reserved

In this posthumous work, artist Rembert (1945–2021) offers a powerful, unfiltered look at life growing up in Jim Crow Georgia. "This was a time when everybody was above the law—if you were White... they just made up their mind about what they wanted to do with you and that's what they did," he recalls of his childhood growing up with his great-aunt. Even from a young age, Rembert was exposed to murders, mutilations, and humiliations designed to break and degrade the Black residents in his town. His artwork vividly showcases harrowing moments in his life, from picking cotton in endless fields to the horrors of being on a chain gang in prison for stealing a car (to escape a "White mob"). Especially graphic is his account of narrowly surviving his own lynching: "They hung me up by my feet in a tree... and stuck me with the knife... I was bleeding like a hog." Despite his incredible hardships, Rembert highlights the beauty he encountered, such as the kindness of strangers and his wife, Patsy, who encouraged him to "turn my stories into art." This is a stunning portrait of hope in the face of evil, barbarity, and racism. Agent: Stephanie Steiker, Regal Hoffman & Assoc. (Aug.)Correction: An earlier version of this review misstated where the author grew up.
---
Kirkus
Copyright © Kirkus Reviews, used with permission.

The late Black artist tells his life story via his words and powerful works of visual art. Rembert (1945-2021) was raised by a great aunt in rural Georgia, and he spent his childhood working with her in the cotton fields. In the 1960s, he participated in the civil rights movement, and, after one violent crackdown at a protest, stole a car to flee two White men chasing him with shotguns. Soon arrested and stuck in jail for nearly two years awaiting trial, he escaped, only to be caught that night by a violent White mob. Hung by his feet in a tree, "bleeding like a hog," he survived being "almost lynched." With new charges from having escaped and stolen the sheriff's gun, he was given a 27-year term in state prison. Rembert survived the grueling hard labor and mental cruelty of a chain gang, and he was released after serving seven years. In prison, he learned how to tool and dye leather, and at 51 was compelled "to do pictures of what was done to me." His visceral works illustrate his days picking cotton, dancing in juke joints, enduring the brutality of the chain gang, and reckoning with the "everyday lie" of White supremacy. Rembert's wife, Patsy, saw his art's power and worth clearly: "Nobody tells their life story on leather." In 2000, curator Jock Reynolds gave Rembert a show at the Yale University Art Gallery, and national exhibitions followed as well as two documentaries on his life and work. "My pictures are about how Black people were treated and how they lived," writes the author, and the book is abundantly illustrated with four-color representations of his art. The oral history, as told to co-author Kelly, is thoughtful and honest, and Patsy's chapter, told in her own words, is also frank and compelling. Readers should note that the N-word appears more than 70 times in the text, which is deliberate: "I want the reader to understand the effect it carries when you use that word and how degrading it is." Bryan Stevenson provides the foreword. An ultimately uplifting journey from the ugliness of virulent racism to the beauty of art. Copyright © Kirkus Reviews, used with permission.
---
Library Journal
(c) Copyright Library Journals LLC, a wholly owned subsidiary of Media Source, Inc. No redistribution permitted.

In this captivating posthumous memoir coauthored by Kelly (The Limit of Blame), the well-known American painter Rembert (1945–2021) describes growing up as a Black man in the segregated South, elaborates on the experiences that informed his paintings, and recounts his journey to becoming an artist. He was born in Cuthbert, GA, to a young single mother and raised by his aunt, a kind woman he called "Mama." She carried him in a sack on her back as she worked the cotton fields when he was a baby, and he began working in the fields as soon as he was able. Images of Rembert's Georgia experiences—including lynchings (both seen and experienced), baptism, town life, home life, civil rights protests, and incarceration—populate his dynamic paintings on leather. Creating art meant revisiting haunting and traumatic events, which took an emotional toll that Rembert bravely describes. This volume makes the case that Rembert's artistic talent was a gift; his use of that talent to create memorable images—of an era before modern cameras were ubiquitous—is a gift to history. VERDICT This dynamic book, complete with numerous illustrations, is visually and narratively stunning. Readers interested in the artistic process or mid-20th-century U.S. history, especially the Black experience in the Jim Crow South, will appreciate it.—Laurie Unger Skinner, Highland Park P.L., IL