by Greg Iles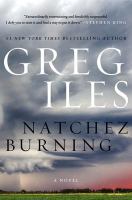 Library Journal
(c) Copyright Library Journals LLC, a wholly owned subsidiary of Media Source, Inc. No redistribution permitted.

The murder of retired nurse Viola Turner in the small Mississippi town of Natchez sets off a firestorm of vicious attacks to prevent the unearthing of long-buried secrets. Penn Cage, a former prosecutor and now the town's mayor, becomes personally involved when his father, Dr. Tom Cage, is arrested for Viola's death. Reporter Henry Sexton has accumulated years of information about the Double Eagles, a small splinter cell of the Ku Klux Klan. A young Dr. Cage and his nurse Viola had the misfortune of crossing paths with them during the 1960s. The septuagenarian members have never stopped their illegal operations, and now their children continue their violent legacy. With fiancee Caitlin, Penn must use Henry's information to uncover the truth and save his father. VERDICT In this first of a trilogy, best-selling author Iles brings back his Southern lawyer (The Devil's Punch Bowl) in an absorbing and electrifying tale that thriller fans will be sure to devour. [See Prepub Alert, 11/10/13.]-Joy Gunn, Paseo Verde Lib., Henderson, NV (c) Copyright 2014. Library Journals LLC, a wholly owned subsidiary of Media Source, Inc. No redistribution permitted.
---
Book list
From Booklist, Copyright © American Library Association. Used with permission.

*Starred Review* It's been half a decade since Iles' last Penn Cage novel, but, oh boy, was it worth the wait! Penn, still getting his feet under him after being elected mayor of Natchez, Mississippi, is shocked to learn that his father, Dr. Tom Cage, is about to be charged with murder in the death of a local woman, a nurse who worked with Dr. Cage back in the 1960s. Stymied by his father's refusal to discuss the case, Penn digs into the past to uncover the truth and discovers long-buried secrets about his community and his own family. Natchez Burning (the title is surely a nod to the infamous Mississippi Burning murder case of the 1960s, and others like it) is the first of a planned trilogy. The story ends in mid-stride, leaving us on the edge of our seats, but that's not a criticism. This beautifully written novel represents some of the author's finest work, with sharper characterizations and a story of especially deep emotional resonance, and we eagerly await volume two. HIGH-DEMAND BACKSTORY: Several of Iles' thrillers have found their way to best-seller lists, but his new publisher is touting this one (his first novel in five years) as a breakout book and seems ready to put marketing dollars behind that claim.--Pitt, David Copyright 2014 Booklist
---
Publishers Weekly
(c) Copyright PWxyz, LLC. All rights reserved

Much more than a thriller, Iles's deftly plotted fourth Penn Cage novel (after 2008's The Devil's Punchbowl) doesn't flag for a moment, despite its length. In 2005, the ghosts of the past come back to haunt Cage-now the mayor of Natchez, Miss.-with a vengeance. His father, Dr. Tom Cage, who has been an institution in the city for decades, faces the prospect of being arrested for murder. An African-American nurse, Viola Turner, who worked closely with Tom in the 1960s and was in the end stages of cancer, has died, and her son, Lincoln, believes that she was eased into death by a lethal injection. Tom refuses to speak about what happened (he admits only that he was treating Viola), which prevents Cage from using his leverage as mayor to head off charges. The mystery is inextricably interwoven with the violence Natchez suffered in the 1960s, including the stabbing of Viola's brother by Ku Klux Klansmen in a fight. The case may also be connected to the traumatic political assassinations of the decade. This superlative novel's main strength comes from the lead's struggle to balance family and honor. Agents: Dan Conaway and Simon Lipskar, Writers House. (May) (c) Copyright PWxyz, LLC. All rights reserved.