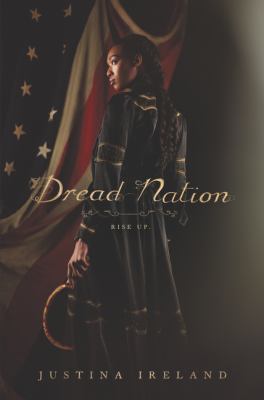 Dread Nation
by Ireland, Justina


Book list *Starred Review* Ireland delivers a necessary, subversive, and explosive novel with her fantasy-laced alternate history. America is changed forever when the dead begin to prowl battlefields during the Civil War. The horror births a new nation and a different type of slavery, in which laws force Native and Negro children to attend combat schools and receive training to put down the dead. Jane McKeene attends Miss Preston's School for Combat in Baltimore. She studies to become an Attendant, trained in both weaponry and etiquette, to protect the white well-to-do. For Negro girls like Jane, it's a chance for a better life; however, as she nears the completion of her education, she longs simply to return to her Kentucky home. But when families around Baltimore go missing, Jane finds herself entangled in a conspiracy that results in a fight for her life against powerful enemies. Ireland crafts a smart, poignant, thrilling novel that does the all-important work of exploring topics of oppression, racism, and slavery, while simultaneously accomplishing so much more. It explores friendship, love, defying expectations, and carving out your own path instead of submitting to the one thrust upon you. From page one, Jane is a capable, strong heroine maneuvering through a world that is brilliant and gut-wrenching. This will take readers on a breathless ride from beginning to end.--Davenport, Enishia Copyright 2017 Booklist
From Booklist, Copyright © American Library Association. Used with permission.
Publishers Weekly In this alternate-history horror tale, shortly after Jane McKeene was born, the dead rose and attacked the living, effectively ending the Civil War. A reunified army fought the shambling hordes until Congress passed the Negro and Native Reeducation Act, requiring adolescent children of color to train for battle. At age 14, Jane-who is mixed race-enrolled at Miss Preston's School of Combat for Negro Girls, hoping to avoid conscription by becoming a socialite's bodyguard. Three years later, Jane is close to earning her attendant certificate when she, her ex, and her rival stumble across a dastardly plot hatched by Baltimore's elite. First in a duology, Ireland's gripping novel is teeming with monsters-most of them human. Abundant action, thoughtful worldbuilding, and a brave, smart, and skillfully drawn cast entertain as Ireland (Promise of Shadows) illustrates the ignorance and immorality of racial discrimination and examines the relationship between equality and freedom. Mounting peril creates a pulse-pounding pace, hurtling readers toward a nail-biting conclusion that inspires and will leave them apprehensive about what's to come. Ages 14-up. Agency: Donald Maass Literary. (Apr.) © Copyright PWxyz, LLC. All rights reserved.
(c) Copyright PWxyz, LLC. All rights reserved
School Library Journal Gr 9 Up-Slavery comes to a halt when the dead on Civil War battlefields begin to rise and eat their compatriots. The north and south put aside their philosophical differences and join forces against the undead. They are aided in their efforts by the passage of the Native and Negro Reeducation Act which forces African American boys and girls into combat schools. Graduates from these schools are a buffer between the living and the undead. Jane McKeen is a biracial girl sent to Ms. Preston's school of combat to obtain an attendant certificate. Jane is about to graduate when her friend, Red Jack, asks for help locating his sister Lily. Jane's attempts to discover Lily's whereabouts land her in a survivalist colony. Survivalists advocate a disordered view of natural selection that places Jane firmly under the thumb of a vicious sheriff and his psychopathic family. Jane is tasked with finding a way out of Summerland not only for herself, but also for those she loves. She must make some unlikely alliances of her own if she is to survive long enough to find her own path to freedom. This is a fictional exploration of the chattel slavery and American Indian boarding school systems. Ireland skillfully works in the different forms of enslavement, mental and physical, into a complex and engaging story. VERDICT A perfect blend of horrors real and imagined, perfect for public and school libraries and fans of The Walking Dead.-Desiree Thomas, Worthington Library, OH © Copyright 2018. Library Journals LLC, a wholly owned subsidiary of Media Source, Inc. No redistribution permitted.
(c) Copyright Library Journals LLC, a wholly owned subsidiary of Media Source, Inc. No redistribution permitted.