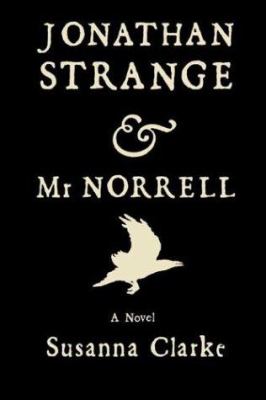 Jonathan Strange and Mr Norrell
by Susanna Clarke


School Library Journal Adult/High School-This delightful first novel exerts a strong and seductive pull on readers who might otherwise balk at its length. Like Philip Pullman's work, it is dark, deep, and challenging. It compares dead-on with Jane Austen's novels, and YAs who have underappreciated her wit may find it delicious when applied to magicians. Clarke even tosses in a bit of Dickens and Hardy-with great characterization, subplots, and a sense of fate bearing down hard on us. At stake is the future of English magic, which has nearly dwindled to all theory by the early 1800s, after centuries of prominence. When the book opens, only the reclusive and jealous Gilbert Norrell is practicing. Enter Jonathan Strange, a natural who has never studied magic formally. Norrell resents, then adopts Strange as a pupil whose growth he insists on controlling until the two come to the impasse that nearly leads them to destroy one another. Strange champions the 12th century's "Raven King" as the greatest magician in English history and hopes to summon him from Faerie, an alternate world. Norrell is determined to erase both from English memory-to hide the fact that he himself made a bargain with a fairy that has cost three people their lives, though their hearts go on dismally beating. Expertly written and imagined, the book is a feast for fans of fantasy, historical novels, or simply fabulously engrossing reads.-Emily Lloyd, formerly at Rehoboth Beach Public Library, DE Copyright 2004 Reed Business Information.
Copyright © Reed Business Information, a division of Reed Elsevier Inc. All rights reserved.
Book list It's surprising that this first novel works at all. Readers have to accept an especially fanciful premise but, as it quickly becomes obvious, acceptance presents no difficulty. This novel took 10 years to research and write, according to publicity material; for readers at least, the author's arduous task results in a smashing success--it's an exceptionally compelling, brilliantly creative, and historically fine-tuned piece of work. The brilliance of the novel lies in how Clarke so completely and believably creates a world within a world: the outside world being early-nineteenth-century England, as Napoleon the eagle looms over all of Europe; the inner world being the community of English magicians. At the story's outset, magic in the land is moribund; magicians, who convene in various convocations, did not want to see magic done; they only wished to read about it in books. But circumstances arise that cause magic again to become manifest, not simply discussed as an academic subject; this resurrection has extensive consequences for the heretofore stately state of magic in the English realm. History and fantasy form a beautiful partnership in this detailed, authentic, and heartfelt novel, which is part fairy tale and part epic. The inner world it creates is completely furnished and credible; the outside world is exact in its accuracy. Written in a style correlative to the writing and speaking of the time, which the reader will come to find quite mellifluous, this novel is, in a word, charming. Comparisons to Harry Potter are inevitable but not distracting, for this novel stands on its own. --Brad Hooper Copyright 2004 Booklist
From Booklist, Copyright © American Library Association. Used with permission.
Publishers Weekly The drawing room social comedies of early 19th-century Britain are infused with the powerful forces of English folklore and fantasy in this extraordinary novel of two magicians who attempt to restore English magic in the age of Napoleon. In Clarke's world, gentlemen scholars pore over the magical history of England, which is dominated by the Raven King, a human who mastered magic from the lands of faerie. The study is purely theoretical until Mr. Norrell, a reclusive, mistrustful bookworm, reveals that he is capable of producing magic and becomes the toast of London society, while an impetuous young aristocrat named Jonathan Strange tumbles into the practice, too, and finds himself quickly mastering it. Though irritated by the reticent Norrell, Strange becomes the magician's first pupil, and the British government is soon using their skills. Mr. Strange serves under Wellington in the Napoleonic Wars (in a series of wonderful historical scenes), but afterward the younger magician finds himself unable to accept Norrell's restrictive views of magic's proper place and sets out to create a new age of magic by himself. Clarke manages to portray magic as both a believably complex and tedious labor, and an eerie world of signs and wonders where every object may have secret meaning. London politics and talking stones are portrayed with equal realism and seem indisputably part of the same England, as signs indicate that the Raven King may return. The chock-full, old-fashioned narrative (supplemented with deft footnotes to fill in the ignorant reader on incidents in magical history) may seem a bit stiff and mannered at first, but immersion in the mesmerizing story reveals its intimacy, humor and insight, and will enchant readers of fantasy and literary fiction alike. Agent, Jonny Geller. (Oct.) Forecast: A massive push by Bloomsbury has made this one of the most anticipated novels of the season. It's convenient to pigeonhole it as Harry Potter for grownups-and grown-up readers of J.K. Rowling will enjoy it-but its deep grounding in history gives it gravitas as well as readability. 200,000 first printing; rights sold in 14 countries. Copyright 2004 Reed Business Information.
Copyright © Reed Business Information, a division of Reed Elsevier Inc. All rights reserved.