by Tarana Burke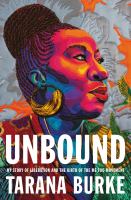 Publishers Weekly
(c) Copyright PWxyz, LLC. All rights reserved

In this powerful debut, Burke, founder of the #MeToo movement, depicts her experiences as a survivor of sexual assault and an advocate for the "necessary work" of collective healing. As a woman who is "hardwired to respond to injustice," she reflects on her path from being a young, Black girl in the Bronx to becoming a globally recognized activist. "There is no here without where I was," Burke writes, "stuck and scared and ashamed, a place I remained until the need to care for someone else's shame saved me too." In evocative prose, she reflects on the way her trauma fractured her sense of self—"I found space for this secret in the vast cemetery I carried in my soul"—and is equally forthcoming about her moments of courage and uncertainty ("This would be a disaster if it went viral," she remembers thinking just before she saw her hashtag in "hundreds of thousands of tweets"). Most memorable is the intense love and respect that comes through in her recollections of the young people who have trusted her with their own painful stories. Intensely moving and unapologetically frank, Burke's fearless memoir will uplift and inspire the next generation of survivors, advocates, and truth-tellers. (Sept.)
---
Library Journal
(c) Copyright Library Journals LLC, a wholly owned subsidiary of Media Source, Inc. No redistribution permitted.

With this debut book, Burke writes an important memoir that powerfully illustrates a deeply personal political movement and shows how hashtags and social media can amplify the reiterative yet individual tragedies that are perpetuated by systems and by individuals emboldened by those systems. Burke, the founder of the Me Too movement, specifically describes here how she felt as she watched the movement be co-opted by white women in 2017. The memoir begins with powerful imagery that evokes Maya Angelou's caged bird and ends with an allusion to Ntozake Shange's For Colored Girls Who Have Considered Suicide; Burke here joins in a tradition of poem-prose hybrid memoirs and captures the fragmentary nature of voice as it butts up against structures that would silence it. Burke blends the personal and the political and recounts her upbringing in the Bronx, including her difficulty in school and her experience of sexual violence before she even had the words to describe it; this makes for vital reading. VERDICT Painful and personal, yet beautiful and necessary, this book deserves to be read for its political significance and literary merit. Burke's writing shines when she describes finding her voice as an aspiring activist.—Emily Bowles, Lawrence Univ., WI
---
Kirkus
Copyright © Kirkus Reviews, used with permission.

A soul-baring memoir by one the most significant social activists of the past two decades. By the time the #MeToo hashtag became popularized in 2017, Burke had been at work for more than 10 years building the "me too" movement. Though she sets the record straight as the movement's true founder, she's less concerned about credit than she is about letting "women, particularly young women of color, know that they are not alone—it's a movement. It's beyond a hashtag. It's the start of a larger conversation and a move-ment for radical community healing." With empathy at the heart of this movement, Burke offers her own story as a means of helping others. "A dark-skinned Black girl who had been damaged and used," the author recounts her upbringing in the Bronx in the 1970s and '80s where she was labeled "ugly" and blamed herself for the rape she endured at age 7. Through searing prose and riveting storytelling, Burke lays her trauma bare alongside beautifully rendered moments, such as her discovery, as a high school freshman, of the transformative power of fellow survivor Maya Angelou's life and art. An honors student known as the "Black Power girl" who challenged racist White teachers, the author went on to become a college activist and then a community organizer in Selma, Alabama. Her intense passion and commitment shine through on every page. Even readers familiar with the story of the Rev. James Bevel—a "giant of the Civil Rights Movement" and known, protected serial child molester—will share Burke's anger and heartbreak when they crossed paths in Selma. While working with Black girls in Selma, the author discovered that their healing and renewed sense of self-worth were inextricably tied to her own. Burke's reckoning with her painful past becomes the blueprint for "me too." Told with candor and deep vulnerability, this story is raw and sobering but also a source of healing and hope for other survivors. An unforgettable page-turner of a life story rendered with endless grace and grit. Copyright © Kirkus Reviews, used with permission.
---
Book list
From Booklist, Copyright © American Library Association. Used with permission.

With the creation of the #MeToo movement, Burke wanted to create an environment that empowered victims—especially Black women—and encouraged empathy instead of shame. In this memoir, Burke shares her part of the story: how she used the atrocities she faced, in the form of sexual assault and violence targeted at her as a Black woman, as inspiration for creating this movement more than ten years before it achieved national recognition. Burke's writing is blunt, and shines when she is describing her journey toward activism: "Standing and fighting against the diminishment and destruction of Black bodies had become a proxy for the diminishment and destruction of my own Black body." In many passages, Unbound reads like a diary entry, a simple recounting of memories without narrative flair. Burke's deeply personal story foregrounds important rhetoric of our time and will speak directly to readers who can relate to her struggles and those who want to empathize with them better.