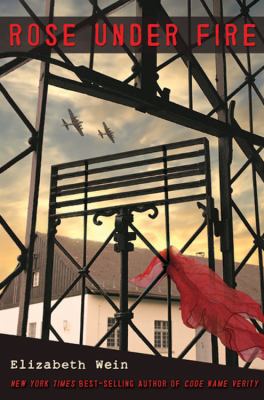 Rose under fire
by Elizabeth Wein


Publishers Weekly This companion to Wein's Printz Honor- and Edgar-winning Code Name Verity introduces Rose Justice, a Pennsylvania teenager and volunteer civilian pilot during WWII. Rose is ferrying a Spitfire back to England from France for the Royal Air Force when she is captured by Nazis and sent to Ravensbruck, the women's concentration camp. Designated a "skilled" worker, Rose is assigned to a factory; when she realizes that she's making bomb fuses, she stops working. Two brutal beatings later, she is reassigned to the high-security unit at the camp, where she is taken under the wing of the "Rabbits"--Polish political prisoners whose bodies have been horrifically abused by Nazi doctors for medical experimentation. Because Rose recounts her capture and imprisonment after the fact, in a journal, initially for cathartic purposes, her story doesn't have the same harrowing suspense of Code Name Verity, but it's no less intense and devastating. Eventually, Rose realizes the true purpose of the journal is to fulfill the promise she made to her Ravensbruck sisters: to tell the world what happened there. Wein excels at weaving research seamlessly into narrative and has crafted another indelible story about friendship borne out of unimaginable adversity. Ages 14-up. Agent: Ginger Clark, Curtis Brown. (Sept.) (c) Copyright PWxyz, LLC. All rights reserved.
(c) Copyright PWxyz, LLC. All rights reserved
School Library Journal Gr 8 Up-This companion novel to Wein's Code Name Verity (Hyperion, 2012) tells a very different World War II story, with a different pilot. Rose Justice, an American, has grown up flying, and when she is given the opportunity to ferry planes to support the war effort in England in 1944, she jumps at the chance. It is during one of her missions that she purposefully knocks an unmanned V-1 flying bomb out of the sky and is captured by Nazi airmen. Once on the ground, she is taken to the infamous women's concentration camp, Ravensbruck. She is first treated as a "skilled" worker, but once she realizes that her job will be to put together fuses for flying bombs, she refuses to do it, is brutally beaten, and is then sent to live with the political prisoners. Once she's taken under the wing of the Polish "Rabbits"-young women who suffered horrible medical "experiments" by Nazi doctors-she faces a constant struggle to survive. After a daring escape, she recounts her experience in a journal that was given to her by her friend, Maddie, the pilot from Code Name Verity, weaving together a story of unimaginable suffering, loss, but, eventually, hope. Throughout her experience, Rose writes and recites poetry, and it is through these poems, some heartbreaking, some defiant, that she finds her voice and is able to "tell the world" her story and those of the Rabbits. While this book is more introspective than its predecessor, it is no less harrowing and emotional. Readers will connect with Rose and be moved by her struggle to go forward, find her wings again, and fly.-Necia Blundy, formerly at Marlborough Public Library, MA (c) Copyright 2013. Library Journals LLC, a wholly owned subsidiary of Media Source, Inc. No redistribution permitted.
(c) Copyright Library Journals LLC, a wholly owned subsidiary of Media Source, Inc. No redistribution permitted.
Book list In this companion to Code Name Verity (2012), readers meet American Rose Justice, who ferries Allied planes from England to Paris. The first quarter of the book, which begins in 1944, describes Rose's work, both its dangers and its highs. It also makes the connection between Rose and the heroine of the previous book, Julie, through their mutual friend, Maddie. Despite the vagaries of war, things are going pretty well for Rose, so hearts drop when Rose is captured. It first seems Rose's status as a pilot may save her, but she is quickly shipped off to Ravensbruck, the notorious women's concentration camp in Northern Germany. The horror of the camp, with its medical experimentation on Polish women called rabbits is ably captured. Yet, along with the misery, Wein also reveals the humanity that can surface, even in the worst of circumstances. The opening diary format is a little clunky, but readers will quickly become involved in Rose's harrowing experience. Though the tension is different than in Code Name Verity, it is still palpable.--Cooper, Ilene Copyright 2010 Booklist
From Booklist, Copyright © American Library Association. Used with permission.