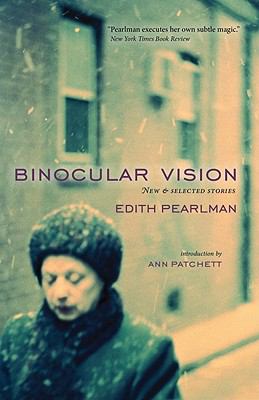 Binocular Vision: New and Selected Stories
by Edith Pearlman


Publishers Weekly A finely tuned collection by writer's writer Pearlman combines the best of previous collections (How to Fall; etc.) with austere, polished new work. Pearlman's characters for the most part are stiff-upper-lipped Northeasterners who take what comes and don't grumble: in "The Noncombatant," Richard, a 49-year-old doctor suffering gravely from cancer during the tail end of WWII, rages quietly in his small Cape Cod town as celebrations erupt and memories of the wasted lives of the dead are swept away. A fictional Godolphin, Mass., is the setting for many of the stories, such as "Rules," in which the well-meaning staff at a soup kitchen try not to pry into the lives of the "cheats and crazies, drunks and dealers" who frequent the place. "Hanging Fire" is a perfectly crafted story about a 21-year-old college graduate, Nancy, on the cusp of embarking on life and certain only of her obligation to herself. The tale of retired gastroenterologist Cornelia Fitch in "Self-Reliance" reads like the fulfillment of Nancy's own self-determined trajectory: after a successful career, she determines how she wants to leave this life: with dignity and a wink. This should win new converts for Pearlman. (Jan.) (c) Copyright PWxyz, LLC. All rights reserved.
(c) Copyright PWxyz, LLC. All rights reserved
Book list *Starred Review* There is a vast difference between reading Pearlman's stories in a magazine or anthology and reading this collection. In settings ranging from unnamed South American countries to the Boston suburbs, from the current day to the last century (e.g., the Russian Revolution, WWII), depictions of people, places, and manners are so perfect that the stories become totally immersive. The characters, always interesting, are limned just as strongly whether female or male, young or old. The Latin American minister of health (called the Cow by her enemies) in Vaquita and the old man studying Japanese at age 75 in Relic and Type both linger in memory long after the book is closed. Stylistically, the stories are complex in their use of language, with technique incorporated seamlessly to engage and provoke readers. Many describe the lives of Jews who have integrated into the modern world and who examine the resonance of Judaism in their lives. The stories' disparate lengths are no impediment to these qualities. The shorter The Story is just as involving as the longer Binocular Vision. Give this wonderful collection to fans of such classic short story writers as Andre Dubus and Alice Munro and novelists like Nicole Krauss. They will thank you.--Loughran, Ellen Copyright 2010 Booklist
From Booklist, Copyright © American Library Association. Used with permission.