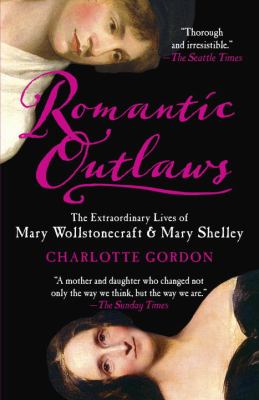 Romantic Outlaws: The Extraordinary Lives of Mary Wollstonecraft and Mary Shelley
by Charlotte Gordon


Publishers Weekly The relationship between Mary Shelley (1797-1851) and the mother she never knew-Mary Wollstonecraft (1759-1797), author of the incendiary tract A Vindication of the Rights of Women, who died 10 days after her daughter's birth-is explored with remarkable insight and perspicacity in this exhilarating dual biography from Gordon (Mistress Bradstreet). The book illustrates the similarities between mother and daughter by devoting alternating chapters to their lives. Both were raised in emotionally turbulent households (although Shelley's offered more intellectual stimulation); both had to leave home to find their identities as writers; and both lived as adults under the shadow of scandal-Wollstonecraft for her outspoken feminism and marriage to liberal political philosopher William Godwin, a critic of matrimony, and Shelley for her role in the notorious Byron-Shelley literary circle. Gordon's perceptive reading of both women's published works illuminates their core ideas, including complementary critiques of patriarchy, and identifies the emotional fault lines caused by the drama in their lives. Her lucid prose and multifaceted appraisal of Wollstonecraft, Shelley, and their times make warm-blooded and fully fleshed-out people of writers who exist for readers today only as the literary works they left behind. Agent: Brettine Bloom, Kneerim, Williams, & Bloom. © Copyright PWxyz, LLC. All rights reserved.
(c) Copyright PWxyz, LLC. All rights reserved
Book list *Starred Review* Gordon (Mistress Bradstreet, 2005) infuses literary history with electrifying discoveries in this symbiotic portrait of radical mother-daughter writers who indelibly changed society and the arts. Mary Wollstonecraft, the author of the scandalous and transformative A Vindication of the Rights of Woman (1792), died soon after giving birth to a sickly baby girl whose father was the controversial philosopher William Godwin, a daughter who at 19 and as a mother herself wrote the still-reverberating masterpiece, Frankenstein. The first to fully investigate the life-determining influence Wollstonecraft's feminist writings had on Mary Shelley, Gordon chronicles their harsh, tragic, and courageous lives in alternating chapters that are as emotionally incisive as they are finely particularized in their astute renderings of tumultuous settings and dire predicaments. She traces each woman's struggle against poverty, viciously abusive sexism, agonizing familial and romantic relationships, and, in Shelley's case, the deaths of three children and her young husband, the poet Percy Shelley, all while insightfully profiling Godwin, Mary Shelley's stepsister and rival, and the romantic poets. As Gordon ardently excavates the complete, true stories of Wollstonecraft and Shelley's heroic, world-altering achievements during the French Revolution, the dawn of science, and the blossoming of romanticism, she delivers overdue justice to two heretofore shallowly perceived yet deeply moral thinkers and writers who risked everything to protest in word and deed crimes and discrimination against women.--Seaman, Donna Copyright 2015 Booklist
From Booklist, Copyright © American Library Association. Used with permission.
Library Journal This excellent dual biography of Mary Wollstonecraft (1759-97) and her daughter Mary Shelley (1797-1851) by author Gordon (English, Endicott Coll.; Mistress Bradstreet) examines the profound influence Wollstonecraft had on Shelley and the impact both women have had on women's rights in succeeding generations. Although Wollstonecraft died days after Shelley's birth, her writing, especially that most famous volume, A Vindication of the Rights of Woman, inspired Shelley to embrace her mother's radical ideas and heartfelt aspirations. Consequently, Shelley's essays, novels, travel books, reviews, and poetry emphasize the importance of education and independence for women and denounce male values of dominance and ambition. Gordon presents the lives of each woman chronologically in alternating chapters; this technique allows her to emphasize "the echo of Wollstonecraft in Shelley's letters, journals, and novels and demonstrate how often Wollstonecraft addressed herself to the future." Gordon's prose is compelling and her scholarship meticulous; her contention that both women led "lives as memorable as the words they left behind" is brilliantly supported. VERDICT Readers interested in Mary Wollstonecraft and Mary Shelley will relish this volume.-Kathryn Bartelt, Univ. of Evansville Libs., IN © Copyright 2015. Library Journals LLC, a wholly owned subsidiary of Media Source, Inc. No redistribution permitted.
(c) Copyright Library Journals LLC, a wholly owned subsidiary of Media Source, Inc. No redistribution permitted.