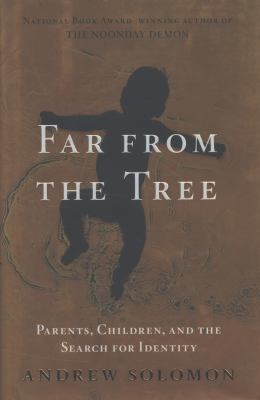 Far From the Tree: Parents, Children and the Search for Identity
by Andrew Solomon


Publishers Weekly A profoundly moving new work of research and narrative by National Book Award-winner Solomon (The Noonday Demon) explores the ways that parents of marginalized children-being gay, dwarf, severely disabled, deaf, autistic, schizophrenic, the product of rape, or given to criminal tendencies or prodigious musical talent, to name a few he chose-have been transformed and largely enriched by caring for their high-needs children. These children are marginalized by society, classified traditionally as ill and abnormal, and shunned; in the cases of those who are deaf or homosexual, they were forced to conform to mainstream strictures. A seasoned journalist and LGBT activist, Solomon relies on anecdotes to convey the herculean tasks facing parents and caregivers of special-needs children because "stories acknowledge chaos," and he takes great pains to probe the dark side of parental despair and anger, as well as ennobling efforts of resilience and strength. Sifting through arguments about nature versus nurture, Solomon finds some startling moments of discovery, for example, among Deaf activists who ferociously cling to their marginality, parents of children with Down syndrome who express their children's infinite "mystery and beauty," and the truculent compassion of Dylan Klebold's parents, 10 years after the Columbine High School shootings. Solomon's own trials of feeling marginalized as gay, dyslexic, and depressive, while still yearning to be a father, frame these affectingly rendered real tales about bravely playing the cards one's dealt. (Nov.) (c) Copyright PWxyz, LLC. All rights reserved.
(c) Copyright PWxyz, LLC. All rights reserved
Book list *Starred Review* Solomon, who won the National Book Award for The Noonday Demon (2001), tackles daunting questions involving nature versus nurture, illness versus identity, and how they all affect parenting in his exhaustive but not exhausting exploration of what happens when children bear little resemblance to their parents. He begins by challenging the very concept of human reproduction. We do not reproduce, he asserts, spawning clones. We produce originals. And if we're really lucky, our offspring will be enough like us or our immediate forebears that we can easily love, nurture, understand, and respect them. But it's a crapshoot. More often than not, little junior will be born with a long-dormant recessive gene, or she may emerge from the womb with her very own, brand-new identifier say, deafness, physical deformity, or homosexuality. Years of interviews with families and their unique children culminate in this compassionate compendium. Solomon focuses on the creative and often desperate ways in which families manage to tear down prejudices and preconceived fears and reassemble their lives around the life of a child who alters their view of the world. Most succeed. Some don't. But the truth Solomon writes about here is as poignant as it is implacable, and he leaves us with a reinvented notion of identity and individual value.--Chavez, Donna Copyright 2010 Booklist
From Booklist, Copyright © American Library Association. Used with permission.
Choice Award-winning author Andrew Solomon (psychiatry, Cornell) draws an amazing parallel between familial acceptance of difference and the capacity all humans could have for tolerance and acceptance of all--regardless of difference. How is it that some parents can learn not to live life through their children? How is it that some parents can strike that balance between letting their child be the individual he or she is and striving to help that child reach his or her unique potential? Solomon expresses the emotional side of the issue most clearly in the family histories he presents. But the true power of the work resides in Solomon's blend of scientific inquiry into the various illnesses and differences that fundamentally challenge individuals and families and the empowering examples of nurturing acceptance that he offers. This reader teaches courses on prejudice, discrimination, and hate. In those courses, the question of what the opposite of hate is often arises. Solomon convincingly demonstrates that hate's opposite is not love--it is acceptance of a person's individuality, in whatever shape or form that takes. This book makes clear the value of difference. Summing Up: Highly recommended. Upper-division undergraduates through faculty; professionals; general readers. R. E. Osborne Texas State University--San Marcos
Copyright American Library Association, used with permission.