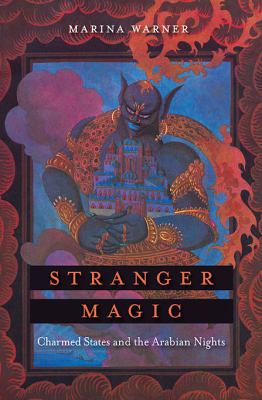 Strange Magic: Charmed States and the Arabian Nights
by Marina Warner


Book list This learned, lively, and well-written book concerns the wide-ranging influence of The Arabian Nights a polyvocal anthology of world myths, fables and fairy tales on Western culture. Even Freud's couch, carpet, and Middle Eastern antiquities created an Oriental setting for the first psychoanalytical cures. Warner's densely detailed, loose, baggy monster of a book covers an impressive array of subjects from Voltaire and Goethe to Borges and Nabokov. It includes and interprets 15 of the tales, which describe fantasy, magic, and enchantment as well as cruelty and executions, humanity and justice. They were first translated into French by the orientalist Antoine Galland in 1704-12. The most popular stories, Aladdin and the Wonderful Lamp and Ali Baba and the Forty Thieves, were not in the original collection but rather invented by the translator. Warner writes, Sharazad plays the part of an Arabian Penelope, delaying her fate by weaving an endless tapestry of stories, which instead of unwinding actually grows. At the end of a thousand nights, the sultan decrees that she deserves to live and inscribes her stories in a golden book.--Meyers, Jeffrey Copyright 2010 Booklist
From Booklist, Copyright © American Library Association. Used with permission.
Library Journal Warner (literature, film, & theater studies, Univ. of Essex, UK; Monsters of Our Own Making: The Peculiar Pleasures of Fear) has long been recognized as one of the foremost scholars of the fairy tale and myth. Here, she brings her characteristic erudition and insight to one of the great works of world literature, The Arabian Nights, using the best-known as well as some of the lesser-known stories to demonstrate how the Nights contributed to the rise of magical thinking across European and world culture. In all, she examines 15 stories from the Nights and connects them to wider cultural phenomena such as Mozart's The Magic Flute and ideas of flying "before flying." Freud's couch plays its role as well. Warner's argument is based on her premise that "the cultural picture has greater potential for enriching the historical view." She ably demonstrates how the tales loom large in European culture and have provided the basis for much creativity and imagination since their discovery by the West in the 18th century. VERDICT General readers and scholars in folklore, history, and Arabic literature alike will appreciate Warner's ability to make connections between the Nights and the way the stories have resonated over time and space. Highly recommended.-David S. Azzolina, Univ. of Pennsylvania- Libs., Philadelphia (c) Copyright 2012. Library Journals LLC, a wholly owned subsidiary of Media Source, Inc. No redistribution permitted.
(c) Copyright 2010. Library Journals LLC, a wholly owned subsidiary of Media Source, Inc. No redistribution permitted.
Choice Writer and mythographer Marina Warner (Univ. of Exeter, UK) examines the perplexing popularity of Arabian Nights during the Enlightenment. Antoine Galland's creative reconstruction of the tales in 1704 provides the starting point for Warner's investigation. Despite multiple variations, every version of Arabian Nights follows the same overarching plot: by telling fascinating, interlaced tales, Shahrazad is able to distract, educate, and transform an enraged sultan. These fantastical tales enabled Western readers to act out their fantasies in a foreign and therefore safe space. The book is divided into five parts, each featuring three stories written by Warner for convenience and consistency. Part 1 focuses on enchantment in the legends of Solomon; part 2 examines how magic became exoticized by being projected on mysterious yet powerful foreigners; part 3 connects the stories to modern experience through objects and artifacts; and part 4 explores respectively writers' and artists' response to Nights. Part 5 provides specific case studies of the Arabian Nights' influence on modernity. Overall, Warner's analysis of Arabian Nights aims at redefining the relationship between East and West, reason and imagination, science and magic. Summing Up: Highly recommended. Lower-division undergraduates through faculty; general readers. S. Gomaa Salve Regina University
Copyright American Library Association, used with permission.
Publishers Weekly This remarkable study is an arabesque, and an intricate Persian rug of themes, eras, tales, and authors-of the Middle East and West, playing on "states of consciousness" as well as state-cultures. With a basic knowledge of Arabic from childhood as well as a Catholic upbringing, Warner is almost divinely positioned to unravel the infinite strands of the wily Scheherazade, as she weaves her way through the Arabian Nights, exploring their boundless capacity to "keep generating more tales, in various media, themselves different but alike: the stories themselves are shape-shifters." From Disney's Aladdin to the works of Freud, Goethe, Hans Christian Andersen, and others, Warner explores the impact of the Arabian Nights on the West and the power of enchantment and fantasy. Like all myth, these of flying carpets, sofas, and beds of genies and heroic connivers grant lasting insights into human aspirations, transcendence, and love. Carefully documented, Warner's ever shifting work takes its place alongside that of Edward Said, though she is refreshingly less polemical and less theoretical. No one need cover this enchanting ground again. 25 color, 55 b&w illus. (Mar.) (c) Copyright PWxyz, LLC. All rights reserved.
(c) Copyright PWxyz, LLC. All rights reserved