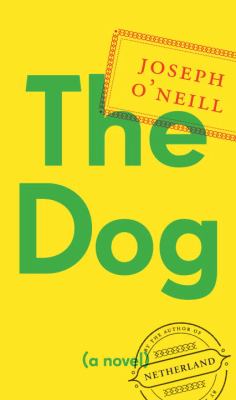 The dog
by Joseph O'Neill


Publishers Weekly As he did brilliantly in Netherland, O'Neill, in his latest, creates a character who is alienated from his home and social class, and who feels dangerously vulnerable in a country in which he lives a luxurious but precarious existence. The unnamed narrator (we do learn that his given name begins with X) fled from his position in a Manhattan law firm after a bad breakup with a colleague. Feeling lucky at first to get a job in Dubai as "family officer" of the wealthy Batros family, the narrator discovers that he must ignore his ethical principles in order to do the blatantly illegal work required of him. Everyone encountered by the narrator is corrupt, except for his assistant, Ali, who is a bidoon-a stateless person lacking basic human rights. O'Neill's Dubai is "a vast booby trap of medieval judicial perils," and the narrator gets caught in "one fucking glitch after another." Gradually, the sordidness of his situation wears down the his psychological defenses. His agitated thoughts, which the author conveys in pitch-perfect prose, become more and more muddled; his asides within asides (indicated by multiple parentheses) veer into philosophical ramblings and recurrent mea culpas, as he accuses himself of "chronic self-misrepresentation and inner absenteeism." The narrator develops an obsession with the disappearance of another American man, even while his own life cascades toward a dead end. Clever, witty, and profoundly insightful, this is a beautifully crafted narrative about a man undone by a soulless society. (Sept.) (c) Copyright PWxyz, LLC. All rights reserved.
(c) Copyright PWxyz, LLC. All rights reserved
Library Journal Starred Review. O'Neill's previous novel, Netherland, won the PEN/Faulkner Award for Fiction and even garnered praise from President Barack Obama; critics applauded the novel for its poignant, postcolonial narrative of New York in the aftermath of 9/11. Here, O'Neill explores the inverse relationship between ethical stricture and our ever-expanding modern conveniences. The first-person narrative unfolds through an unnamed protagonist who relocates to Dubai to assume the role of financial trustee for the wealthy Batros family. When he is not mindlessly responding to emails and certifying documents with a rubber stamp, the trustee spends ample time scuba diving, enjoying massages, and remembering the make and model of each colleague's luxury automobile. When a financial scandal descends on the family, the protagonist finds himself ensnared in legal and moral culpability. VERDICT A humorous meditation on the dialectics of attention and distraction in the modern world, O'Neill's work playfully skewers the global economy of consumption and our abstract notions of responsibility in its perpetuation. [See Prepub Alert, 3/31/14.]-Joshua Finnell, Denison Univ. Lib., Granville, OH (c) Copyright 2014. Library Journals LLC, a wholly owned subsidiary of Media Source, Inc. No redistribution permitted.
(c) Copyright Library Journals LLC, a wholly owned subsidiary of Media Source, Inc. No redistribution permitted.
Book list O'Neill follows his best-selling, PEN/Faulkner winner, Netherland (2008), with a manically ruminative tale narrated by an anxious, lonely, and mordantly funny attorney who leaves New York in 2007 to work for his college roommate Eddie Batros' Lebanese family as trustee of their immense fortune. He moves to the abracadabratroplis of Dubai, where he is installed in an apartment building called, in Kafkaesque mode, The Situation. As our fulminating hero is pressured by Eddie's wayward brother, Sandro, to authorize highly questionable financial maneuvers, he scrambles to protect himself with a shield of prolix disclaimers, becoming a cyber-age Bartleby. Then he's put in nominal charge of Sandro's overweight and underappreciated teenage son. The narrator may be the Batros' dog and a deeply depressed man reduced to interactions with prostitutes, but he does possess high intelligence and linguistic proficiency and stubbornly seeks the ethical way forward, constructing vast word edifices as extreme as Dubai's famously extravagant architecture. O'Neill has created a bravura and astringent tale about conscience, entrapment, and the power and limits of language as the vehicle for morality.--Seaman, Donna Copyright 2014 Booklist
From Booklist, Copyright © American Library Association. Used with permission.