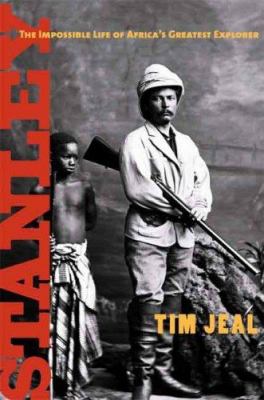 Stanley, the Impossible Life of Africas Greatest Explorer
by Tim Jeal


Book list *Starred Review* The great European colonial empires are long gone, and imperialist is usually used as a pejorative term. So it is perhaps to be expected that recent biographies of Henry Morton Stanley have emphasized unsavory aspects of his career and personality, including his supposed racism, the brutal treatment of Africans on his expeditions, and even his difficult relations with women. But Jeal, who previously wrote a biography of the great explorer David Livingstone, has made an admirable effort to balance the scales. Jeal utilizes a conventional narrative style, beginning with Stanley's horrible childhood in Wales, where he was abandoned by his parents and forced to labor in a workhouse. After his emigration to the U.S. at 18, he served in both the Confederate and Union armies and then made his mark as a risk-taking journalist during the Plains Indian wars. Of course, the heart of this story is Stanley's career as an African explorer, launched by his famed search for Livingstone. As Jeal illustrates, Stanley was terribly scarred by his childhood traumas, was ambitious to a fault, had a casual relationship with the truth, and was often ruthless in driving subordinates on African expeditions. But, as an examination of his letters shows, he was quite capable of compassion, even tenderness for Africa and Africans, and his reputation for cruelty is unwarranted. Jeal has provided a fine, counterrevisionist look at a flawed but still admirable character.--Freeman, Jay Copyright 2007 Booklist
From Booklist, Copyright © American Library Association. Used with permission.
Choice Jeal, the first biographer to have access to the hitherto unavailable 7,000 personal letters, journals, diaries, and other materials in the Stanley archives of the Musee Royal de l'Afrique Centrale in Brussels, has produced a meticulously detailed, thoroughly documented, definitive biography of Henry Stanley (born John Rowlands). Jeal traces Stanley's illegitimate birth and workhouse youth in Wales, his migration at 18 to the US, and his transformation from store clerk, steamboat hand, Civil War soldier, P.O.W., and deserter into the New York Herald's roving world reporter and discoverer of Livingstone. Subsequent exploits made Stanley the most famous African explorer of his era, a bestselling author, member of Parliament, and unofficial founder of the Congo Free State. Despite immense fame and extensive writings by and about Stanley, this biography repudiates the conventional perceptions about the explorer. Jeal shows that Stanley's marriage wasn't a sham and that he wasn't a repressed homosexual. The author totally refutes the long-held view of Stanley as egotistic, paranoid, violent, ruthless, racist, and as an obsessively driven explorer manipulated by King Leopold of Belgium. Jeal's fascinating biography will not be the last word on Stanley, but it should be the starting place for years to come. Summing Up: Highly recommended. All levels/libraries. G. M. Stearns Elizabethtown Community College
Copyright American Library Association, used with permission.