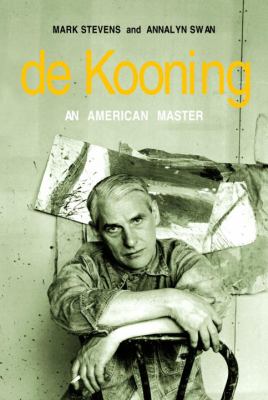 De Kooning: An American Master
by Mark Stevens


Publishers Weekly This sweeping biography, 10 years in the making, chronicles in fastidious detail de Kooning's rise from his humble beginnings in Rotterdam to his fame as an abstract expressionist and his descent into alcoholism and Alzheimer's. Emigrating to New York in 1926, de Kooning (1904-1997) situated himself among fellow artists and role models like Arshile Gorky. In 1938, he met and later married painter Elaine Fried; the two remained married despite de Kooning's predilection for bed hopping. (An affair with Joan Ward resulted in a daughter, Lisa, and indeed, the authors spend more ink on de Kooning's womanizing than his art making.) In the early 1940s, de Kooning's work appeared in group shows; his first solo show was a commercial failure. The artist did not meet with real success until the 1950s, when his paintings Excavation and Woman 1 made him "first among equals" in the art world. Stevens, New York magazine's art critic, and Swan, a former senior arts editor at Newsweek, see in de Kooning's life the realization of classic stories-the triumph of the immigrant, the man consumed by his success, the nonexistence of life's second acts-and this comprehensive biography, which attempts to explain de Kooning's art through a careful catalogue of his personal life, is a must read for his admirers. Illus. Agent, Molly Friedrich at Aaron Priest. 40,000 first printing; author tour. (Nov.) Copyright 2004 Reed Business Information.
Copyright © Reed Business Information, a division of Reed Elsevier Inc. All rights reserved.
Library Journal At age 12, Willem de Kooning was working at a decorating firm to help support his family while studying the masters at Rotterdam's art academy by night. Ten years later, in 1926, when he stowed away on the British freighter SS Shelley, he knew only one word of English-yes-but was determined to become an American. His classical northern European training and his determination to succeed in this country-along with his tremendous talent and imagination-helped him become an American Master of the 20th century. In this pioneering biography, we learn that his personal life was troubled by alcoholism and infidelity but that his artistic life set him at the forefront of the New York art scene: he founded the New York School and was associated with the likes of Arshile Gorky, Jackson Pollock, and Mark Rothko. New York magazine art critic Stevens and Newsweek arts editor Swan conducted scores of interviews and spent ten years poring over de Kooning's writings (published and unpublished), as well as his films and videotapes, plus statements by those who knew him to produce this masterly biography. A fascinating and dynamic look at the artist, his work, and his world; highly recommended. [See Prepub Alert, LJ 7/04.]-Marcia Welsh, Dartmouth Coll., Hanover, NH Copyright 2005 Reed Business Information.
Copyright © Reed Business Information, a division of Reed Elsevier Inc. All rights reserved.
Library Journal What made De Kooning tick? New York art critic Stevens joins with former Newsweek arts editor Swan to find out. Copyright 2004 Reed Business Information.
Copyright © Reed Business Information, a division of Reed Elsevier Inc. All rights reserved.
Book list It took de Kooning many years to achieve recognition, a sustained struggle given its full due in this unfailingly attentive biography, the first of this controversial American master. Distinguished critics Stevens and Swan are indefatigable in their factual chronicling, vivid in their characterization of an immense cast of colorful characters, measured in their psychological interpretations, and sharp in their explications of the visions and politics that drove New York's striving art world from 1926, when the handsome young Dutchman arrived as a stowaway, to his death in 1997. Stevens and Swan tell wild stories about de Kooning's part in the much mythologized Cedar Tavern-anchored, abstract-art heyday, and they cover in painful detail his many affairs and complicated marriage to the vivacious, talented, and pragmatic Elaine. But what is most valuable here is the light shed on de Kooning's rough Rotterdam childhood and early commercial art training, his insistence on painting vehement and unnerving portraits of women, and his mysterious last years at his Long Island studio. Here are rival artists, dueling critics, rampant promiscuity, heroic intentions, demoralizing poverty, heavy drinking, depression, and through it all de Kooning's quest for powerful and authentic expression. --Donna Seaman Copyright 2004 Booklist
From Booklist, Copyright © American Library Association. Used with permission.