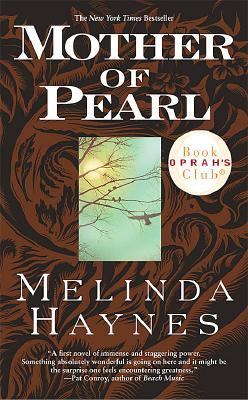 Mother of Pearl
by Melinda Haynes


Publishers Weekly In prose both rugged and beautiful, Haynes plumbs the secrets of the South in her stunning debut novel. Set in Petal, Miss., across the Leaf River from Hattiesburg, the narrative opens in the summer of 1956, shortly after Even Grade, a 27-year-old black man, has met Joody Two Sun, a seer whos known as a witch, and not long after Valuable Korner, the 14-year-old daughter of the towns one loose woman, gets her Blessing of Blood, as Joody Two Sun calls it. Evenso named from the note his mother left when she abandoned him at a Memphis orphanageis a decent man, kindheartedly building a family of friends; while Valuable, the daughter of a dying Southern line, an orphan of sorts herself, is deeply in need of family. Valuable and Jackson McLain, the boy down the street, fall in love, and Haynes captures that phenomenon delicately and persuasively. In a heartbeat Valuable is pregnant, and as Jackson is forced to move away, Valuable turns to Joody and Even for support as she carries the baby she comes to think of as Pearl. Despite Evens help, Valuable, whose family hides secrets far darker than this pregnancy, seems doomed to pay for the sins of the past. Indeed, Hayness capacious novel is very much about the justice wrought by destiny, but it is also about finding family, people who nurture, forgive and care for each other; in the novels resolution, those most deserving of love are brought together. Haynes is fearless in portraying her characters flaws, their pettiness and racism, their erring thoughts, but shes also merciful, letting them grow and change during the course of the narrative. While perhaps too many of the characters take the stage, each with tragic accounts of their lives, Haynes nevertheless triumphs with a rare and memorable ensemble. This wise, luminous novel demonstrates her great giftsfor language, courageous storytelling and compassion. BOMC and QPB selections. (June) (c) Copyright PWxyz, LLC. All rights reserved
(c) Copyright PWxyz, LLC. All rights reserved
Library Journal This fascinating first novel tells the intertwining stories of Valuable, a young white girl whose mother is the town whore; Even Grade, a black man raised in an orphanage; Joody Two Sun, a mysterious seer; Canaan, a misfit intellectual; and Joleb, a white boy raised by Grace Johnson, a black woman hired as his wet-nurse after the death of her baby. Each is searching for love and identity in Mississippi in 1956, when blacks and whites rarely interacted. When Valuable's mother abandons her and Val becomes pregnant, she turns to Even and the others. They forge a makeshift family based on love and acceptance, not blood or race. Haynes has written a monumental novel of love, grace, and hope amid the trials and terrors of everyday life. The story takes place in the segregated South, but it is timeless, and the characters are unforgettable. Highly recommended for public and academic libraries.ÄKaren Anderson, Superior Court Law Lib., Phoenix (c) Copyright 2010. Library Journals LLC, a wholly owned subsidiary of Media Source, Inc. No redistribution permitted.
(c) Copyright Library Journals LLC, a wholly owned subsidiary of Media Source, Inc. No redistribution permitted.
Library Journal YA-Set in the 1950s in Petal, MS, Mother of Pearl follows the intertwining stories of Even Grade, a 28-year-old black man, and Valuable Korner, the pregnant 15-year-old white daughter of the town whore. Even meets Valuable through his love interest, Joody Two Sun, a black woman whose ability to see the future makes her a constant consultant for the community. Val is searching for love and a family, and makes some unlikely connections. Elderly, self-educated Canaan, a custodian, works on his thesis, The Reality of the Negro, and reads Greek classics in the town library at night-after he's finished cleaning it; as a black man, he is not allowed admittance during its open hours. A hard-edged spinster shrewdly negotiates with a potential suitor, who is the town mortician with definite ideas of his own. Although much of the action involves the emotional well-being of the characters, there is a swiftly moving chapter that describes a raging flood and its aftermath. This realistic novel unflinchingly captures the bigotry of the times through actions and dialogue. The characters are fully drawn and the author conveys a good sense of time and place. The themes of identity, belonging, abandonment, and motherhood are examined with Southern angst edged with a sharp eye to reality.-Jean Johnston, Fairfax County Public Library, VA (c) Copyright 2010. Library Journals LLC, a wholly owned subsidiary of Media Source, Inc. No redistribution permitted.
(c) Copyright Library Journals LLC, a wholly owned subsidiary of Media Source, Inc. No redistribution permitted.
Book list Set in Petal, Mississippi, amid the social and economic challenges of the Deep South in 1956, this phenomenal and completely captivating novel highlights basic human longings and aspirations common to us all--love, community, identity, and security. Even Grade is a 28-year-old black man, an orphan who never knew his family. He can't seem to get enough of the untamed, natural woman Joody Two Sun, a seer who can "read" peoples' lives. Valuable Korner is the white, 15-year-old, tenderly vulnerable daughter of a known prostitute and an unknown father; her relationship with her childhood best friend Jackson has recently undergone a profound transformation. The story centers on the unusual circumstances that lead these characters and others to an unlikely connection. The events of a single year forever alter the way they see the world and their places in it. Both richly humorous and deeply tragic, this story leaves one wiser, made to understand something meaningful and important about life and human nature. Haynes speaks the truth in a story that is astonishingly powerful. A commanding debut novel. --Grace Fill
From Booklist, Copyright © American Library Association. Used with permission.
Kirkus Newcomer Haynes writes swaying, shaded sentences in a promising debut that nicely realizes the atmosphere of Pearl, Mississippi, in the 1950s but that lacks an emotional decisiveness able to justify its prodigious length. What immediately strikes the reader is Haynes's style: grainy, rhythmic sentences whose music sometimes needs to be read aloud. As style, her prose is often beautiful and full of grace, but as communication it can be confusing, especially because one of the writer's narrative habits is to plop the reader down in the aftermath of an undescribed event and then describe it pages later. The story opens this way, and violently. A bottle is thrown at Canaan's head and he bleeds his way home. That incident sets the tone for the tale's other, mostly harmless oddities and personalities: Judy Tucson/Two Sun, who lives down by the river with sticks in her hair, issuing predictions given to her by the moon; lesbians Bea and Neva, guardians of Valuable, a motherless 15-year-old girl who furtively writes poetry and aches for companionship and love; Even Grade, a lonely young black man who falls in love with Judy; Jackson, a white boy who impregnates Valuable and leaves town; and Canaan himself, an elderly and sage janitor who reads Aeschylus and is composing a treatise on 'The Reality of the Negro.' Haynes's first is what might be called an 'atmospheric' novel: curiosities of dialect and strange usages richly evoke a Mississippi town. The plot itself'a simple affair in which Valuable dies during childbirth, followed by subsequent reconciliations among the story's participants'is a thin string along which Haynes drapes her alluring language and sensibility. Few of the characters, though, achieve permanence in the reader's memory. What lingers are moments, sayings, and the marvelous descriptions of sights and sounds in Pearl.
Copyright © Kirkus Reviews, used with permission.