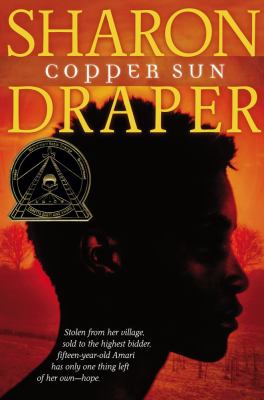 Copper Sun
by Sharon Draper


Book list Gr. 9-12. Best known for her contemporary African American characters, Draper's latest novel is a searing work of historical fiction that imagines a 15-year-old African girl's journey through American slavery. The story begins in Amari's Ashanti village, but the idyllic scene explodes in bloodshed when slavers arrive and murder her family. Amari and her beloved, Besa, are shackled, and so begins the account of impossible horrors from the slave fort, the Middle Passage, and auction on American shores, where a rice plantation owner buys Amari for his 16-year-old son's sexual enjoyment. In brutal specifics, Draper shows the inhumanity: Amari is systematically raped on the slave ship and on the plantation and a slave child is used as alligator bait by white teenagers. And she adds to the complex history in alternating chapters that flip between Amari and Polly, an indentured white servant on Amari's plantation. A few plot elements, such as Amari's chance meeting with Besa, are contrived. But Draper builds the explosive tension to the last chapter, and the sheer power of the story, balanced between the overwhelmingly brutal facts of slavery and Amari's ferocious survivor's spirit, will leave readers breathless, even as they consider the story's larger questions about the infinite costs of slavery and how to reconcile history. A moving author's note discusses the real places and events on which the story is based. Give this to teens who have read Julius Lester's Day of Tears (2005). --Gillian Engberg Copyright 2006 Booklist
From Booklist, Copyright © American Library Association. Used with permission.
School Library Journal Gr 8 Up-This action-packed, multifaceted, character-rich story describes the shocking realities of the slave trade and plantation life while portraying the perseverance, resourcefulness, and triumph of the human spirit. Amari is a 15-year-old Ashanti girl who is happily anticipating her marriage to Besa. Then, slavers arrive in her village, slaughter her family, and shatter her world. Shackled, frightened, and despondent, she is led to the Cape Coast where she is branded and forced onto a "boat of death" for the infamous Middle Passage to the Carolinas. There, Percival Derby buys her as a gift for his son's 16th birthday. Trust and friendship develop between Amari and Polly, a white indentured servant, and when their mistress gives birth to a black baby, the teens try to cover up Mrs. Derby's transgression. However, Mr. Derby's brutal fury spurs them to escape toward the rumored freedom of Fort Mose, a Spanish colony in Florida. Although the narrative focuses alternately on Amari and Polly, the story is primarily Amari's, and her pain, hope, and determination are acute. Cruel white stereotypes abound except for the plantation's mistress, whose love is colorblind; the doctor who provides the ruse for the girls' escape; and the Irish woman who gives the fugitives a horse and wagon. As readers embrace Amari and Polly, they will better understand the impact of human exploitation and suffering throughout history. In addition, they will gain a deeper knowledge of slavery, indentured servitude, and 18th-century sanctuaries for runaway slaves.-Gerry Larson, Durham School of the Arts, NC Copyright 2006 Reed Business Information.
Copyright © Reed Business Information, a division of Reed Elsevier Inc. All rights reserved.
Publishers Weekly Draper's (Forged by Fire) historical novel takes on an epic sweep as it chronicles the story of 15-year-old Amari, kidnapped from her African village in 1738 and sold into sexual slavery in South Carolina. The horrors of the kidnapping-Amari's parents and little brother are murdered before her eyes-and the Atlantic crossing unwind in exhaustive detail, but the material seems familiar. The story doesn't really take off until Amari reaches her new "home," a rice plantation run by a Snidely Whiplash clone, who presents her to his evil-to-the-core son as a birthday gift. Befriended by the wise cook, a white indentured girl named Polly and the beleaguered mistress of the household, Amari eventually and improbably finds a way to escape. Draper has obviously done her homework, but the narrative wears its research heavily. Every bad thing that befell an African slave either happens to or is witnessed by Amari (e.g., Africans eaten by sharks, children used as live alligator bait, an infant shot dead out of spite). Rape is constant. These lurid elements may appeal to reluctant readers who would normally shy away from historical fiction, but they unfortunately push the story to the brink of melodrama. The author also pulls her punches with a highly implausible happy ending. But after all that Amari has gone through, readers will likely find the conclusion a huge relief. Ages 14-up. (Jan.) Copyright 2006 Reed Business Information.
Copyright © Reed Business Information, a division of Reed Elsevier Inc. All rights reserved.