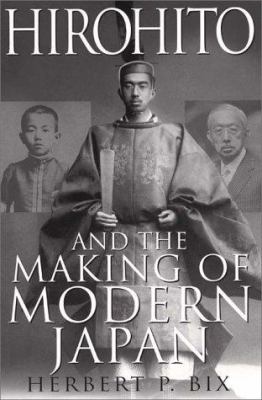 Hirohito and the Making of Modern Japan
by Herbert Bix


Book list Most postwar histories have portrayed Emperor Hirohito in one of two ways: a shy, hands-off monarch who preferred marine biology to affairs of state or a pacifistic but weak ruler who was dragged by militarists into a war of conquest against his better judgment. Bix has written extensively on Japanese history and is currently a professor in the graduate school of social sciences at Tokyo's Hitotsubasbi University. In this provocative and disturbing work, he paints a far more complex portrait of Hirohito. Aided by newly available material from Japanese archives, Bix convincingly asserts that the emperor was deeply involved in most aspects of the Pacific war, from start to finish, and he voiced few objections to the most brutal outrages of his military. It is particularly disturbing to see how the cocoon of lies spun around Hirohito has been used by conservative and especially reactionary politicians in Japan to advance their nationalistic agenda. This book will undoubtedly cause a storm of controversy, especially in Japan. However, it is a vital contribution to an ongoing and critical debate. --Jay Freeman
From Booklist, Copyright © American Library Association. Used with permission.
Publishers Weekly Bix penetrates decades of "public opacity" to offer a stunning portrait of the controversial Japanese emperor, "one of the most disingenuous persons ever to occupy the modern throne." Hirohito ascended to the Japanese throne in 1926 (at the age of 25) and ruled until his death in 1989. Bix closely examines his long, eventful reign, concentrating on the extent of the emperor's influence-which was greater than he admitted-over the political and military life of Japan during WWII. Bix's command of primary sources is apparent throughout the book, especially in the voluminous endnotes. From these sources, the author, a veteran scholar on modern Japanese history, draws a nuanced and balanced portrayal of an emperor who did not seek out war, but who demanded victories once war began and never took action to stop Japan's reckless descent into defeat. Bix makes Hirohito's later career intelligible by a careful exposition of the conflicting influences imposed on the emperor as a child: a passion for hard science coexisted with the myths of his own divine origin and destiny; he was taught benevolence along with belief in military supremacy. These influences unfolded as Hirohito was drawn into Japan's long conflict with China, its alliance with the fascist states of Europe, and its unwinnable war against the Allies. The dominant interest of the Showa ("radiant peace") Emperor, Bix convincingly explains, was to perpetuate the imperial system against more democratic opponents, no matter what the cost. Bix gives a meticulous account of his subject, delivers measured judgements about his accomplishments and failures, and reveals the subtlety of the emperor's character as a man who, while seemingly detached and remote, is in fact controlling events from behind the imperial screen. This is political biography at its most compelling. Agent, Susan Rabiner. (Sept.) Copyright 2000 Cahners Business Information.
Copyright © Reed Business Information, a division of Reed Elsevier Inc. All rights reserved.