Reviews for Holly
by Stephen King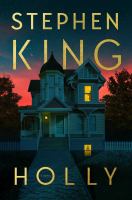 Book list
From Booklist, Copyright © American Library Association. Used with permission.

Private investigator Holly Gibney, who played supporting roles in Mr. Mercedes (2014), Finders Keepers (2015), and The Outsider (2018), takes center stage in King's new novel. A woman has gone missing, and her distraught mother begs Holly to take the case. Holly would rather not—the COVID-19 pandemic is in full swing, and Holly's own mother has just died, but as King's readers will know, Holly is unable to turn away from someone in distress. As she digs into the case, she soon discovers that the missing woman might not be the only person who has disappeared in the past few years. A serial killer? Or something altogether more evil? Opening up a new Stephen King novel and encountering his conversational prose is like settling into a comfortable chair or digging into a favorite meal. There's an immediate sense of satisfaction. In her new leading role, Holly shines. She's tough, relentless, and compassionate while at the same time being vulnerable and prone to lapses of confidence. The story is the kind of thing King excels at, too—dark, mysterious, and deeply unsettling. This is the novel Holly deserves.HIGH-DEMAND BACKSTORY: King is always on hold lists, but requests will ratchet way up as a favorite female character takes the helm.
---
Kirkus
Copyright © Kirkus Reviews, used with permission.

A much-beloved author gives a favorite recurring character her own novel. Holly Gibney made her first appearance in print with a small role in Mr. Mercedes (2014). She played a larger role in The Outsider (2018). And she was the central character in If It Bleeds, a novella in the 2020 collection of the same name. King has said that the character "stole his heart." Readers adore her, too. One way to look at this book is as several hundred pages of fan service. King offers a lot of callbacks to these earlier works that are undoubtedly a treat for his most loyal devotees. That these easter eggs are meaningless and even befuddling to new readers might make sense in terms of costs and benefits. King isn't exactly an author desperate to grow his audience; pleasing the people who keep him at the top of the bestseller lists is probably a smart strategy, and this writer achieved the kind of status that whatever he writes is going to be published. Having said all that, it's possible that even his hardcore fans might find this story a bit slow. There are also issues in terms of style. Much of the language King uses and the cultural references he drops feel a bit creaky. The word slacks occurs with distracting frequency. King uses the phrase keeping it on the down-low in a way that suggests he probably doesn't understand how this phrase is currently used—and has been used for quite a while. But the biggest problem is that this narrative is framed as a mystery without delivering the pleasures of a mystery. The reader knows who the bad guys are from the start. This can be an effective storytelling device, but in this case, waiting for the private investigator heroine to get to where the reader is at the beginning of the story feels interminable. Loyal King stans may disagree, but this is a snooze. Copyright © Kirkus Reviews, used with permission.
---
Library Journal
(c) Copyright Library Journals LLC, a wholly owned subsidiary of Media Source, Inc. No redistribution permitted.

King gives former supporting player Holly Gibney (introduced in Mr. Mercedes) her own full-length novel to solve the case of a missing person. Private investigator Holly is supposed to be on bereavement leave after the death of her mother, but she can't dismiss the persistent Penny Dahl. Penny's daughter Bonnie disappeared while biking home from work a month earlier, and the police didn't have time for more than a cursory investigation into what seemed to be a case of an adult walking away from her own life. Holly investigates, with help from friends. She soon realizes that Bonnie's is not an isolated case; others have gone missing in the last few years. The only similarity among the disappeared people is that they were last seen in the same area. The deeper Holly goes, the more convinced she becomes that something very sinister is going on. VERDICT King's choice to set the novel in the middle of COVID works, both to develop his characters and to keep Holly off base, emotionally and professionally. He eschews the supernatural here but finds all the horror possible in the evil that "normal" people may do. Mystery and horror readers will find much to love.—Jane Jorgenson
---
Publishers Weekly
(c) Copyright PWxyz, LLC. All rights reserved

PI Holly Gibney returns after King's 2020 novella If It Bleeds to face off against a pair of deliciously wicked predators in this lurid if somewhat plodding thriller. It's July 2021, and the Finders Keepers detective agency is on hiatus, with Holly taking time off to mourn her mother, who recently died of Covid. She's lured back to work by a series of persuasive calls from a woman named Penny Dahl, whose preteen daughter, Bonnie, disappeared three weeks earlier. As Holly begins to poke around the neighborhood where Bonnie was last seen, residents alert her to the disappearance of 11-year-old Peter "Stinky" Steinman, who vanished from the same area three years ago. Additional conversations point Holly in the direction of former college professors Rodney and Emily Harris, whose veneer of elderly innocence is complicated by rumors that they may be connected to a slew of missing persons cases stretching back nearly a decade. At first, Holly investigates the Harrises as a matter of protocol, but it doesn't take long for her to realize she's facing down a pair of cunning foes with far darker secrets than she could've imagined. The narrative can dawdle, with things starting to feel especially padded in the middle stretch, but readers are likely to forgive the delay by the time the stomach-turning dénouement comes around. This pitch-black thriller ends on a high note. Agent: Liz Darhansoff, Darhansoff & Verrill. (Sept.)