by Bettina L. Love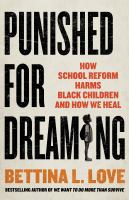 Book list
From Booklist, Copyright © American Library Association. Used with permission.

Black students deserve better than what the American educational system has given them, as education researcher Love (We Want to Do More Than Survive, 2019) makes clear. She lays out the racial injustices rampant in the public education system, from the era of school segregation to the massive resistance to Brown v. Boar of Education to the current era of so-called school choice. Through all these changes, Black children have been consistently underfunded, overpoliced, and subjected to government and corporate experimentation to the detriment of their potential, safety, and joy. "Reformers have already selected the victors," writes Love. "The rest of us are playing a rigged game of educational oppression." She methodically shows readers the ways that policymakers on the left and right have created system after system that prioritizes money first, white children second, and Black children never. In closing, she calculates a dollar amount by which Black students have been shortchanged and proposes a system of educational reparations to account for the disparity. Punished for Dreaming is an important—though enraging and -heartbreaking—read.
---
Publishers Weekly
(c) Copyright PWxyz, LLC. All rights reserved

Love (We Want to Do More Than Survive), professor of education at Columbia University, presents an in-depth history of the U.S. education system that highlights the anti-Black nature of school reform since the 1980s. In the decade after the Supreme Court's 1954 ruling against school segregation in Brown v. Board of Education, anti-Black institutional backlash devastated the country's robust community of Black educators, according to Love, who notes that 38,000 Black teachers and 90% of Black principals were forced out of their jobs. The institutional pushback against desegregation solidified during the Reagan administration, which manufactured a crisis of faith in the education system, notoriously claiming that if a foreign power had created the U.S. education system, it would amount to an act of war. This kicked off the successive waves of "reform" that characterized the next 40 years of education policy: the growth of opt-out institutions like charter schools, virtual schools, and vouchers; the encroachment of police into schools; an increased focus on testing; and other reforms that established a punitive and depersonalized educational environment for Black children. Love concludes with a chapter arguing that Black Americans are owed $56 billion for the harm done by the past 40 years of school reform, a bold assertion that will no doubt make waves in education advocacy circles. Detailed and persuasive, this is a must-read for educators. (Sept.)
---
Kirkus
Copyright © Kirkus Reviews, used with permission.

An uncompromising indictment of education reform. Educator Love, co-founder of the Abolitionist Teaching Network, expands on her previous book, We Want To Do More Than Survive, to offer a stark critique of 40 years of education policies that were deliberately crafted "to punish Black people for believing in and fighting for their right to quality public education." Why, she asks, "instead of learning," are Black students "punished with low expectations, physical violence, surveillance, standardized testing, and frequent suspensions?" The author condemns education reform under Nixon, Reagan, George H.W. Bush, and Clinton for enacting an agenda "that ushered in a new sort of Black bondage, a system in which Black Americans would be educationally neglected, economically starved, denied assistance, and incarcerated for selling drugs that the government itself allowed to be put out on the street." Such policies, she asserts, are a form of white rage, "organized, well-funded, and cruel." Policymakers with superficially progressive ideas—Bill and Melinda Gates, Mike Bloomberg, and Barack Obama, for example—nevertheless perpetrate harmful educational practices such as charter schools, virtual schools, and vouchers. "Many charter schools," Love asserts, "are awash in corporate sponsors, philanthropic dollars, and the expectation that failure is an important part of the entrepreneurial process." Love faults George W. Bush's No Child Left Behind policy, which emphasized standardized testing and graded schools on test scores. "I worked at an F school in Florida," she writes, a depressing experience for both teachers and students. Love calls for supporting abolitionists in their fight for "healing justice, environmental justice, disability justice, health justice, immigrant justice, reproductive justice, economic justice, body justice, gender justice, and LGBTQI justice." She advocates, as well, for reparations that would go beyond economic restitution to include funding "well-resourced state-of-the-art schools with curricula that honor different cultures and traditions with love and admiration." An impassioned plea for educational justice. Copyright © Kirkus Reviews, used with permission.