by John Grisham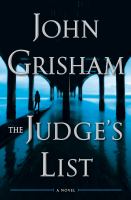 Book list
From Booklist, Copyright © American Library Association. Used with permission.

In 2016's The Whistler, Grisham introduced lawyer Lacy Stoltz, a member of the Florida Board on Judicial Misconduct, whose investigation of a crooked judge turned up a major conspiracy. Now she's faced with a shocking accusation: a woman claims her father was murdered by a sitting judge and that he was just one of the judge's victims. Could this be true? Could a veteran jurist really be a serial killer? Other investigators might shy away from taking on such a case, but not Lacy. Although she initially approaches the woman's story with a healthy amount of skepticism, she soon discovers that there could be something to it, and once she's on the case, there is nothing that can deter her, not even threats against her own life. Grisham's ability to create realistic, sympathetic characters really counts here: the story isn't among his most original—the bad-judge theme has been around quite a while—but The Judge's List feels fresh because Lacy herself is such a fresh character. Expect this one to hang around best-seller lists for quite a while.HIGH-DEMAND BACKSTORY: Grisham is back in his legal-thriller wheelhouse here, and his adoring minions won't be denied.
---
Library Journal
(c) Copyright Library Journals LLC, a wholly owned subsidiary of Media Source, Inc. No redistribution permitted.

In The Whistler, Lacy Stoltz, an investigator for the Florida Board on Judicial Conduct, challenged a crime syndicate paying off a crooked judge. Now she's back, facing the possibility that a judge is committing a crime far worse—murder.
---
Kirkus
Copyright © Kirkus Reviews, used with permission.

A vigorous thriller that gets out of the courtroom and into the swampier corners of the Redneck Riviera. Judges are supposed to dispense justice, not administer the death penalty on their own initiative. That's just what Lacy Stoltz is up against, though. The protagonist of The Whistler (2016), she's a jaded investigator for Florida's Board on Judicial Conduct, which, thanks to budget cuts, is dying on the vine, "a leaderless mess." Lacy acts on complaints, and she receives a doozy from a well-put-together Black woman who introduces herself as Margie, though she admits that's an alias. Her father, a much-respected professor of constitutional law, had retired to South Carolina and was murdered by an unknown killer. Now the coldest of cold cases, his death is a link in an evidentiary chain that only Margie—her real name is Jeri Crosby—has managed to construct. The murderer: a circuit judge sitting in Pensacola, biding his time until he can cross off the next victim on a deeply personal to-be-avenged list. Judge Bannick has more money than God and more technological goodies than Lex Luthor, but though a psycho, he puts on a good public face. Lacy is resistant at first, given that her normal brief is to investigate complaints about drunkenness or corruption, but she allows that "six murders would certainly liven up her caseload." And then some. We don't meet the killing judge until halfway through the book, and then he's a model of clinical badness in a game of cat and mouse that ends in—well, a rather frothily grisly moment. As with all his procedurals, Grisham injects professorial notes on crime and justice into the proceedings: "This country averages fifteen thousand murders a year. One-third are never solved….Since 1960, over two hundred thousand." And as ever, with one body unaccounted for, he leaves the door ajar to admit a sequel—one that, with luck, will team Lacy with the much more energetic Jeri to enact some justice of their own. A shiny bauble of mayhem sure to please Grisham's many fans. Copyright © Kirkus Reviews, used with permission.