by Ann Patchett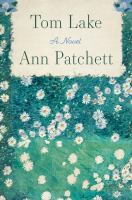 Book list
From Booklist, Copyright © American Library Association. Used with permission.

Lara's three twentysomething daughters are back home in northern Michigan, thanks to the COVID-19 lockdown, just in time to harvest the cherries. Emily has already committed herself to the family orchard and farm and her other great love, neighbor Benny. Maisie discovers that she can continue her veterinarian studies by caring for their neighbors' animals. Only Nell, an aspiring actor, is distraught because of their isolation, but all are ravenous for distraction as they work long hours handpicking cherries, so they insist that their mother tell them, in lavish detail, the story of her romance with a future megawatt movie star. Lara strategically fashions an edited version for her daughters, while sharing the full, heartbreaking tale with the reader. Patchett (The Dutch House, 2019) attains new dimensions of beauty and resonance as she elegantly needlepoints Lara's life onto the template of Thornton Wilder's Our Town, the first play New Hampshire high-schooler Lara acts in, the play that catapults her to Hollywood, then to summer stock at Tom Lake in Michigan, where she comes under the spell of voraciously sexy and ambitious Peter Duke. As this spellbinding and incisive novel unspools, Patchett brings every turn of mind and every setting to glorious, vibrant life, gracefully contrasting the dazzle of the ephemeral with the gravitas of the timeless, perceiving in cherries sweet and tart reflections of love and loss.HIGH-DEMAND BACKSTORY: Superlative storyteller Patchett, who recently added the National Humanities Medal to her many awards, is always a must-read for myriad fiction lovers.
---
Kirkus
Copyright © Kirkus Reviews, used with permission.

It's time to harvest the cherries from their Michigan orchard, but the pandemic means that Joe Nelson; his wife, Lara; and their daughters, Emily, Maisie, and Nell, must pick all the fruit themselves. To lighten the lengthy, grueling workdays, and prompted by the recent death of world-famous actor Peter Duke, the girls press Lara to tell them about her romance with Duke at Tom Lake, a summer stock company in Michigan, and her decision to give up acting after one big movie role. Lara's reminiscences, peppered by feisty comments from her daughters and periodic appearances by her gentle, steadfast husband, provide the foundation for Patchett's moving portrait of a woman looking back at a formative period in her life and sharing some—but only some—of it with her children. Duke flashes across her recollections as a wildly talented, nakedly ambitious, and extremely crazy young man clearly headed for stardom, but the real interest in this portion of the novel lies in Patchett's delicate delineation of Lara's dawning realization that, fine as she is as Emily in Our Town, she has a limited talent and lacks the drive that propels Duke and her friend and understudy Pallas. The fact that Pallas, who's Black, doesn't get the break that Duke does is one strand in Patchett's intricate and subtle thematic web, which also enfolds the nature of storytelling, the evolving dynamics of a family, and the complex interaction between destiny and choice. Lara's daughters are standouts among the sharply dawn characterizations: once-volatile Emily, now settled down to be the heir apparent to the farm; no-nonsense veterinarian-in-training Maisie; and Nell, the aspiring actor and unerring observer who anticipates every turn in her mother's tale. Patchett expertly handles her layered plot, embedding one charming revelation and one brutal (but in retrospect inevitable) betrayal into a dual narrative that deftly maintains readers' interest in both the past and present action. These braided strands culminate in a denouement at once deeply sad and tenderly life-affirming. Poignant and reflective, cementing Patchett's stature as one of our finest novelists. Copyright © Kirkus Reviews, used with permission.
---
Publishers Weekly
(c) Copyright PWxyz, LLC. All rights reserved

Patchett (The Dutch House) unspools a masterly family drama set in the early months of Covid-19. Lara and her husband live on a cherry orchard in northern Michigan, where they welcome their three adult daughters home to shelter in place. Emily, the oldest, is a young farmer who will inherit the family farm; Maisie is a veterinarian; and Nell, the youngest at 22, dreams of becoming an actress. They pass the hours picking fruit and listening to Lara tell the tale of her long-ago romance with "Duke," a young actor who went on to become a major celebrity. Lara and Duke met during a summer stock production of Our Town, where she played Emily and he played her father, Editor Webb. Patchett alternates between present-day scenes of the cherry orchard and Lara's younger years, including her brief foray as an actor in Hollywood, before an accident put a sudden end to her career. "There's a lot you don't know," Lara tells Emily, Maisie, and Nell at the novel's opening, and as Patchett's slow-burn narrative gathers dramatic steam, she blends past and present with dexterity and aplomb, as the daughters come to learn more of the truth about Lara's Duke stories, causing them to reshape their understanding of their mother. Patchett is at the top of her game. (Aug.)