by Eloghosa Osunde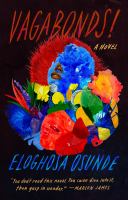 Library Journal
(c) Copyright Library Journals LLC, a wholly owned subsidiary of Media Source, Inc. No redistribution permitted.

Vagabonds: in Lagos, Nigeria, says first-timer Osunde, they're the poor, the queer, the displaced, the renegades, here including a driver for a politician who holds scary power over others, a lesbian couple tenderly in love and into their BDSM work, and a woman seeking escape from her violent husband. A Plimpton Prize winner and Lambda Literary Fellow, among other honors, Osunde introduces us to this diverse list of characters by escorting us through the city's markets, churches, underground clubs, and hotels, showing us lives lived as resistance. This debut looks to be big.
---
Library Journal
(c) Copyright Library Journals LLC, a wholly owned subsidiary of Media Source, Inc. No redistribution permitted.

DEBUT In 2014, Nigeria's president enacted a draconian law targeting LGBTQ+ residents with torture and imprisonment for freely loving the person of their choice. Marginalized, forced underground, or compelled to exist in two different skins, gay, lesbian, transgender, and nonbinary Nigerians still manage to overcome boundaries and soar with pride in this bold, erotic first novel from Lambda Literary Fellow Osunde. Blending stark truth with a jolt of magic realism, the narrative prominently presents the devil as a force for good, with Osunde creating vivid characters whose emotions run the gamut from shame and desperation to joyous abandon as they seek compassion and acceptance. These so-called vagabonds, introduced in a series of vignettes, hide in plain sight in Lagos, ranging from a single father who's unaware of his daughter's sexual abuse, to a mother who will die to protect her gender-neutral child, Gold. Readers will witness a dance of seduction between two beautiful women who eschew the gazes of men, and they'll recoil from the violent end to the burgeoning love between Johnny and Livinus. VERDICT Osunde writes like the visual artist they are, having directed and produced Tatafo, a forthcoming film based on this novel. Their vibrant style breathes life into people whom hypocritical politicians would prefer remain hidden. Ideal for readers of Akwaeke Emezi.—Sally Bissell
---
Kirkus
Copyright © Kirkus Reviews, used with permission.

A powerful debut novel about the power of love and stories to save people shunned by society for being themselves. The tale is told in interconnected short stories held together by a chorus of "monitoring spirits" who gather the stories of the people of Lagos and deliver them to the "cityspirit," »ků. In Osunde's book, the people of Nigeria know for a fact that spirits at a night market might take them to another space, that a group of women can summon a force to take them away from the violence in their lives, that the powerful can kill as they please, and that anyone can be arrested or killed for being themselves. The vagabonds of Lagos might be gay or lesbian, transgender, unwilling to conform to gender norms, or generally out of step with the dominant society. In "Johnny Just Come," Aniekan changes his name to Johnny and moves from a small town to Lagos to drive for a trafficker in human organs. Johnny's job is to drive and be silent, and he does both so well he loses his voice, his conscience, and his mind just as he discovers his love for a man named Livinus. "After God, Fear Women" shows how domestic violence becomes normalized for men and offers a kind of hope in the form of a power that carries women up into the sky. All of the stories are set in a Nigeria where magic and violence are as common as air and sunlight and outsiders can see the world more clearly than anyone else. "You can see a lot of things better from the outside, you know? For example, I can see now that, together, vagabonds are the city's power. We're its charge and circuit. It cannot exist without us. It stands on us….It's why I'm telling you this story." This clarity of vision often leads to violence and even death, but Osunde handles both with a compassionate and ultimately inspiring touch. Osunde revels in the joy of storytelling to render a city and its outsiders in all their flaws and glory. Copyright © Kirkus Reviews, used with permission.
---
Publishers Weekly
(c) Copyright PWxyz, LLC. All rights reserved

Osunde's magnificent magical realist debut crafts a mosaic of struggle and pain in Lagos held together by Tatafo, a supernatural choruslike figure who does the bidding of "cityspirit" Eko. Tatafo observes the array of abuse, poverty, and other oppressive situations inflicted on the characters, whose hardships are largely the result of homophobia and transphobia. A young man agrees to be mute in exchange for a cushy job as driver for a black market organ harvester, an agreement that his colleague and lover tragically fails to keep. A devil avenges a girl who was sexually abused by her uncle. Spirits known as "Fairygodgirls" give people books to help them understand themselves and discover new possibilities, as with a teenage girl who reads an account of queer love by Akwaeke Emezi. Women abused by their husbands discover a way to vanish into thin air. A trans maid finds unexpected support from her employer, with whom she forms a sisterly relationship, and a lesbian couple copes with their family's meager concessions of acceptance: "date a girl that looks like a girl. Somebody they can mistake for your friend." The gorgeous, redemptive ending pulls off a triumphant celebration of queer survival. Throughout, Osunde crafts compassionate prose and seamlessly combines magic and grit. This is a stunning introduction to a bold new writer. Agent: Jacqueline Ko, Wylie Agency. (Mar.)
---
Book list
From Booklist, Copyright © American Library Association. Used with permission.

Nigerian artist and writer Osunde's debut novel, set in the hustle and bustle of Lagos, is partly narrated by an omnipresent monitor—is it the city's essence, a god, the devil?—who is privy to the lives of a huge cast of characters, the vagabonds of the title. Each chapter feels like a complete story on its own, with larger-than-life, mostly queer individuals who lose or find themselves in light of the fate they're dealt and amidst relationships that destroy or strengthen them. This is an arresting and dazzling tale with a surprising elixir of lyricism and pidgin that leaves readers guessing whether or not Osunde's metaphors convey the itinerant existence of those who are contemplating their next move in this life or in the next. A mixture of folklore and spiritual fervor plays narrative tricks on the reader while also providing searing social commentary on forces that affect Nigerian citizens, such as toxic masculinity, antigay laws and attitudes, and other hindrances to personal freedoms and fulfillment. Osunde's inventive and unique story releases its message like a confetti of percipience, teasing out meaning and veering onto thought-provoking tangents and snippets of intrigue that initially feel familiar but which morph into something unsettling yet wondrous.