by Linda Villarosa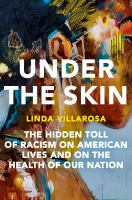 Book list
From Booklist, Copyright © American Library Association. Used with permission.

This powerful, carefully researched book reveals the significant health challenges faced by Black Americans simply due to being Black. Through clear analysis, Villarosa (Passing for Black) documents her claims with decades' worth of research, and her findings regarding infant and maternal mortality rates alone are startling: infants born to college-educated Black parents are twice as likely to die as infants born of similarly educated white parents; a Black woman with an advanced degree is more likely to die related to pregnancy and childbirth than a white woman with an eighth-grade education. Definitive answers are elusive, but signs indicate that weathering—being subjected to daily microaggressions and veiled discrimination—causes stress that might result in low birth weights. Outlandishly false beliefs (that African Americans experience less pain than white people, for instance) combined with a lack of research on eating disorders, depression, and other emotional and mental illnesses within the Black community may also be contributing factors (and apply to increased rates of diabetes, kidney disease, and lung disorders). Villarosa documents unending examples of social racism, inbred bias, and general neglect, but somehow remains hopeful for change, introducing individuals and programs that are making positive differences. Her thoughtful, personal account raises issues that affect all Americans.
---
Library Journal
(c) Copyright Library Journals LLC, a wholly owned subsidiary of Media Source, Inc. No redistribution permitted.

Villarosa (The Black Parenting Book) expands her previous award-winning reporting on mortality among Black mothers and infants into this wider study of the effects of racism on the lives and health of Black Americans. The ailments that tend to affect Black Americans, she argues, are too often ascribed solely to poverty and lack of education, while the problems of a discriminatory healthcare system, lingering myths about Black bodies, and the long-term stresses of constantly navigating a racist society are overlooked. Villarosa combines important studies on facets of Black health with historical facts and personal experiences—including accounts of medical ill-treatment ranging from neglect to forced sterilization—to prove the extent to which multiple levels of institutionalized racism impact the well-being of Black Americans. She even calls out her own previous misapprehensions of the topic, aiming to demonstrate the ease of underestimating this issue's pervasive effects. VERDICT An eye-opening, heartbreaking study of the racism deeply embedded in U.S. medicine and society; critical for any reader interested in racism's effects on quality of life.—Kathleen McCallister
---
Library Journal
(c) Copyright Library Journals LLC, a wholly owned subsidiary of Media Source, Inc. No redistribution permitted.

A National Magazine Award finalist for her reporting on maternal and infant mortality among black mothers and babies in the United States, Villarosa expands her purview to detail what numerous studies have affirmed: for Black Americans, discrimination and poor health are linked, with Black patients experiencing worse treatment and worse outcomes than their white counterparts. Government neglect, environmentally compromised neighborhoods, the stress of coping with ongoing racism—all contribute to this situation, with Villarosa interviewing experts and drawing on a wealth of scientific data.
---
Kirkus
Copyright © Kirkus Reviews, used with permission.

A damning account of how race and racism determine the quality and quantity of medical care in the U.S. Patients in America enjoy what journalist and professor Villarosa characterizes as "the most advanced medical technology in the world." Yet, she adds, by most measures, Black and other minority Americans are denied this technology. Though the author writes that there is nothing inferior or different about the Black body, for generations, a racist medical complex has persisted, supposing that, for example, Blacks possess "skin [that] is thicker than white skin" and feel less pain than do Whites. Less pain equals less anesthetic relief. So it is with many other aspects of health care. Daring to evoke critical race theory at a time when it arouses so many conservative legislators and school boards across the country, Villarosa examines the intersectionality of class, race, and gender. She notes, for instance, that George Floyd was suffering from Covid-19 at the time of his death, a fact that has bearing on the larger fact that there has long been significant "racial disparity in life expectancy" in the U.S. that was only heightened by the systemic lack of medical care in minority communities. Villarosa enlists numerous case studies to prove that point. On mental health, for instance, she observes that Black and other minority people are largely excluded de facto from treatment, a matter that again intersects with issues of "race and masculinity" that work to keep Black men from seeking help. Furthermore, whereas relatively few Whites died from AIDS after the development of the vaunted antiviral cocktail in the mid-1990s, it persisted long after in Black communities, which Villarosa, then writing for the New York Times, had to fight to report on, since "the epidemic was supposed to be over in America." A closely argued case for racial and class equity in health care, revealing a medical regime sorely in need of reform. Copyright © Kirkus Reviews, used with permission.
---
Publishers Weekly
(c) Copyright PWxyz, LLC. All rights reserved

Journalist Villarosa (Body & Soul) takes a stunning look at the racial disparities in health outcomes for Black and white Americans. Contending that these health disparities, which persist across different levels of income and education, demonstrate "the impact of insidious discrimination associated with the lived experience of being Black in America," Villarosa cites evidence that white physicians prescribe lower levels of pain medication to Black patients, that infant and maternal mortality rates are higher among African Americans, that Black communities bear greater costs of environmental pollution and climate change than white communities, and that "toxic stress" associated with racism prematurely age Black Americans' immune systems. According to Villarosa, these ill effects are not only caused by encounters with racist individuals, but also by a social structure that deprioritizes African Americans' needs and ability to access resources that more privileged people take for granted. Skillfully interweaving historical and medical facts with empathetic profiles of people who have been affected by HIV/AIDS, Covid-19, and other health crises enabled by structural racism, Villarosa delivers a passionate call for equality in the American medical system. The result is an urgent and utterly convincing must-read. (June)