by Grace Lin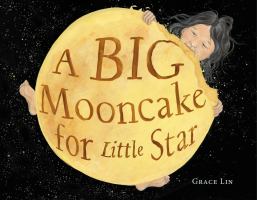 Publishers Weekly
(c) Copyright PWxyz, LLC. All rights reserved

Nighttime paintings by Lin (Where the Mountain Meets the Moon) add magic to this fable about why the moon waxes and wanes. The story's events unfold against the velvety black of the night sky as Mama and Little Star, dressed in black pajamas spangled with yellow stars, work on their mooncake (an Asian holiday treat, Lin explains in an author's note) in the kitchen. Mama takes the cake out of the oven and lays it "onto the night sky to cool." She tells Little Star not to touch it, and Little Star attends but awakens in the middle of the night and remembers the cake. A double-page spread shows Little Star's speculative glance on the left and the huge golden mooncake-or is it the round, golden full moon?-on the right. Whichever it is, Little Star takes a nibble from the edge, another the next night, and so on until the moon wanes to a delicate crescent. Lin successfully combines three distinctive and memorable elements: a fable that avoids seeming contrived, a vision of a mother and child living in cozy harmony, and a night kitchen of Sendakian proportions. Ages 4-8. (Aug.) © Copyright PWxyz, LLC. All rights reserved.
---
Book list
From Booklist, Copyright © American Library Association. Used with permission.

Against the backdrop of a black sky, Mama and Little Star bake a giant mooncake. But as she puts the cake out to cool, Mama admonishes her daughter not to touch it. And she doesn't until she wakes up in the night. Then, it's pat, pat, pat over to the mooncake, where she nibbles just a bit. Each night, there's more nibbling, causing the mooncake to change shape, until it's just a crescent. That's when Mama sees what's happened, but she isn't mad. It's just time to make another mooncake. Although the story is slight (and there's no direct aligning of the mooncake with the stages of the moon, either in text or note), the gouache illustrations are excellent. Mother and daughter, both dressed in star-covered black jumpsuits that add bits of light to inky backgrounds, are intriguing characters who come alive through facial expressions. Little Star's impish looks are worth the price of admission. This has no roots in Chinese mythology, Lin says, but she associates it with Asian moon festivals. A complementary read for those holidays.--Cooper, Ilene Copyright 2018 Booklist
---
School Library Journal
(c) Copyright Library Journals LLC, a wholly owned subsidiary of Media Source, Inc. No redistribution permitted.

PreS-Gr 1-Little Star's mother admonishes her not to eat the giant mooncake, which she left cooling in the night sky, but Little Star has her own ideas. Little Star makes a mischievous choice. "Yum!" Each night, she wakes from her bed in the sky and nibbles from the giant mooncake. "'Little Star!' her mama said, shaking her head even though her mouth was curving. ' You ate the big mooncake again, didn't you?'" Rather than scolding, Mama responds with a kind offer to bake a new mooncake. Observant eyes will recognize that the final pages showing Little Star and her mama baking a new mooncake are a repeat of the front papers-a purposeful hint that the ritual is repeated monthly as Little Star causes the phases of the moon. Artwork is gouache on watercolor paper. Each page has a glossy black background and small white font. Little Star and her mother have gentle countenances twinkling with merriment. Both wear star-studded black pajamas that are distinguishable from the inky sky only by their yellow stars and the occasional patch of Little Star's exposed tummy. The cherubic Little Star floats through the darkness, her mooncake crumbs leaving a trail of stardust in the sky. VERDICT The relationship between Little Star and her mother offers a message of empowerment and reassurance. Lin's loving homage to the Mid-Autumn Moon Festival is sure to become a bedtime favorite.-Lisa Taylor, Florida State College, Jacksonville © Copyright 2018. Library Journals LLC, a wholly owned subsidiary of Media Source, Inc. No redistribution permitted.
---
Horn Book
(c) Copyright The Horn Book, Inc., a wholly owned subsidiary of Media Source, Inc. No redistribution permitted.

In the night sky, Little Star and her mother bake a mooncake, the sweet treat associated with the Mid-Autumn Moon Festival. As the Big Mooncake hangs to cool, the girl's hunger overcomes her. It's all mesmerizing: Little Star's astral home; her outsized sense of mischief; the dwindling, nibbled-upon cake as a stand-in for the waning moon; and Lin's pleasing, soothing text, perfect for reading aloud to little moon-watchers on Earth. (c) Copyright 2019. The Horn Book, Inc., a wholly owned subsidiary of Media Source, Inc. No redistribution permitted.
---
Kirkus
Copyright © Kirkus Reviews, used with permission.

Little Star has trouble resisting the Big Mooncake that Mama has hung in the sky in Lin's (When the Sea Turned Silver, 2016, etc.) luminous departure from her usual block-print style.After Little Star and her mama, both wearing jet-black pajamas adorned with bright yellow stars, bake a huge yellow mooncake, Mama reminds Little Star to leave it in the sky to cool. Of course Little Star tries, but she wakes in the night, unable to resist taking a tiny nibble. Mama surely won't notice. Each subsequent night, Little Star steals another bite, and soon observant readers may realize what is happening: The Big Mooncake is waning from a full moon to a new moon. Lin's storytelling is both clever and radiant. Painted in gouache against perfectly black pages, the characters' pajamas have no edges, only the stars defining the separation between foreground and background. The mooncake gleams against the black as well, crumbs scattering like stars in the skya visual delight, suffusing the book with a feeling of otherworldliness that is offset by Little Star's childlike authenticity and her loving relationship with Mama. An author's note on the jacket flap indicates that while this story is not rooted in Chinese cosmology, it is Lin's homage to the Mid-Autumn Moon Festival, her "favorite Asian holiday."A warm and glowing modern myth. (Picture book. 3-8) Copyright Kirkus Reviews, used with permission.