by Jonathan Freedland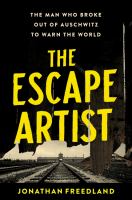 Kirkus
Copyright © Kirkus Reviews, used with permission.

A first-rate account of one of the few Jewish prisoners who escaped Auschwitz. Concentration camp stories make for painful reading, but British journalist and broadcaster Freedland relates a riveting tale with a fascinating protagonist. Born in 1924 in Czechoslovakia, Rudolf Vrba was a precocious child and superachiever in school. In 1939, Slovakia became an independent, Nazi satellite state. Entirely obedient to Nazism, its government expelled Jews from schools and dismissed them from jobs. In 1942, Vrba received a summons to report for "resettlement." Understanding the dangerous situation, he tried to escape to England. Caught in Hungary, he was sent to the first of several increasingly barbaric camps, ending in Auschwitz. Through a combination of youth, linguistic ability, and luck, Vrba attained privileges that allowed him to survive from his arrival in June 1942 to his escape in April 1944. Freedland delivers a gripping description of Vrba and a companion's planning, breakout, and grueling walk to Slovakia, where surviving Jewish officials transcribed their story, which included, from Vrba's memory, dates and the number of every trainload of Jews, with details of their murder and a map of the camp. By summer, articles about the horrors of the camps began to appear in Western newspapers. Readers will squirm to learn how little Vrba's spectacular achievement accomplished. Some believed his revelations but not the people that mattered. Winston Churchill and Franklin Roosevelt consulted military leaders, and while they admitted that the Nazis were certainly mistreating Jews, they claimed that the best way to save lives was to win the war quickly. As a result, they ordered that no resources be diverted to projects such as bombing death camps. Freedland smoothly recounts Vrba's long, often troubled postwar life, during which he persistently criticized Jewish and Israeli leaders who could have resisted the genocide more than they did. A powerful story of a true hero who deserves more recognition. Copyright © Kirkus Reviews, used with permission.
---
Library Journal
(c) Copyright Library Journals LLC, a wholly owned subsidiary of Media Source, Inc. No redistribution permitted.

An Orwell Prize-winning columnist for the Guardian, Freedland tells the story of 19-year-old Rudolf Vrba, who escaped from Auschwitz in 1944 with fellow inmate Fred Wetzler to warn other Jews of the mass murder transpiring there. With a 100,000-copy first printing.
---
Library Journal
(c) Copyright Library Journals LLC, a wholly owned subsidiary of Media Source, Inc. No redistribution permitted.

Guardian journalist Freedland (The 3rd Woman) narrates his work focusing on Holocaust survivor Rudolf Vrba, the first of four men who successfully escaped from Auschwitz during WWII. Born Walter Rosenberg in Slovakia, Vrba was imprisoned at age 17, escaped several concentration camps, and was eventually sent to Auschwitz. Freedland's chilling descriptions of the conditions and horrors are truly disturbing. The fear that Vrba and his fellow escapee, Alfréd Wetzler, felt while on the run, with bullets clipping past them, is as real as Adolf Eichmann's anger when he learned that they cowrote the Vrba-Wetzler Report (Rosenberg renaming himself Rudolph Vrba at the time). This document detailed both the atrocities being perpetrated by the Germans and the mass murders of Hungarian Jews then underway. Freedland ratchets up the intensity of Vrba's personal life after the war, showing how his tragic youth caused him to distrust everyone—including his wife—and to hold bitterness over the delayed international response to the Holocaust report. VERDICT Freedland's passion for Vrba's story of courage and humanity shines throughout this incredible production.—Stephanie Bange
---
Book list
From Booklist, Copyright © American Library Association. Used with permission.

It was a brilliant, incredibly risky plan: to escape by pretending to escape. The year was 1944. Walter Rosenberg and Alfred Wetzler were prisoners at Auschwitz. Fooling the guards into thinking they'd escaped (they actually hid inside a woodpile), they waited until the search was called off, then emerged, [cut comma] and made their way to freedom. Later, the two men wrote a report that laid out in horrific detail the atrocities committed at Auschwitz. By doing so, they saved hundreds of thousands of lives. Rosenberg was only 19 when he escaped from Auschwitz, and, remarkably, this wasn't even his first prison break. Freedland, a journalist who also writes thrillers under the pseudonym Sam Bourne, is the perfect person to tell Rosenberg's story: he's got a journalist's eye for precise detail and a novelist's sense of pacing and suspense. Like Neal Bascomb's The Escape Artists (2018) and Margalit Fox's The Confidence Men (2021), this spellbinding book tells the kind of true story that, if it were the basis of a work of fiction, might be considered unbelievable.
---
Publishers Weekly
(c) Copyright PWxyz, LLC. All rights reserved

Guardian columnist Freedland debuts with a harrowing account of Rudolf Vrba's escape from Auschwitz and his quest to hold Jewish leaders accountable for failing to prevent more people from dying in the Holocaust. Born Walter Rosenberg in Czechoslovakia (present-day Slovakia) in 1924, Vrba was sent to Auschwitz at age 17. Hoping to escape and prevent more Jews from passively boarding trains to their death, he kept a mental tally of arriving transports and how many people were selected for forced labor or sent directly to the crematorium. In April 1944, Vrba and another prisoner escaped by hiding in a wood pile for three days and nights (using gasoline-soaked tobacco to mask their scent from guard dogs), then crawling underneath a wire fence. After a harrowing journey to Žilina, they met with leaders of the Slovak Jewish Council and compiled a report including transport numbers, estimated deaths, maps, and the names of S.S. officers. Unfortunately, delays in translating and distributing the report resulted in the failure to save hundreds of thousands of Hungarian Jews who were deported to Auschwitz in May 1944. Vrba, who blamed Hungarian Jewish leader Rezső Kasztner and other Jewish officials for the delays, became a controversial figure, often ignored in histories of the Holocaust. Drawing on interviews with family members and former colleagues, Freedland presents a warts-and-all portrait of Vrba, and vividly captures the horrors of Auschwitz. The result is a noteworthy contribution to the history of the Holocaust. (Oct.)