by Scott Carney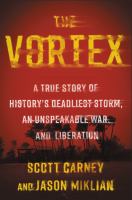 Library Journal
(c) Copyright Library Journals LLC, a wholly owned subsidiary of Media Source, Inc. No redistribution permitted.

In this absorbing chronicle, anthropologist Carney (What Doesn't Kill Us) and human rights researcher Miklian cover the final months of unified Pakistan in 1970. First, they document the Great Bhola Cyclone where nearly half a million perished, mainly due to the West Pakistan government's neglecting to warn residents. Within weeks, the military dictator General Yahya Khan overturned unified Pakistan's first free elections and led an invasion of East Pakistan, a predominately Bengali region, in which over 150,000 were killed and 250,000 women and girls were raped. In the U.S., the Nixon administration was aware of the atrocities but remained silent, the authors argue; instead, the U.S. provided arms and promised further support to the new dictatorship after Yahya brought together an historic summit between the States and China. Carney and Miklian also recount the heroic responses of Bengali people, a former soccer star, and two Americans living in Dacca in the aftermath of the storm and as they fought back against the atrocities. When it became clear that the Bengali revolutionaries would win their war of liberation from Pakistan, Yahya's generals killed scores of Bengali intellectuals and civil servants and destroyed infrastructure and the treasury to hamper independent Bangladesh's success. Carney and Miklian argue that Bangladesh's liberation was won not by Westerners (including former Beatle George Harrison, who organized a novel aid concert that was itself mired in legal issues) but by regular Bengalis, who overcame both West Pakistan and the United States. VERDICT An essential history of the infuriatingly tragic creation of Bangladesh amid a devastating storm, genocide, war, political intrigue, and hope.—Zebulin Evelhoch
---
Book list
From Booklist, Copyright © American Library Association. Used with permission.

Investigative journalist Carney (What Doesn't Kill Us, 2017) and conflict and crisis researcher Miklian reveal a long-concealed and profoundly shocking confluence of geopolitical crimes and crises. In 1970, West Pakistan was the seat of the nation's power, while East Pakistan was oppressed, impoverished, and primarily Bengali, and it was there that the Great Bhola Cyclone struck, killing 500,000 people. The survivors were left to die as Pakistan's president, Yahya Khan, whom Carney and Miklian chillingly portray as psychopathically narcissistic, corrupt, debauched, and disassociated from reality, seized the opportunity to crush Bengali society by withholding humanitarian aid. His unleashed henchmen stoked racial hatred with flagrant lies and brazenly committed genocide. Yahya's impunity, the authors reveal, stemmed from his secret bond with Nixon and Kissinger as he negotiated the famous meeting in China between Nixon and Mao. And so, as Carney and Miklian so dramatically recount, a natural disaster instigated a civil war and epic atrocities, the birth of Bangladesh, and, in a nightmarish twist, very nearly ignited a nuclear war between the U.S. and Russia. With propulsive narrative drive and intense specificity, the authors circle among a cast of riveting real-life characters, from a soccer star and a humble fisherman turned revolutionary heroes to a valiant humanitarian American couple to Yahya and his fascist generals and political rivals. Deeply involving and harrowing, this commanding work of reclaimed and clarified history is of urgent relevance.
---
Publishers Weekly
(c) Copyright PWxyz, LLC. All rights reserved

In this disturbing study of the havoc wreaked by the 1970 Great Bhola Cyclone in East Pakistan (present-day Bangladesh), journalist Carney (The Wedge) and political scientist Miklian (coauthor, India's Human Security) look to the past to forecast the future of climate change. Forming in the Bay of Bengal in November 1970, the storm killed an estimated 350,000 to 500,000 people and exacerbated tensions between Bengali-speaking East Pakistan and West Pakistan, home to the capital city of Islamabad. President Yahya Khan had "promised that the days of Bengali discrimination were over," but his botched response to the cyclone helped fuel the rise of the Awami League, a Bengali opposition party. In Pakistan's first democratic election, held in December 1970, the Awami League took control of the national assembly in Islamabad and, with it, the prime minister's office, but Khan refused to transfer power, triggering civil unrest, genocide, and, ultimately, the breakup of Pakistan. Carney and Miklian make a persuasive case that as climate change produces more frequent and deadlier storms, the world faces "an increasing likelihood of selective genocide and even global international war." Shot through with colorful character sketches and lucid explanations of South Asian politics, this is an urgent warning about the links between global warming and geopolitical turmoil. (Mar.)
---
Kirkus
Copyright © Kirkus Reviews, used with permission.

How unscrupulous politicians exploited the effects of a catastrophic cyclone to commit genocide and nearly trigger a nuclear war. Carney is an investigative journalist and anthropologist who spent six years reporting from South Asia for Wired, Mother Jones, and other publications, and Miklian is a senior researcher at the Centre for Development and Environment, University of Oslo. The authors begin by documenting the 1970 Bhola cyclone, a staggeringly destructive storm that killed roughly 500,000 people in the densely populated coastal area of East Pakistan (present-day Bangladesh). Then the authors turn to the complex aftermath, anatomizing the ruthless opportunism of West Pakistani politicians who sought to consolidate their power by exterminating ethnic rivals; the self-serving machinations of American and Soviet leaders whose interventions culminated in a nuclear standoff; the desperate efforts of Bengali resistance fighters to secure independence in the face of brutal oppression; and the often heroic attempts of aid workers to mitigate the catastrophic human toll. The authors effectively translate their exhaustive research into a compelling narrative, cleverly alternating chapters among the perspectives of a diverse range of protagonists, from Mohammed Hai, a humble young man who became a revolutionary, to international power brokers such as Henry Kissinger and Richard Nixon. This is a riveting, page-turning story of human devastation, political corruption, and individual bravery as well as a cautionary tale with universal relevance. "This book is about climate change," they argue convincingly, showing how rising global temperatures will continue to boost both the frequency and intensity of cyclones in many coastal areas, prompting extreme political volatility and large-scale human suffering. To those who may feel complacent about what happened a half-century ago in a relatively obscure part of the world, Carney and Miklian deliver a stark warning: "Our global climate future means not just flooded beach houses in twenty years and more expensive groceries next decade but an increasing likelihood of selective genocide and even global international war." A powerful, timely exploration of an environmental and political tragedy. Copyright © Kirkus Reviews, used with permission.