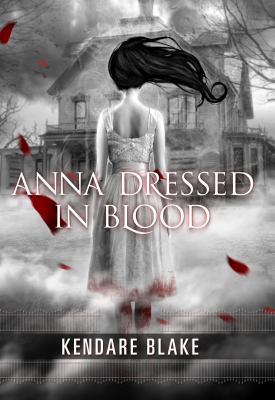 Anna Dressed in Blood
by Blake, Kendare


Publishers Weekly Effectively blending horror and romance, Blake (Sleepwalk Society) delivers an exciting and witty gothic ghost story. Seventeen-year-old loner Cas follows in his late father's footsteps, hunting down vengeful ghosts and dispatching them before they can hurt more people. He and his mother (a witch) move from town to town, and his latest target is the titular Anna, a 16-year-old girl killed on the way to a dance in Thunder Bay, Ont., in 1958. When the ghost eviscerates a local in front of Cas, he realizes it will be a much harder struggle than previously anticipated, joining forces with psychic Thomas and popular girl Carmel to discover Anna's history and attempt to free her from her curse without destroying her. Blake occasionally gets too cute-naming a character "Will Rosenberg" in a story in which characters are aware of Buffy is pushing things, as is the notion that today's small-town teens are all Rules of Attraction. But the pop culture references are generally sharp (Ghostbusters references make for an effective running gag) and on point, and the result is an enjoyable horror tale. Ages 12-up. (Sept.) (c) Copyright PWxyz, LLC. All rights reserved.
(c) Copyright PWxyz, LLC. All rights reserved
Book list Theseus Cassio Lowood (Cas for short) is the son of a white witch and a ghost killer. He inherited his father's knife and talent for dispatching vengeful spirits when his father was gruesomely murdered by a particularly powerful ghost. Now he and his mother travel around helping restless spirits that need help moving on. Cas is blindsided when he meets Anna Korlov, the ghost of a murdered teen who kills anyone who sets foot in her completely haunted house except Cas. Blake's vivid imagery, especially in the many scary scenes, is cinematic and compelling, as is the predictable but touching relationship between Anna and Cas. Once Cas solves Anna's dilemma, he moves on to the issue of avenging his father's death. It's one too many threads and feels tacked on to the otherwise complete and engrossing ghost story. Several interesting secondary characters, including a surprisingly un-Queen Bee popular girl, should become more developed in future books, signaled by the abrupt ending. Blake's smooth combination of gore and romance should have little problem attracting the Twilight crowd.--Carton, Debbi. Copyright 2010 Booklist
From Booklist, Copyright © American Library Association. Used with permission.
School Library Journal Gr 10 Up-Theseus Cassio Lowood is a legacy ghost killer. He inherited his gift and his weapon, an athame, from his father, who was killed and devoured by a ghost when Cas was seven. The teen and his mother, a white witch, are constantly on the move following leads to unquiet spirits wreaking havoc on the innocent. After the killing with which the book opens, Cas and his mom head to Thunder Bay, Ontario, on the trail of a particularly violent ghoul nicknamed "Anna Dressed in Blood." Here, he finds friendship as well as his ghost. Just when readers think they've reached the denouement, Blake propels the plot in new and unexpected directions. The novel is a love story, a high-school buddy story, a story of revenge and tragedy, and a bildungsroman. The language is typical-teenage-coarse, and it is totally in keeping with the realities of adolescent speech. The violence is fittingly disgusting and not for the weak of stomach. The relationships among the characters, including Cas and his mother, are multidimensional and satisfying.-Nina Sachs, Walker Memorial Library, Westbrook, ME (c) Copyright 2011. Library Journals LLC, a wholly owned subsidiary of Media Source, Inc. No redistribution permitted.
(c) Copyright 2010. Library Journals LLC, a wholly owned subsidiary of Media Source, Inc. No redistribution permitted.