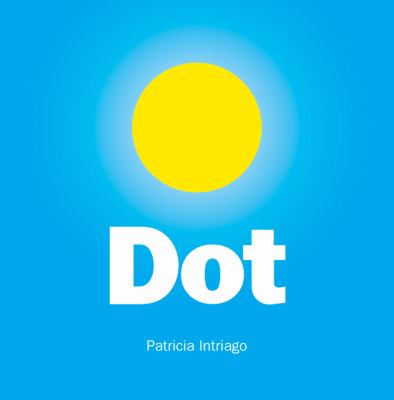 Dot
by Patricia Intriago


School Library Journal PreS-Gr 1-In this whimsical book about opposites, each dot acts as a visual analogy. Simplicity equals accessibility, but it also denotes depth of thought. Even two- and three-year-olds will make astute observations. Visually announcing the morning, the story begins with a large, shining, cadmium yellow dot on a cyan blue background with the simple text, "Dot." Humor prevails on one spread that contrasts a chewed dot: "This dot is yummy," with a chewed dot and spit-out piece, "This dot tastes bad." Another unique spread is tactile in its rendition of "Hard dot," which does not yield under the pressure of a small photographed finger pressing down, opposite "Soft dot," which does yield like a soft rubber ball. Most of the book is in black and white unless there is a reason for color, as on the "Stop dot" and "Go dot" or on the "Hurt dot" and "Heal dot" pages. Band-Aid and boo-boo stories, and countless others, will pour forth from young audiences. Children will encounter ample ways to interact with this incredibly elegant, clever, and delightful concept book.-Sara Lissa Paulson, American Sign Language and English Lower School PS 347, New York City (c) Copyright 2011. Library Journals LLC, a wholly owned subsidiary of Media Source, Inc. No redistribution permitted.
(c) Copyright 2010. Library Journals LLC, a wholly owned subsidiary of Media Source, Inc. No redistribution permitted.
Book list In the minimalist style of Herve Tullet's Press Here (2011), this debut cleverly squeezes a lot of sly humor from that dullest of shapes: the dot. It begins in color ( Stop dot is red; Go dot is green), but most of the book is, impressively, rendered in black and white, with the smallest of alterations giving the titular object a whole lot of personality. A giant black dot is Heavy dot. Floating, fine-lined circles like bubbles are Light dots. Hungry dot is just a circle, but its partner, Full dot, is a chubby, squarish, page-filling solid black shape just looking at it makes you feel full. This dot is yummy has a dot with a bite taken out of it. This dot tastes bad is the same thing, except with the bitten chunk lying beside it. There is even an out-of-nowhere picture of a Dalmatian ( Got dots ) and a zebra ( Not dots ) to keep things fresh. You get the idea: this is simple, surprising graphic design that will wake up even jaded readers to the creative possibilities inherent in the most basic of shapes.--Kraus, Daniel Copyright 2010 Booklist
From Booklist, Copyright © American Library Association. Used with permission.
Publishers Weekly In her debut, graphic designer Intriago explores dots as a graphic designer might, crisply and systematically. The text begins like a P.D. Eastman classic ("Dot. Stop dot. Go dot. Slow dot. Fast dot"). White pages with simple, graphic, black shapes communicate their messages like signs. "Slow dot" hasn't made it all the way onto the left page yet; "[f]ast dot," with lines coming off it, speeds off the other edge. Thoughts about dots grow more complex: "This dot is yummy" shows a large black dot with a bite taken out of it; "This dot tastes bad" shows the same bitten-into dot, this time with the discarded bite lying beside it. Occasionally the protocol is enlivened with photographs, a visual "kaboom" amid the overall air of restraint ("Got dots," says a picture of a Dalmatian; "Not dots" shows a striped zebra), but it's back to black and white as the book bids goodnight: "Dots up in the sky so bright/ twinkle as we say goodnight." And indeed, as might be expected from a book this elemental, there's something restful about it. Ages 3-6. (Sept.) (c) Copyright PWxyz, LLC. All rights reserved.
(c) Copyright PWxyz, LLC. All rights reserved