by Kwame Alexander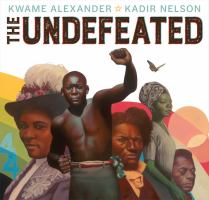 Horn Book
(c) Copyright The Horn Book, Inc., a wholly owned subsidiary of Media Source, Inc. No redistribution permitted.

Alexander and Nelson honor the achievements, courage, and perseverance of ordinary black people as well as prominent black artists, athletes, and activists. Alexander's free-verse poem conveys a sense of pride at what his "unflappable" and "unafraid" predecessors have accomplished and what people continue to do today. Nelson's realistic oil paintings depict racial oppression in the past and present--demonstrating that racism remains deeply entrenched in America today. (c) Copyright 2019. The Horn Book, Inc., a wholly owned subsidiary of Media Source, Inc. No redistribution permitted.
---
Kirkus
Copyright © Kirkus Reviews, used with permission.

Past and present are quilted together in this innovative overview of black Americans' triumphs and challenges in the United States.Alexander's poetry possesses a straightforward, sophisticated, steady rhythm that, paired with Nelson's detail-oriented oil paintings, carries readers through generations chronicling "the unforgettable," "the undeniable," "the unflappable," and "the righteous marching ones," alongside "the unspeakable" events that shape the history of black Americans. The illustrator layers images of black creators, martyrs, athletes, and neighbors onto blank white pages, patterns pages with the bodies of slaves stolen and traded, and extends a memorial to victims of police brutality like Sandra Bland and Michael Brown past the very edges of a double-page spread. Each movement of Alexander's poem is a tribute to the ingenuity and resilience of black people in the U.S., with textual references to the writings of Gwendolyn Brooks, Martin Luther King Jr., Langston Hughes, and Malcolm X dotting stanzas in explicit recognition and grateful admiration. The book ends with a glossary of the figures acknowledged in the book and an afterword by the author that imprints the refrain "Black. Lives. Matter" into the collective soul of readers, encouraging them, like the cranes present throughout the book, to "keep rising."An incredible connector text for young readers eager to graduate to weighty conversations about our yesterday, our now, and our tomorrow. (Picture book/poetry. 6-12) Copyright Kirkus Reviews, used with permission.