by Zakiya Dalila Harris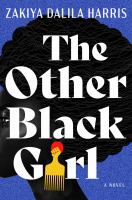 Library Journal
(c) Copyright Library Journals LLC, a wholly owned subsidiary of Media Source, Inc. No redistribution permitted.

Fed up with being the only Black employee at Wagner Books, editorial assistant Nella Rogers is cheered when another young Black woman is finally hired. Soon, though, Hazel is overshadowing Nella, but even worse are the notes on Nella's desk saying "LEAVE WAGNER. NOW." A big-buzzing, thriller-edged literary debut; with a 150,000-copy first printing.
---
Publishers Weekly
(c) Copyright PWxyz, LLC. All rights reserved

Harris debuts with a dazzling, darkly humorous story about the publishing industry and the challenges faced by a Black employee. Nella Rogers, an overworked editorial assistant, navigates white privilege and microaggressions as the only Black person in her department at New York City trade publisher Wagner Books. That is until the arrival of chic Hazel-May McCall. Nella withstands being mistaken for Hazel, "the Other Black Girl," and reviewing a problematic manuscript written by a bestselling white author with horribly one-dimensional depictions of a Black single mom. Many of the company's higher-ups have the trappings of material success (Ivy League pedigrees, renovated summer homes), and their attempts to cultivate diversity fall flat, notably with the publisher's "Diversity Town Halls" and its sheepish attempts to deal with racism ("the elephant in the room," Harris writes, "No one really knew what the elephant was. Or where the elephant was"). When Nella receives an anonymous note reading "Leave Wagner. Now," her hopes for a career at the company begin to crumble. Meanwhile, Hazel, seemingly undeterred by office politics, is not the ally she appears to be. While the novel overflows with witty dialogue and skillfully drawn characters, its biggest strength lies in its penetrating critique of gatekeeping in the publishing industry and the deleterious effects it can have on Black editors. This insightful, spellbinding book packs a heavy punch. Agent: Stephanie Delman, Sanford J. Greenburger Assoc. (June)
---
Kirkus
Copyright © Kirkus Reviews, used with permission.

In Harris' slyly brilliant debut, a young editorial assistant is thrilled when her glaringly White employer hires another Black woman—but it soon becomes clear there's something sinister about the new girl, who isn't what she seems. Young, literary, and ambitious, Nella Rogers has spent the last two years as an editorial assistant at Wagner Books, a premier New York City publishing house, where, for the entirety of her (somewhat stalled) tenure, she's been the only Black person in the room. How she feels about this depends on the day—for all her frustrations, she can't help but be a little proud of her outsider status—but still, she's excited when she detects another Black girl on her floor: finally, someone else who gets it. And she does, at first. Wagner's newest editorial assistant, Hazel-May McCall, cool and self-possessed, is quick to befriend Nella, echoing her frustrations with the never-spoken racial politics of their office, encouraging her to speak up. But it doesn't take long for Nella to realize there's something off about Hazel, even if she can't quite put her finger on it. There's something weird about how easily she fits in among the higher-ups at Wagner, about the way she's instantly and universally beloved by top editors, the way her story—born in Harlem, daughter of civil rights activists, a grandfather who died protesting—exactly matches their ideas about Blackness in a way that Nella's middle-class suburban childhood never will. And then, shortly after Hazel's arrival, the first anonymous note arrives on Nella's desk: "Leave Wagner Now." Hazel? And if not Hazel, then who? Nella begins searching for answers—and in the process, finds herself at the center of a dangerous conspiracy that runs far deeper than she ever could have known. If it sounds like a moralistic sledgehammer of a novel—well, it would be if Harris were any less good. In her hands, though, it's a nuanced page-turner, as sharp as it is fun. A biting social satire–cum-thriller; dark, playful, and brimming with life. Copyright © Kirkus Reviews, used with permission.
---
Library Journal
(c) Copyright Library Journals LLC, a wholly owned subsidiary of Media Source, Inc. No redistribution permitted.

DEBUT As the only Black assistant editor at a prestigious New York publishing firm, Nella is initially excited when another Black woman, Hazel, is hired. At first, Nella and Hazel commiserate over the challenges of working in a predominately white space: constant microaggressions, misguided and ineffective diversity committees, and the need to placate their white colleagues. Hazel encourages Nella to speak up about a poorly written Black character in a forthcoming book by a blockbuster author, but when Nella begins receiving threatening notes and notices Hazel cozying up to their bosses, she begins to question whether Hazel is an ally. An underground movement—possibly connected to another Black woman editor who left the publishing firm and disappeared decades before—seems to have a part in these events, but it's not clear how, or who's on the same side. VERDICT Part The Devil Wears Prada, part Get Out, Harris's debut is suspenseful, riveting, and darkly funny, with a chilling ending that speaks a devastating truth. The setup to a surprising twist is introduced so deftly that the revelation comes as a delight, pushing the boundaries of the genre.—Christine DeZelar-Tiedman, Univ. of Minnesota Libs., Minneapolis
---
School Library Journal
(c) Copyright Library Journals LLC, a wholly owned subsidiary of Media Source, Inc. No redistribution permitted.

Gr 9 Up—As the only Black employee at Wagner Books, 26-year-old Nella Rogers has always felt alone in her workplace, trying and failing at every attempt to bring greater awareness to the publishing house where she is an editorial assistant. When Hazel, a Black girl from Harlem who initially offers similar thoughts on a troublesome manuscript, appears, it feels to Nella like a leap forward, until Hazel begins following the company line and Nella starts receiving notes threatening her to leave Wagner. The story starts slowly but builds quickly as Nella tries to figure out who is leaving her the notes, while watching Hazel become the office's star. This main story line is interrupted with historical segments that, while occasionally referencing figures who might not be familiar to readers, illustrates an industry where tokenism remains all too common. VERDICT A debut novel that provides a look at what it can be like to face insurmountable obstacles in the workplace and a narrative that continues to build to a satisfactory and surprising conclusion. A good choice for general purchase.—Betsy Fraser, Calgary P.L., Canada
---
Book list
From Booklist, Copyright © American Library Association. Used with permission.

Nella Rogers lives on high alert as a young Black woman in a very white publishing company, where she is underpaid and desperate to make an impression. All her life she's lived with the reality that "we have to work twice as hard, always," feeling like an outsider in both white and Black worlds. When "the other Black girl," Hazel-May McCall, starts at the company, Nella is relieved to have a co-worker who gets it; she even gains the confidence to confront a white author about the racist portrayal of the only Black character in his book. The aftermath of the confrontation sets Nella wondering whether Hazel really has her back, and anonymous notes telling Nella to leave the company fuel her growing unease. Racist behavior in the workplace, white colleagues' awkward attempts to pretend it doesn't exist, and the exhaustion of being Black in white spaces are all encapsulated in a pitch-perfect way by Harris, whose introspective Nella will stay with readers. The story takes a fantastical turn that doesn't land quite as well as the office-politics aspect of the tale, but, still, this compelling debut thriller will be in demand; a must for public libraries.