by Taylor Jenkins Reid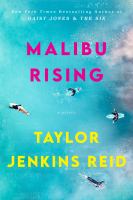 Library Journal
(c) Copyright Library Journals LLC, a wholly owned subsidiary of Media Source, Inc. No redistribution permitted.

It's August 1983 in Malibu, CA, time for Nina Riva's annual wrap-up-the-summer party, where everyone gathers to rub tanned shoulders the supermodel; her brothers, champion surfer Jay and photographer Hud; and beloved little sister Kit.But this year, everyone has secrets that lead to a house in flames by morning. From the author of the multi-best-booked, New York Times best-selling Daisy Jones & The Six, the basis of the Amazon series.
---
Publishers Weekly
(c) Copyright PWxyz, LLC. All rights reserved

Reid (Daisy Jones and the Six) unfurls a fast-paced and addictive story of a group of celebrity siblings in Malibu. There's model Nina Riva, pro surfer Jay, photographer Hudson, and Kit, an aspiring professional surfer. The Rivas' absentee philandering father, Mick, won over their mother, June, with a sultry singing voice that propelled him to stratospheric fame in the 1950s. This setup launches the novel's two braided timelines: Mick and June's love story and tragic unraveling, and the narrative of what happens on Saturday, Aug. 27, 1983: the day of the Riva siblings' legendary annual party. Everyone who's anyone in Los Angeles attends, the rule being, "If you were cool enough to know about the party, you were cool enough to come to the party." The author capably tracks the siblings' emotionally fraught journeys—especially that of Nina, whose husband has run off just before the party—and evokes a bygone Malibu's natural and social hazards in sharp, descriptive writing, connected by a leitmotif of fire. "Malibu catches fire. It is simply what Malibu does from time to time," the opening lines read, foreshadowing disaster. Reid's handling of the various arcs is impressive, but the novel's climactic scenes verge on melodramatic. Still, this page-turning indulgence hits the spot. (May)
---
Book list
From Booklist, Copyright © American Library Association. Used with permission.

Nina, Jay, Hud, and Kit Riva are household names in 1983, as much because their father is rock star Mick Riva as for their surfing talent. None of them wanted to live in the spotlight, but, despite Mick taking off long ago, they do. Then it's the night of the annual Riva party, where everybody wants to be—except maybe responsible Nina—and anything can happen. Over the course of 24 hours, the Riva siblings will have to decide if their futures will be driven by the legacies of their parents or if they'll share the secrets that might let them choose their own paths. Structuring the novel to take place over one day and night, Reid (Daisy Jones & the Six, 2019) asks if it's possible to keep only parts of what you get from your parents. Multiple perspectives (including flashbacks to Mick and June's courtship), intricate relationships, spot-on surf scenes, plus a wild party that could only have happened in the 1980s make for a fun summer read that challenges the idea of passing on what we inherit. Recommend to fans of Jennifer Weiner and Katherine Center.HIGH-DEMAND BACKSTORY: Reid's fan base has grown with each novel, and with multiple books in development for television, Malibu Rising will be the sought-after book of the summer.
---
Kirkus
Copyright © Kirkus Reviews, used with permission.

In the early 1980s, four Malibu surfer siblings throw a raging party that forces them to confront their pasts in this new novel from the author of Daisy Jones & the Six (2019). The Riva siblings didn't have an easy childhood. Their father was a famous singer who came and went whenever he wanted, finally leaving for good. Their mother was an alcoholic, leaving her oldest daughter, Nina, to take on the bulk of the parenting. Nina ends up becoming a surf model to earn enough money to take care of her siblings: Jay, who becomes a pro surfer, Hud, who becomes a surf photographer, and the youngest, Kit, who hopes to follow in their surfing footsteps. Their rocky childhood led them to become extremely close as adults, and no tradition means more to them than the annual Riva party, held at Nina's beach house. It's typically raucous and full of celebrities behaving badly, but the real drama this time ends up coming from the secrets the Rivas are keeping from each other. Reid alternates between the siblings' current-day party preparations and the story of their past: how their parents, Mick and June, met in the 1950s, fell in love, and had a tumultuous relationship. By the time the end of the party rolls around, the siblings each realize the many ways their pasts continue to affect their futures. Reid's descriptions of Malibu are so evocative that readers will swear they feel the sea breeze on their faces or the grit of the sand between their toes. The Rivas have a believable sibling dynamic, and the family members are complex and delightfully flawed (especially Mick, whose bad decisions reverberate throughout the novel). A compulsively readable story about the bonds between family members and the power of breaking free. Copyright © Kirkus Reviews, used with permission.