by Mieko Kawakami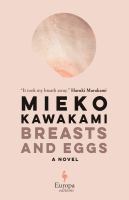 Book list
From Booklist, Copyright © American Library Association. Used with permission.

Japan's literary superstar Kawakami (Ms Ice Sandwich, 2018) significantly expands her 2008 Akutagawa Prize novella, notably translated by Bett and Boyd. Her writer- wannabe protagonist's names are prescient homages: Natsuko (summer child) references poet Ichiyō Higuchi, aka Natsuko Higuchi, who appears on the ¥5000-note; Natsume (summer-eyes) is a nod to Japan's most famous novelist, Natsume Sōseki. As for the story, Natsuko Natsume hosts her older sister and daughter for a rare Tokyo visit in the midst of an oppressive summer. Single mother Makiko loudly obsesses over her middle-aged breasts, while tween Midoriko silently endures the bewilderment of adolescence. Broken eggs—literally—crack open a torrent of truth by the visit's end. Fast forward 10 years, and Natsuko is a published author-on-the-rise and, approaching 40, eager to have a child. In a society where bloodlines are sacred and reproduction not a woman's individual right, motherhood by donor is a desperate option for both parent and progeny who can never know their full identity. Within an affecting portrait-of-an-artist-in-transition, Kawakami deftly, deeply questions the assumptions of womanhood and family—the bonds and abuses, expectations and betrayals, choices and denials.
---
Kirkus
Copyright © Kirkus Reviews, used with permission.

Newly translated fiction by one of Japan's most celebrated contemporary authors. Kawakami is almost certainly new to most Anglophone readers. Her novella Ms. Ice Sandwich—published in Japan in 2013 and released in English in 2017—earned some critical acclaim, and Haruki Murakami's praise for her work has generated interest in this writer as well. Murakami is not alone in mentioning Kawakami's voice—her choice to incorporate Osaka's distinctive dialect is an unusual one—and critics have lauded the author for tackling subjects that are seldom explored in Japanese literature. But Kawakami's idiosyncratic use of language is lost on Anglophone readers, and her frank talk about class and sexism and reproductive choice is noteworthy primarily within the context of Japanese literary culture. An audience outside of Japan probably doesn't know Kawakami from her career as a pop singer, nor will they have experienced her writing as a blogger—this novel began as blog posts written more than a decade ago. So, what will readers encounter in this newly published translation? A novel about women figuring out how they want to be women. The central figure here is Natsu, the narrator. She begins her story as her sister, Makiko, and her 12-year-old niece, Midoriko, are arriving in Tokyo from Osaka. Tokyo is the city where Natsu came as a young woman to build a new life as a writer. Osaka is the place she left, and it's where her sister still works as a hostess—a woman whose job is keeping men company while they buy alcohol, food, and karaoke. Makiko's goal during her brief stay in Tokyo is to choose a clinic for breast enhancement; this surgery has become her obsession. Her daughter, Midoriko, has stopped speaking to her mother—she communicates by writing notes—but Midoriko's journal entries reveal a girl who is afraid of becoming a woman. In the second half of the novel, Natsu contemplates becoming a mother while dealing with the options open to a single woman in Japan and also listening to her colleagues talk about their experiences as mothers and wives. Kawakami's style is sometimes funny, occasionally absurd, and mostly flat—at least in translation and in novel form. It's hard to know who the audience for this translation is supposed to be. Copyright © Kirkus Reviews, used with permission.
---
Publishers Weekly
(c) Copyright PWxyz, LLC. All rights reserved

In Kawakami's stirring if uneven tale (after Ms. Ice Sandwich), a struggling writer receives a visit in Tokyo from her sister and niece. When Makiko and her 12-year-old daughter, Midoriko arrive from Osaka, it is not quite the family weekend Natsu envisioned—Midoriko has refused to speak to her mother for over six months, and Makiko's ulterior motive for the Tokyo trip is to get her breasts surgically enhanced. Interspersed with Midoriko's heartbreaking journal entries about her increasing awareness of her body as well as how her single, bar hostess mother sets her apart from her classmates, the first half of Kawakami's narrative is bracing and evocative, tender yet unflinching in depicting the relationship between the sisters and between mother and daughter. Unfortunately, the second half, set 10 years later, falters. While Natsu, now 40, has found some success as a writer, she's once again stalled in her career. Natsu would like a child, but is not interested in intimacy. This leaves her with little hope, especially after a group of people who were conceived with the help of sperm donors talk her out of the option. Though Natsu remains an empathetic character, the second part of the book feels overlong and chatty. Kawakami's talent is obvious, though readers may want to stop after Book One, while they're ahead. (Apr.)