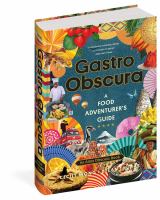 Book list
From Booklist, Copyright © American Library Association. Used with permission.

A break-out from the online travel magazine Atlas Obscura, this richly illustrated collection of food facts, arranged geographically—Europe, Asia, Africa, Oceania, Canada, United States, Latin America, Antarctica—would be kitsch if it didn't get to the cultural truths of what we humans around the world like to eat and drink. For example, that Sylvester Graham created his eponymous cracker to prevent, among other things, masturbation. Or that, while citrus is an astonishingly diverse family, today's specimens derive from just three ancient varieties: the Malaysian pomelo, the North Indian citron, and the Chinese mandarin. Or that "Welshman's caviar" is a nutrient-packed salty and crisp spread of black seaweed that's laid on toast or mixed with oatmeal to form an iconic Welsh cake called laverbread. Irresistible.
---
Library Journal
(c) Copyright Library Journals LLC, a wholly owned subsidiary of Media Source, Inc. No redistribution permitted.

Wong (writer, Atlas Obscura online magazine) and Thuras (cofounder and creative director, Atlas Obscura) have written a hard-to-pin-down and hard-to-put-down book about food in relation to culture, people, and history, plus random food facts. Short entries organized by continent (Europe, Asia, Africa, Oceania, North America, South America, and even Antarctica—with the heaviest emphasis on the U.S.) highlight notable national and regional dishes and their origins, alongside unique food items, restaurants, or food-related cultural institutions. Each entry has "How To Try It" guidance for finding the dish (in its place of origin or online) or making it at home. Sprinkled throughout are narratives of highlighted figures, histories, and other cultural context. In the mold of the Atlas Obscura site, this book is meant to be browsed, rather than read straight through. VERDICT Pick a region, pick a page—you can't go wrong. Armchair travelers and foodies will be left hungry, nostalgic, more knowledgeable about dishes from all over, and, most importantly, ready to try something different, whether it's found around the corner or across the world.—Zebulin Evelhoch, Deschutes P.L., OR
---
Publishers Weekly
(c) Copyright PWxyz, LLC. All rights reserved

Like a cross between Larousse Gastronomique and Ripley's Believe It or Not!, this sprawling, encyclopedic odyssey is crammed to its "air-breathing monster fish" gills with weird delicacies, lost histories, potent potables, bizarre bazaars, and circumspect rituals of consumption. Culled from submissions by the editors and readers of the travel oddity website Atlas Obscura, the brief entries lift the veil on the sport of haggis hurling in Scotland, the medicinal use of Soviet-era blood candy (for "treating low levels of iron"), and the importance of camel jerky in northern Somali wedding ceremonies (it can make or break a groom's reputation). Chapters are arranged geographically, leaving almost no cave, mountain, or seabed unexplored for readers to gleefully browse at will. A modern-day oyster vending machine in France shares a page with cocaine-laced wine of the late 19th century, as do a cow's head barbecue in Texas and a potato doughnut from Utah. Elsewhere, a write-up of the Chinese city of Gaoyou, known for its double-yolked duck eggs, comes close on the heels of a thumbnail history of China's rou jia mo, the world's first sandwich (circa 221–207 BCE). This compendium is a must-have for those who like their pickles brined in Kool-Aid or crave the chewy texture of Inuit blubber cubes. (Sept.)
---
Library Journal
(c) Copyright Library Journals LLC, a wholly owned subsidiary of Media Source, Inc. No redistribution permitted.

Those Atlas Obscura folks are at it again. Having given us a fabulous travel/social website and a book of the same name claiming more than 815,000 copies in print, they are now viewing history through food, glorious food. After all, who doesn't want to hear about maggot cheese, stinkbug tacos, and urine-fermented skate?