by Susan Choi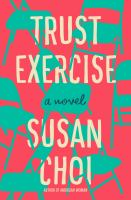 Library Journal
(c) Copyright Library Journals LLC, a wholly owned subsidiary of Media Source, Inc. No redistribution permitted.

In the first half of this latest novel from Choi (My Education), Sarah is studying at a performing arts high school in the 1980s. Owing to adolescent miscommunication, her summer romance with fellow student David crumbles once school resumes in the fall. Drama teacher Mr. Kingsley takes his students through acting exercises that seem to cross boundaries of appropriateness, particularly when involving teenagers with raging hormones and volatile emotions. A visiting theater troupe from England adds to the chaos, which has repercussions decades later. The novel's second section takes a somewhat metafictional approach, as "Karen," a minor character in the first half, objects to the fictional approach taken by "Sarah" in recounting the events in her novel. Throughout, Choi neither sentimentalizes nor trivializes the emotional lives of the teens. Whether by design or chance, the first half of the novel feels "truer" than the more contrived plot machinations of the second half, in which several characters reencounter one another during a play production a decade later. The latter, retrospective approach serves best in examining the confusion and ambiguity of teenage sexuality and how that can be exploited. VERDICT Recommended for readers who invite direct challenges to the novelistic form. [See Prepub Alert, 10/29/18.]—Christine DeZelar-Tiedman, Univ. of Minnesota Libs., Minneapolis © Copyright 2019. Library Journals LLC, a wholly owned subsidiary of Media Source, Inc. No redistribution permitted.
---
Book list
From Booklist, Copyright © American Library Association. Used with permission.

That whole thing about fiction not being the truth is a lie, one character admonishes another in Choi's fifth, and finest, novel. Returning to the multilayered teacher-student power struggles seared into My Education (2013), Choi's Trust Exercise should immediately put readers on alert: it will appear four times as a title of the novel itself and as the repeated title of the book's three sections. Despite being a reference to a soul-baring acting exercise, trust will have little correlation to truth. Trust Exercise number one introduces Sarah and David, two 15-year-old students at a suburban performing-arts high school, precariously entangled with each other, overseen (manipulated) by their magnetic theater teacher, Mr. Kingsley. Trust Exercise number two picks up 14 years later, after more than 100 pages, revealing number one to be a large portion of Sarah's newly published novel, and its last page is where Sarah's former best friend, Karen, stopped reading. What happened (or not) thus far gets deconstructed, then expanded, culminating in a series of dramatically (of course) orchestrated reunions. Trust Exercise number three will render all that came before unreliable while exposing tenuous connections between fiction, truth, lies, and, of course, people. Literary deception rarely reads this well.--Terry Hong Copyright 2010 Booklist
---
Publishers Weekly
(c) Copyright PWxyz, LLC. All rights reserved

Choi's superb, powerful fifth novel, after 2013's My Education, marries exquisite craft with topical urgency. Set in the early 1980s, the book's first section depicts the Citywide Academy for the Performing Arts, an elite high school in an unnamed Southern city. Galvanized by the charged atmosphere created by the school's magnetic theater teacher, Mr. Kingsley, 15-year-old classmates Sarah and David have an intense sexual relationship the summer between their freshman and sophomore years. Sarah, who has taken its secrecy for granted, is horrified when David makes their romance public that fall. She repudiates him, the two spend the year estranged, and she grows increasingly isolated until an English theater troupe makes an extended visit to the school. When she is pursued by one of the troupe's actors at the same time her classmate Karen falls in love with its director, the two young women form a fraught, ambivalent bond. The novel's second segment reintroduces the characters a dozen years later, shifting from Sarah's perspective into to a new viewpoint that casts most of what readers thought they knew into doubt. After the tensions of the past culminate in an act at once shocking and inevitable, a brief coda set in 2013 adds a final bold twist. Choi's themes-among them the long reverberations of adolescent experience, the complexities of consent and coercion, and the inherent unreliability of narratives-are timeless and resonant. Fiercely intelligent, impeccably written, and observed with searing insight, this novel is destined to be a classic. (Apr.) © Copyright PWxyz, LLC. All rights reserved.
---
Kirkus
Copyright © Kirkus Reviews, used with permission.

What begins as the story of obsessive first love between drama students at a competitive performing arts high school in the early 1980s twists into something much darker in Choi's singular new novel.The summer between their freshman and sophomore years at the Citywide Academy for the Performing Artsan elite institution "intended to cream off the most talented at selected pursuits from the regular places all over the [unnamed Southern] city" where they livedSarah and David consummate the romance that had been brewing the whole previous year. It is the natural culmination of the "taut, even dangerous energy running between them," whichwhile naturally occurringhas been fostered by Mr. Kingsley, the head of Theatre Arts, who has positioned himself as the central figure in his students' lives, holding power not only over their professional futures, but their social ones as well: part parent, part guru, part master manipulator. But when Sarah and David return in the fall, their relationship instantly crumbles, and in the wake of their very public dissolution, Sarah finds herself increasingly isolated, dismissed into the shadows of CAPA life. Until, that spring, a British theater troupe comes to campus as part of a cultural exchange, and Sarah, along with her classmate Karen, begin parallel relationships with the English imports: Karen is in love with the director, and Sarah is uncomfortably linked to his protg, the production's star. It is, until now, a straightforward story, capturingwith nauseating, addictive accuracythe particular power dynamics of elite theater training. And then, in the second part of the novel, Pulitzer finalist Choi (My Education, 2013, etc.) upends everything we thought we knew, calling the truth of the original narrative into question. (A short coda, set in 2013, recasts it again.) This could easily be insufferable; in Choi's hands, it works: an effective interrogation of memory, the impossible gulf between accuracy and the stories we tell. And yet, as rigorous and as clever and as relevant as it is, the second half of the novel never quite reaches the soaring heights of the first. It's hardly a deal breaker: the writing (exquisite) and the observations (cuttingly accurate) make Choi's latest both wrenching and one-of-a-kind.Never sentimental; always thrillingly alive. Copyright Kirkus Reviews, used with permission.