by Jann S. Wenner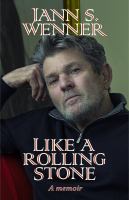 Library Journal
(c) Copyright Library Journals LLC, a wholly owned subsidiary of Media Source, Inc. No redistribution permitted.

Cofounder and publisher of Rolling Stone and the youngest inductee ever to the American Society of Magazine Editor's Hall of Fame, Wenner here tells the story not just of the magazine or of rock music since the Sixties but of the generational change he has witnessed and the huge cultural upheaval that resulted.
---
Library Journal
(c) Copyright Library Journals LLC, a wholly owned subsidiary of Media Source, Inc. No redistribution permitted.

Wenner turned on to drugs and politics as a student at Berkeley in 1964 but by 1967, it seemed to him "the only thing people were making better than drugs was music." That year, Wenner and music critic Ralph J. Gleason founded Rolling Stone. It quickly became one of the most influential magazines in America, read not only for music reviews but also for the quality of its writing and its take on public issues. In 1995, Wenner dissolved a 28-year marriage and moved in with Matt, now his husband. (His wife had known he was gay from the start.) He has hung out with virtually every big name in the rock world, including Dylan, Lennon, Ono, Jagger, Springsteen, and Bono. He also boasts of his friendships with Hunter S. Thompson, Tom Wolfe, Annie Leibovitz, Richard Avedon, and presidents Clinton and Obama. There are so many in rapid succession that often they blur as individuals. Three relationships stand out. With Jagger and Thompson—difficult to unpack characters—they were complicated, with Springsteen, more direct. Wenner's description of Tom Cruise? All front and deflection. VERDICT Wenner writes engagingly and doesn't pull his punches. It'll be hard to keep this book on the library shelves.—David Keymer
---
Kirkus
Copyright © Kirkus Reviews, used with permission.

The Rolling Stone founder and publisher recounts a golden age of sex, drugs, rock 'n' roll, and cash flow. As Wenner (b. 1947) admits, he grew up in privilege: His first car was a Jaguar, and he got his first editing gig with the yearbook of his private school. He was swayed from preppiedom with the advent of rock, which he correctly deems a form of "soft power." Though he missed the Beatles' legendary performance on The Ed Sullivan Show, he became a devotee after seeing A Hard Day's Night. This long narrative is bracketed by his 2017 sale of the magazine he founded in 1967, its title borrowed from the Dylan song and not the British band. Soon enough, though, Wenner became friendly with both the Beatles and the Stones. The magazine was revolutionary, especially early on. As the author notes, it "introduced black music to an expanding white audience—not as music for white people created by black people, but as black music in and of itself." Staffed by the likes of Ben Fong-Torres, Joe Eszterhas, Hunter S. Thompson, and Annie Leibovitz, it also soon became an outlet of choice for musical acts around the world. In fact, John Lennon's first extensive interview ran in is pages. (Wenner does allow that there were bands that hated the magazine, notably Led Zeppelin.) In time, Wenner decided to abandon the "fading hippie orthodoxy" of San Francisco for the bright lights of New York, where—with the madcap Thompson in tow—Rolling Stone became a journal of politics as much as music, cheering on Jimmy Carter and Bill Clinton. The author writes frankly about money, sex (including his own long years in the closet), and his regret at selling his creation: "The new mantra was clear: What counted was not the printed word but the number of 'hits' on the website." A frank, sharp memoir by a zeitgeist-savvy entrepreneur who ranks among the earliest of modern influencers. Copyright © Kirkus Reviews, used with permission.