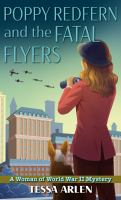 Book list
From Booklist, Copyright © American Library Association. Used with permission.

This follows Poppy Redfern and the Midnight Murders (2019), moving us forward to late autumn, 1942. The ever forthright and clever Poppy has diverted some of her creative skills into a job as a scriptwriter at the London Crown Film Unit, which issues shorts portraying heroic wartime civilians. Her first solo script project is to feature the "Attagirls," women who pilot planes to military airfields, and she is delighted at the prospect of picking up enough detail to put Ilona, her fictional character, into the cockpit of a Spitfire in a new mystery, as part of this band of sisters. When one of the best pilots, and then another, dies in what is deemed an accident, Poppy and her American fighter-pilot boyfriend, Griff, suspect something worse. Arlen conveys so strong a sense of time and place that the reader will feel as though they have stepped into an episode of Foyle's War. A must-read for fans of an era that still holds us in its thrall, a desperate time met head-on with dignity and courage.
---
Publishers Weekly
(c) Copyright PWxyz, LLC. All rights reserved

Set in 1942, Arlen's enticing second Poppy Redfern Mystery (after 2019's Poppy Redfern and the Midnight Murders) finds Poppy working as scriptwriter for London's Crown Film Unit, a production company responsible for creating propaganda films. Poppy's first assignment is to write the script for a recruiting film about the Air Transport Auxiliary Flyers (aka Attagirls), an elite unit of civilian women pilots who transport military airplanes to factories and air fields around Britain. When the unit's best pilot dies in an accident while being filmed flying a Spitfire, Poppy is stunned. But when a second pilot also perishes in a crash, Poppy and her would-be boyfriend, U.S. Army fighter pilot Griff O'Neal, set out to discover who has it in for the ATAs before another flyer can die. Arlen's depiction of the heroic ATAs is a fascinating nod to a little-known aspect of WWII history. Cozy fans will enjoy spending time with good-hearted, very English Poppy and friends, including her charming corgi. Agent: Kevan Lyon, Marsal Lyon Literary. (Dec.)
---
Kirkus
Copyright © Kirkus Reviews, used with permission.

As World War II drags on, brave civilians volunteer to help the war effort in unexpected ways. Poppy Redfern's left home to work in London, writing scripts for films calculated to boost morale. Her first job takes her to Didcote Airfield, home of the Air Transport Auxiliary, a little-known group of female pilots who transport planes all over the U.K. and the war zone. Sent ahead to get started on the script, she's driven to Didcote by Capt. Griff O'Neal, an American pilot she met in her debut, Poppy Redfern and the Midnight Murders (2019). Commanding officer Vera Abercrombie introduces her to the women who'll be flying different planes for the film. Most are upper-class flyers who learned before the war. Edwina Partridge, who flies Spitfires and has a reputation as a man trap, makes a serious run on Griff. When Edwina's plane crashes during filming, everyone seems devastated. But Poppy and Griff both have their suspicions about the crash, especially when some of the crew's film vanishes. The next to die is Letty Wills, an experienced pilot licensed to fly heavy aircraft. Officials also put her accident down to pilot error. Poppy, who's spent a lot of time getting to know the flyers, picks up on some unpleasant undercurrents. So while Griff pursues his own mystery, Poppy resolves to unravel the puzzle. Engaging characters—many of them suspects—along with romance and a welcome spotlight on women's contributions to the war. Copyright © Kirkus Reviews, used with permission.