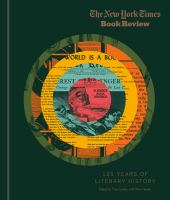 Library Journal
(c) Copyright Library Journals LLC, a wholly owned subsidiary of Media Source, Inc. No redistribution permitted.

To celebrate the 125th anniversary of the New York Times Book Review, deputy editor Jordan joins forces with Qasim, a recent editing fellow at the review, to compile the best—and sometimes the funniest and strangest—coverage. Reviews, anecdotes, correspondence, photographs, first takes on lasting works, and essays from the likes of Langston Hughes, Eudora Welty, and Nora Ephron—it adds up to a lot of good reading. With 100 four-color photographs.
---
Kirkus
Copyright © Kirkus Reviews, used with permission.

A capacious history of the influential publication. To commemorate the 125th anniversary of the New York Times Book Review, current deputy editor Jordan, assisted by Qasim, offers a fascinating selection of reviews, letters, interviews, essays, announcements, book lists, bits of gossip (Colette, on a ship, wore sandals without stockings!), and op-ed pieces published in the supplement since its first appearance on Oct. 10, 1896. Organized chronologically into five sections that comprise around three decades each, and profusely illustrated with author photographs, plates, advertisements, and assorted literary artifacts, the volume amply fulfills the editor's goal of revealing how the Review"has shaped literary taste, informed arguments and driven the world of ideas in the United States and beyond." Book critic Parul Sehgal prefaces the selections with an astute essay examining how the Reviewhas covered works by women, writers of color, and writers in the LGBTQ+ community. In its early years, White male perspectives dominated, with reviewers worried about the proliferation and popularity of women writers. Overall, however, the collection amply represents reviewers "contemptuous of anxious gatekeeping," bringing to their task "nerve, wariness and style." Anxious gatekeeping, however, as well as wafts of condescension, can be found. For example, in 1904, the reviewer of W.E.B. Du Bois' The Souls of Black Folkremarked, "Many passages of the book will be very interesting to the student of the negro character who regards the race ethnologically and not politically, not as a dark cloud threatening the future of the United States." In 1933, assessing two feminist histories, the Review's editor saw the success of the women's movement as "one of the major tragedies in the history of mankind." Reviews by acclaimed authors include Eudora Welty on Charlotte's Web; W.H. Auden on Tolkein's The Fellowship of the Ring; Kurt Vonnegut on Tom Wolfe; and Margaret Atwood on Toni Morrison's Beloved. A long list of other famous reviewers appends the volume. An ebullient celebration of literature. Copyright © Kirkus Reviews, used with permission.
---
Publishers Weekly
(c) Copyright PWxyz, LLC. All rights reserved

NYTBR editor Jordan and editing fellow Qasim collect the Book Review's hits from more than 6,000 issues in this meticulously crafted celebration of the written word. The newspaper's foray into covering literary news began on Sept. 18, 1851, though it wasn't until Adolph S. Ochs became publisher in 1896 that the NYTBR first appeared as a stand-alone, eight-page supplement, which included reviews, plus information on the lives, deaths, and marriages of famous authors. Essays, interviews, reviews, and letters to the editor dating back to that year feature here and make for a sweeping summary of a century of literary tastes and trends: in 1900, the Book Review "rail against heroines who smoke in novels," and in 1922, Jordan and Qasim write, "T. S. Eliot publishes The Waste Land. The Book Review pays no attention." There are essays on literary scandals (such as "The Brouhaha over Edith Wharton's The House of Mirth" from 1905) and old advertisements (one from 1927 features a man impressing his date with his poetry knowledge). Each chapter is full of entertaining reviews and book covers ("Californians are not going to like this angry novel," one reviewer wrote of The Grapes of Wrath), plus delightful photos. Literature lovers are in for a treat. Agent: Amanda Urban, ICM Partners. (Nov.)