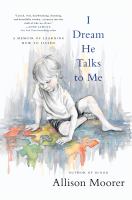 Book list
From Booklist, Copyright © American Library Association. Used with permission.

Motherhood can be an isolating experience, and potentially even more so with children who are on the spectrum. Musician and author of the memoir Blood (2019), Moorer invites readers along as she learns that her son, John Henry, is autistic, and shows what that looks like on an everyday basis. She lets us into those moments of utter exhaustion, locked doors, specialized doctors, and celebrations, from John Henry learning to use the restroom on his own at age 10 to coordinating travel plans with John Henry's dad. Moorer's own tragic childhood, which she wrote about in Blood, plays an important part in her fears and the desire to always be there for her son. The author's rawness about her dreams and her use of writing in second person can be overwhelming at times, but those style choices also give readers an experience closest to what she feels day in and day out. Moorer and John Henry's story will help readers be a little more understanding and listen a little bit closer, even when words cannot be spoken.
---
Publishers Weekly
(c) Copyright PWxyz, LLC. All rights reserved

Grammy-nominated singer-songwriter Moorer follows her debut, Blood, with an equally vulnerable and uplifting account of raising a child on the autism spectrum. In prose both lyrical and frank, she chronicles how her son, John Henry, went from being "a sweet and social child" to losing his language skills at 17 months. As she balanced divorce and her musical career, she parented John Henry through the minutiae of his daily schedule, habits, and moods: the comforts of cinnamon rolls and bacon, the triggers of frustration and inactivity, and "the moments that I wait on, when I can actually feel instead of have faith that he loves me, when... he is at peace." In sharing her experience—and advice in a chapter called "A Guide to Getting Through" ("grow elephant-sized balls")—she reassures other parents that they are not alone. At the same time, she doesn't sugarcoat the difficulties she's encountered, describing the peril of a snow day's interruption of routine and the "parallel universe... no one else sees" of having a nonverbal child who wants to take "five or six baths a day." Moorer's candor and self-doubt are achingly honest and oftentimes funny, making this not a story of heartbreak but a celebration of life's struggles and rewards. This is a parenting book worth reading twice. Agent: Laura Nolan, Aevitas Creative Management. (Oct.)
---
Kirkus
Copyright © Kirkus Reviews, used with permission.

An acclaimed folk-rock singer and memoirist shares personal essays, reflections, and occasional poems about her autistic son. Moorer's son, John Henry, had just begun to speak his first words when he suddenly lost interest in every toy his mother offered him and went silent. A year later, he was diagnosed with severe Level 3 autism, which not only rendered him functionally mute, but also affected his "balance, coordination and motor skills." The son of two musicians, John Henry would often become overwhelmed by the songs Moorer would sing or play for him. In reflecting on the bitter irony of her situation, the author writes, "I felt as if we had lost a way to bond on top of everything else." As he grew older, John Henry would wake up in the middle of the night and wander, disrobe in public, begin screaming "for seemingly no reason" at inappropriate times, or become defiant and "refuse to take medicine." His constant need for supervision proved especially difficult for a mother whose career required her to be on the road—not to mention her own personal crises, such as a breast cancer scare and, later, a divorce from John Henry's father. Yet as Moorer gained a deeper understanding of her son's neurodiversity, she gradually learned to appreciate the insights he gave her into living life with an open heart and mind and to surrender to his difference, in whatever ways it manifested. Poignant and profoundly humane, this book plumbs the depths of a mother-child connection and celebrates the human capacity to grow into graceful acceptance of the "wild and uncontrollable" nature of life. It's clear that Moorer's talents extend beyond music, as she builds on the literary promise she demonstrated in her acclaimed first book, Blood (2019). A lyrically candid and heartfelt memoir. Copyright © Kirkus Reviews, used with permission.