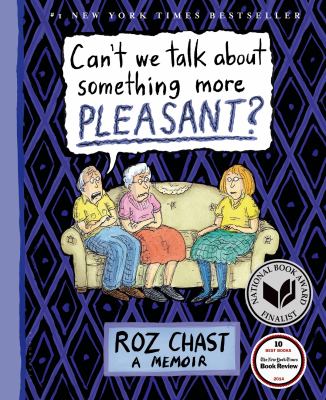 Cant we talk about something more pleasant?
by Roz Chast


School Library Journal Adult/HS-Veteran New Yorker cartoonist Chast powerfully recounts her parents' decline through weakness, senility, and death. Chast's scratchy hand emphasizes their age and fragility, while interspersed personal photographs drive home the reality of the situation. Her portrayal of the humiliations of infirmity and the sadness of nursing facilities creates relatable and thought-provoking circumstances for teens to ponder. © Copyright 2016. Library Journals LLC, a wholly owned subsidiary of Media Source, Inc. No redistribution permitted.
(c) Copyright Library Journals LLC, a wholly owned subsidiary of Media Source, Inc. No redistribution permitted.
Book list New Yorker cartoonist and prolific author Chast (What I Hate from A to Z, 2011) writes a bravely honest memoir of watching her parents decline, become too frail to stay in the Brooklyn apartment they called home for five decades, suffer dementia and physical depletion, and die in their nineties in a hospice-care facility. Unlike many recent parent-focused cartoon memoirs, such as Alison Bechdel's Are You My Mother? (2012) and Nicole J. George's Calling Dr. Laura (2012), in which the story is as much about the cartoonist's current work and family life as it is about his or her parents, Chast keeps her narrative tightly focused on her mother and father and her own problematic though not uncommon guilt-provoking relationships with them. Chast's hallmark quirky sketches are complemented by annotated photos from her own and her parents' childhoods. Occasionally, her hand-printed text will take up more than a full page, but it's neatly wound into accompanying panels or episodes. An unflinching look at the struggles facing adult children of aging parents.--Goldsmith, Francisca Copyright 2014 Booklist
From Booklist, Copyright © American Library Association. Used with permission.
Library Journal Chast (Theories of Everything) draws the Moving Sidewalk of Life with a sign: "Caution-drop-off ahead." The New Yorker cartoonist had vaguely thought that "the end" came in three stages: feeling unwell, growing weaker over a month or so in bed, and dying one night. But when her parents passed 90, she learned that "the middle [stage] was a lot more painful, humiliating, long-lasting, complicated, and hideously expensive" than she imagined. Chast's scratchy art turns out perfectly suited to capturing the surreal realities of the death process. In quirky color cartoons, handwritten text, photos, and her mother's poems, she documents the unpleasant yet sometimes hilarious cycle of human doom. She's especially dead-on with the unpredictable mental states of both the dying and their caregivers: placidity, denial, terror, lunacy, resignation, vindictiveness, and rage. VERDICT Like Joyce Farmer in Special Exits (LJ 9/15/10), Chast so skillfully exposes herself and her family on the page as to give readers both insight and entertainment on a topic nearly everyone avoids. As with her New Yorker cartoons, Chast's memoir serves up existential dilemmas along with chuckles and can help serve as a tutorial for the inevitable.-M.C. (c) Copyright 2014. Library Journals LLC, a wholly owned subsidiary of Media Source, Inc. No redistribution permitted.
(c) Copyright Library Journals LLC, a wholly owned subsidiary of Media Source, Inc. No redistribution permitted.
Publishers Weekly "Something more pleasant" than the certainty of old age and death is what Chast's parents would prefer to talk about, in this poignant and funny text-and-cartoon memoir of their final years. (In one cartoon, the Grim Reaper declares, "The Chasts are talking about me? Why, I'll show them!") Chast, a cartoonist who contributes frequently to the New Yorker, describes how her parents, George and Elizabeth, try her patience as she agonizes over their past and future. She brings her parents and herself to life in the form of her characteristic scratchy-lined, emotionally expressive characters, making the story both more personal and universal. Despite the subject matter, the book is frequently hilarious, highlighting the stubbornness and eccentricities (and often sheer lunacy) of the author's parents. It's a homage that provides cathartic "you are not alone" support to those caring for aging parents. Like Raymond Briggs's classic Ethel and Ernest, this is a cartoon memoir to laugh and cry, and heal, with-Roz Chast's masterpiece. (May) (c) Copyright PWxyz, LLC. All rights reserved.
(c) Copyright PWxyz, LLC. All rights reserved