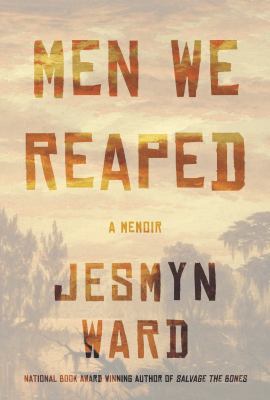 Men We Reaped: A Memoir
by Jesmyn Ward


Library Journal National Book Award-winning novelist Ward (Salvage the Bones) recently mourned the death of five young men in four years. Accidents, drugs, or suicide claimed her brother, a cousin, and three friends. Her moving memoir details her relationships with the dead men and associates their deaths with the dismal existence experienced by many Southern black men. She explores how a history of racism, economic inequality, and lapsed personal responsibility continues to fester within portions of this population. As Ward details her loss and her family's life in Louisiana and Mississippi, she tries to understand why her brother died and digs deep within her heart and mind to discover why this is her story to tell. Through Ward's narrative, readers come to know her own struggles as the only black female in a private high school and as a budding writer finding her place in the world. VERDICT Ward's candid account is full of sadness and hope that takes readers out of their comfort zone and proves that education and hard work are the way up for the young and downtrodden. [See Prepub Alert, 3/11/13.]-Joyce Sparrow, Kenneth City, FL (c) Copyright 2013. Library Journals LLC, a wholly owned subsidiary of Media Source, Inc. No redistribution permitted.
(c) Copyright Library Journals LLC, a wholly owned subsidiary of Media Source, Inc. No redistribution permitted.
Publishers Weekly In this riveting memoir of the ghosts that haunt her hometown in Mississippi, two-time novelist and National Book Award-winner Ward (Salvage the Bones) writes intimately about the pall of blighted opportunity, lack of education, and circular poverty that hangs over the young, vulnerable African-American inhabitants of DeLisle, Miss., who are reminiscent of the characters in Ward's fictionalized Bois Sauvage. The five young black men featured here are the author's dear friends and her younger brother, whose deaths between 2000 and 2004 were "seemingly unrelated," but all linked to drug and alcohol abuse, depression, and a general "lack of trust" in the ability of society-and, ultimately, family and friends-to nurture them. The first to die (though his story is told last in the book) was her brother, Joshua, a handsome man who didn't do as well in school as Ward and was stuck back home, doing odd jobs while his sister attended Stanford and later moved to N.Y.C. Joshua died senselessly after being struck by a drunk driver on a dark coastal road one night. The "wolf" that tracked all of these young men-and the author, too, when she experienced the isolation of being black at predominantly white schools-was the sense of how little their lives mattered. Ward beautifully incorporates the pain and guilt woven her and her brother's lives by the absence and failure of their father, forcing their mother to work as a housekeeper to keep the family afloat. Ward has a soft touch, making these stories heartbreakingly real through vivid portrayal and dialogue. (Sept.) (c) Copyright PWxyz, LLC. All rights reserved.
(c) Copyright PWxyz, LLC. All rights reserved
Book list In four years, five young men dear to Ward died of various causes, from drug overdose to accident to suicide, but the underlying cause of their deaths was a self-destructive spiral born of hopelessness. Surrounded by so much death and sorrow, Ward closely examined the heartbreakingly relentless deathsof her young relatives and friends growing up in the small town of DeLisle, Mississippi, with few job prospects and little to engage their time and talents other than selling and using drugs and alcohol. She herself had partially escaped, going on to college in Michigan and California; but the pull of close family ties and a deep appreciation of southern culture lured her back each summer. Ward, author of Salvage the Bones (2011), lovingly profiles each of those she lost, including a brother, a cousin, and close friends, and their tragic ends as she weaves her family history and details her own difficulties of breaking away from home and the desperate need to do so. This is beautifully written homage, with a pathos and understanding that come from being a part of the culture described.--Bush, Vanessa Copyright 2010 Booklist
From Booklist, Copyright © American Library Association. Used with permission.