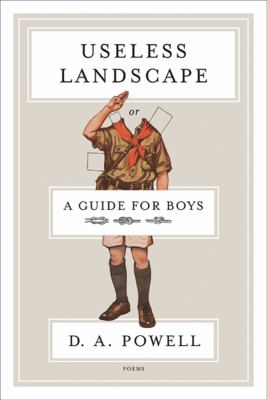 Useless Landscape/A Guide for Boys
by D. A. Powell


Library Journal Poems by Powell (Chronic) are the Apple products of the literary world: sleek, urbane, well-designed marvels. They are so startlingly hip that one can almost be excused for not noticing that they are slowly infiltrating the mainstream. The homoeroticism that lies at the center of this work is tongue-in-cheek, proceeding via allegory and dispensing with much of the campiness that characterizes earlier (and some current) queer writing. But as a literary artifact, this book's slick veneer and perfect lines sometimes seem at odds with the awkward and exciting messiness of adolescent sexuality, as if the poems had been disassembled and shipped off to Iowa City to have the rough edges sanded out. Powell's treatment of sexuality lacks much of the transgressive power of a Dennis Cooper or Kathy Acker, both of whom manage to transform eroticism into something as dangerous as it is transformative. VERDICT Powell is as good a technician as anyone in the business, and his latest book, both smart and accessible, will have award panels queuing up to sing its praises. [See Prepub Alert, 8/18/11.]-Chris Pusateri, Jefferson Cty. P.L., Lakewood, CO (c) Copyright 2012. Library Journals LLC, a wholly owned subsidiary of Media Source, Inc. No redistribution permitted.
(c) Copyright 2010. Library Journals LLC, a wholly owned subsidiary of Media Source, Inc. No redistribution permitted.
Book list In his fifth collection, Powell revisits themes of body and illness, sacred space and seductive desecration. The first section is an examination of beauty divorced from utility, the second a characteristically witty, arresting portrait of young people in acts of exploration. In the former, Powell confronts physical and emotional environments in the kinds of translucent lyrics that have gained him critical appreciation and a reputation for accessibility. His landscapes are mean and meaningful; visions of California bear the dead-eyed gaze of valley dolls and interned immigrants alike. In A Guide for Boys, he maps an anatomy of lymph and libido, not least through clever substitution of unexpected items in familiar settings. Kiwi fruit appear in Sex Ed textbooks, wattles swelter in a sauna, prickly sweetgum seeds turn suggestive. Throughout the collection, Powell flexes his command of inflectional forms, using subjunctive constructions to pose some of the most wrenching, lovely unrealities since his initial triptych (Tea,1998; Lunch, 2000; Cocktails, 2004) and imperatives to exploit creeping, linguistic ambiguity Tell me how much I've got to lose. --Baez, Diego Copyright 2010 Booklist
From Booklist, Copyright © American Library Association. Used with permission.
Publishers Weekly Powell has now turned the corner from promising new poet into established power. This fifth collection condenses his obsessions into poems clearer and more compact than ever, some scathing and others comedic, some based on life stories and others built on puns. Now living in San Francisco, Powell grew up in California's agricultural Central Valley; the impoverished spaces of his youth stand out among his backgrounds and metaphors for ecological disaster, for gay sexual awakening, for sex itself, for illness, and for love. "The Kiwi Comes to Gridley, CA," for example, recalls "this... overgrown berry with its easy sway/ and pubescent peel, how it will proffer its redolent fruit." Another poem delights in "Having a Rambutan with You": "Sometimes, I forget to spit out all the seeds." Among other culturally omnivorous poets of gay American life, Powell, with his range of form and line, his dark but vivid humor, and his commitment to Romantic traditions, is set apart. Disneyland, high school marching bands, 1970s funk and disco, "donkey basketball," and planetary astronomy join his expanding universe of figures for sexual pleasure, and sexual sadness; erotic experience serves as a lens through which Powell-a passionate lover of puns, like Shakespeare-views life and death, body and spirit, youth and advancing age. This book will belong on many lists of the year's best. (Feb.) (c) Copyright PWxyz, LLC. All rights reserved.
(c) Copyright PWxyz, LLC. All rights reserved